The Best Healthy Travel Tips We Heard In 2018 (Just In Time For The Holiday Scramble)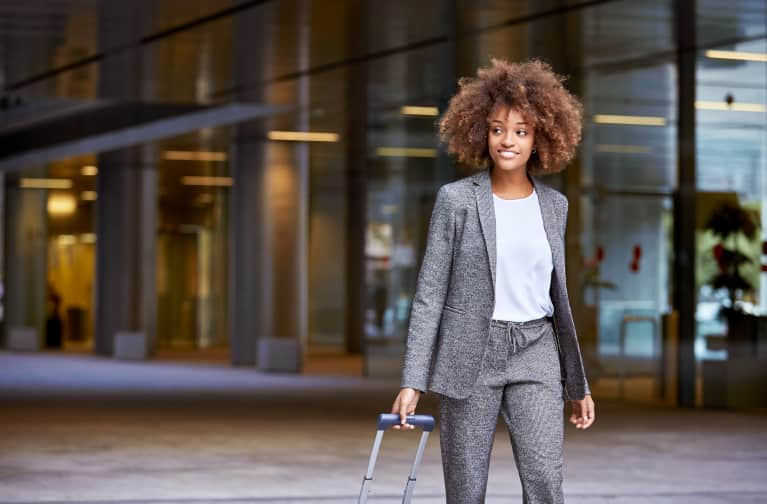 Our editors have independently chosen the products listed on this page. If you purchase something mentioned in this article, we may
earn a small commission
.
Keeping up with your healthy lifestyle at home is one thing. Doing it when you're jet-lagged and surrounded by cookies? That's a different story. While we're all about loosening the reins during the holidays, there are plenty of ways to celebrate the season that won't leave you feeling cranky and lethargic.
We compiled some of the top tips that the mbg community shared this year into a one-stop-shop for healthy travel. Read on for the best advice we've come across on how to stay smiling during every stage of your journey:
1. Pack with the planet in mind.
Reducing trash when you're on the road starts as you're packing. Make a reusable water bottle the first thing you throw in your bag, and pack a few if you're traveling with family. Highly insulated bottles like S'well and Klean Kanteen make for great travel companions since they do double duty and can hold any cold or hot beverages you come across on your travels. A reusable utensil set and tote bag are other compact, useful items to pack that can save you a lot of unnecessary plastic waste when you're eating out in a new place.
—Emma Loewe, mbg Sustainability Editor (hi!)
2. Travel with superfoods, and take advantage of the healthier options popping up in airports.
We always try to carry superfood snacks with us. This could be everything from cashews, goji berries, and KIND bars for Colleen and almonds alongside lots of bar choices for me like Bulletproof, Primal Kitchen, EPIC, RXBAR, or Quest. It's getting easier to find great, healthy snacks in airports with chains like CIBO Express doing a tremendous job here. We also drink a TON of water and try to load up on veggies before and after our flights. I might even drink too much water as I'm constantly going to the bathroom on any flight I'm on (but hey, that means I'm moving my legs, right?!). I'll also try to drink coconut water when I can. I've found that if I let myself get dehydrated, I can get seriously jet-lagged.
3. Stretch this muscle group before sitting for long periods of time.
Stretch the hamstrings, which often take a beating during long flights. Face your bag, hands placed on the top of the handle. Scoot your right foot between the handle "arms," placing the heel on the top of your bag. Using the handle as support, with the right foot flexed begin to fold over your leg, just like you would in a half-split on a mat.
If you're brave and have very open hamstrings (and a heavy carry-on bag), you can play around with putting your foot on the top of the handle and folding. It's a fun variation, but I've definitely had my bag scoot out from under me a time or two (makes for good laughs, at least).
Hold and repeat, switching sides.
4. If you're stressed during transit (or family time), come back to the breath.
For thousands of years, humans have turned to controlled breathing for quelling worried thoughts and regulating the nervous system. Research shows that during times of stress the breath can indeed calm us down. Try shutting your eyes and breathing in through your nose for five counts, holding for five counts, and breathing out your mouth for five counts. Just two minutes, or a couple of rounds of controlled or paced-breathing can reduce apprehension and bring your body back into a state of alignment, especially when it's practiced daily.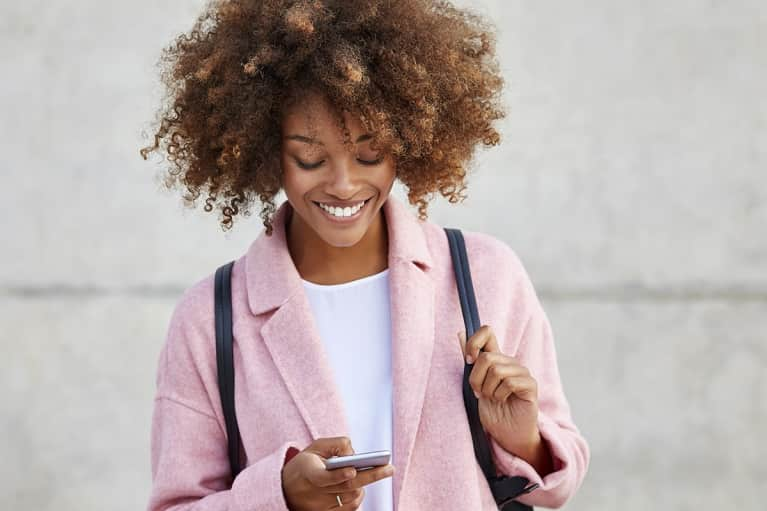 5. Once you arrive, go makeup-free for the sake of your skin and sanity.
Traveling is a good time to let your skin breathe, and if you regularly wear makeup, it's an excellent opportunity to go barefaced. Time on a trip is (usually) definitive and finite—instead of taking the time to apply makeup every day, spend more time with your travel buddies or focus on some "me" time.
6. Start every day with some greens.
When I'm at home, I start every single day with a green smoothie, and while I've toyed with becoming one of those people who travel with a blender, it's a little too involved for me (lugging it around, dealing with electric conversion, grocery shopping). Instead, I start every day with Athletic Greens powder, which has 75 different ingredients (including grasses, sea vegetables, green tea, adaptogens, and more) and is one of the most comprehensive that I've come across. It comes in an easy-to-use packet, which I empty into a huge glass or bottle of water (it tastes a little like bubble gum) and chug the whole thing at the beginning of each day. Then, no matter what I end up eating for the rest of my waking hours, I've gotten some nutrients in my body, which helps my anxiety from a psychological perspective but also a physical one, as I simply feel more grounded and calm when I'm giving my body what it needs.
7. If you take one supplement with you, make it magnesium.
Magnesium, also known as nature's "relaxation mineral," plays a vital role in over 300 enzymatic reactions in the body and is important for everything from the functioning of your nervous system to the health of your bones. In other words: It's really important to your overall health. On a day-to-day level, magnesium has been shown to help ease menstrual cramps, tame headaches, and promote regular digestion. All of this is even more important when you're traveling, when you're more vulnerable to minor aches, pains, and dysfunctions.
8. Learn from the place you're visiting—even if you've been there hundreds of times before.
Everything in our life provides a chance to learn more about ourselves and one another. When you travel, it can be easier to recognize that everything is a divine opportunity. Instead of bringing your ideals and perspective to each destination, observe the local customs and see how things are done. Every culture has a way of doing things that works well for them. Let the world be your teacher, as learning from others can help you grow and be more open-minded.
9. When you get back, give yourself a day to get in the swing of things.
For particularly long stints, I always try to return a day early or build in a day on the back end where I can slowly catch up on life. Sometimes it's the mundane stuff like coming home to a giant stack of mail (not to mention an empty fridge) that can make me feel overwhelmed and wipe that vacation glow right off my face. With the transition day, I make sure to immediately meal prep for the week (I'm usually sick of eating out anyway) and get all the small to-do's out of the way so that when I'm back to work, I can jump immediately back into the normal swing of things.