These Healthy Soda Alternatives Are Sparkly AF & Oh-So-Delicious
Contributing Food Editor
By Liz Moody
Contributing Food Editor
Liz Moody is a food editor, recipe developer and green smoothie enthusiast. She received her creative writing and psychology degree from The University of California, Berkeley. Moody is the author of two cookbooks: Healthier Together and Glow Pops and the host of the Healthier Together podcast.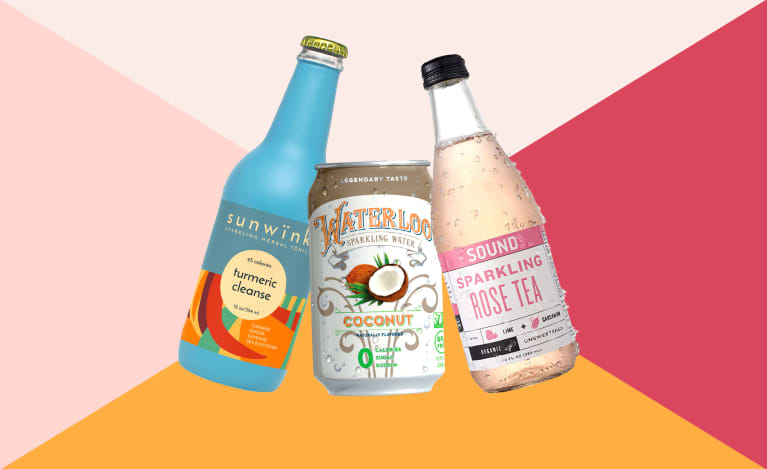 Our editors have independently chosen the products listed on this page. If you purchase something mentioned in this article, we may
earn a small commission
.
While we love kombucha, sometimes you want something fresh, flavored, and, well, more like the soda you remember from your less-than-healthy days. Not to worry—a number of new companies have sprung up to solve the fizzy problem. From healing herbal-infused beverages to bold tropical flavors to fresh-brewed tea, these drinks all have three things in common—they're healthy, crazy delicious, and have a sparkle that will delight your tongue. Here are our picks for the best sparkling soda alternatives on the market right now.
Waterloo Sparkling Coconut Water
Waterloo uses vapor-distilled water and bold, delicious natural flavors to create a sparkling water unlike any other on the market. The Austin-based brand has a number of flavors—all of which are housed in BPA-free cans, and are non-GMO-project-verified and Whole30-approved—but we especially love the coconut, which is the freshest, most tropical of any coconut-flavored beverage we've had. Great on its own or as the base of a summer cocktail (maybe with some Tito's, which is also Austin-based!), this alt-soda also has 0 calories and grams of sugar, despite its faintly sweet, coconut-y flavor. Coconut, Waterloo Sparkling Water ($23.99 for 18 12-fluid-ounce cans)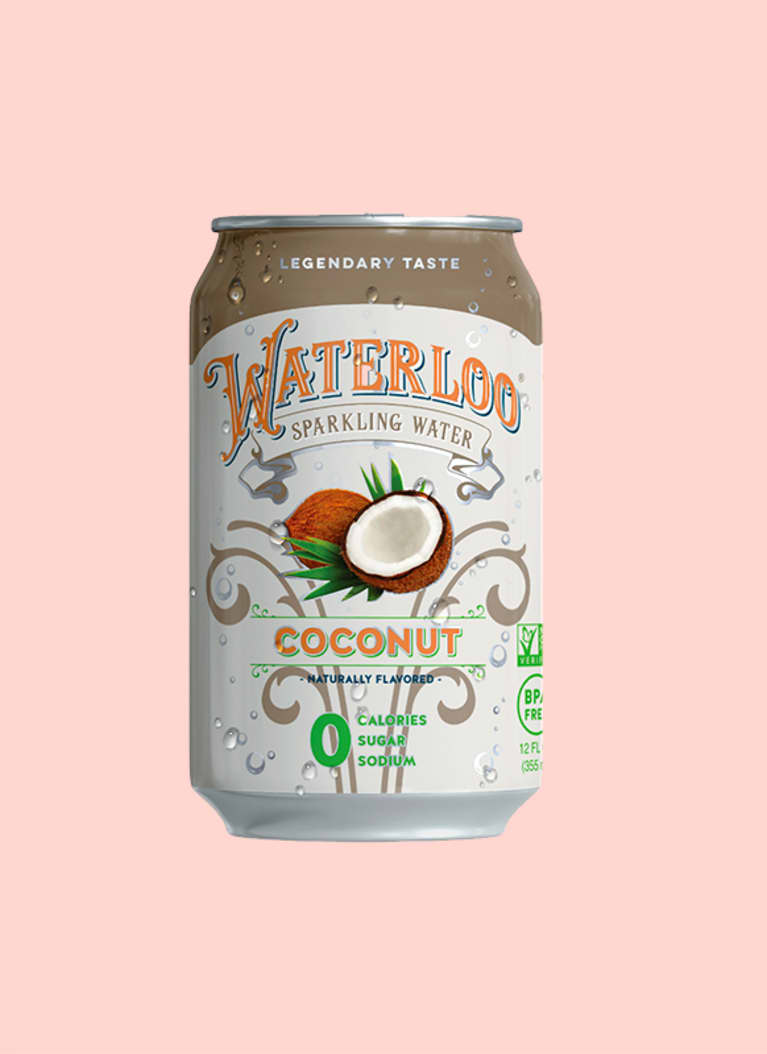 mbg creative + custom
Izze Sparkling Clementine Juice
Izze Sparkling Juice has a more robust flavor than many of the sparkling waters, with a formula of 70% juice and just the right amount of carbonation to tickle your soda-loving taste buds. We love this blend, which tastes like an orange soda—if orange soda were fresh-from-the-orchard and tasted bright, fresh, and just-squeezed. All of the sugars in Izze come from fruit juice, so you can feel good about what you're drinking. The rest of the varieties, which include Sparkling Peach, Sparkling Cherry Lime, Sparkling Grapefruit, and more, are also delicious. Clementine, Izze Sparkling Juice ($19 for 24 8.4-fluid-ounce cans)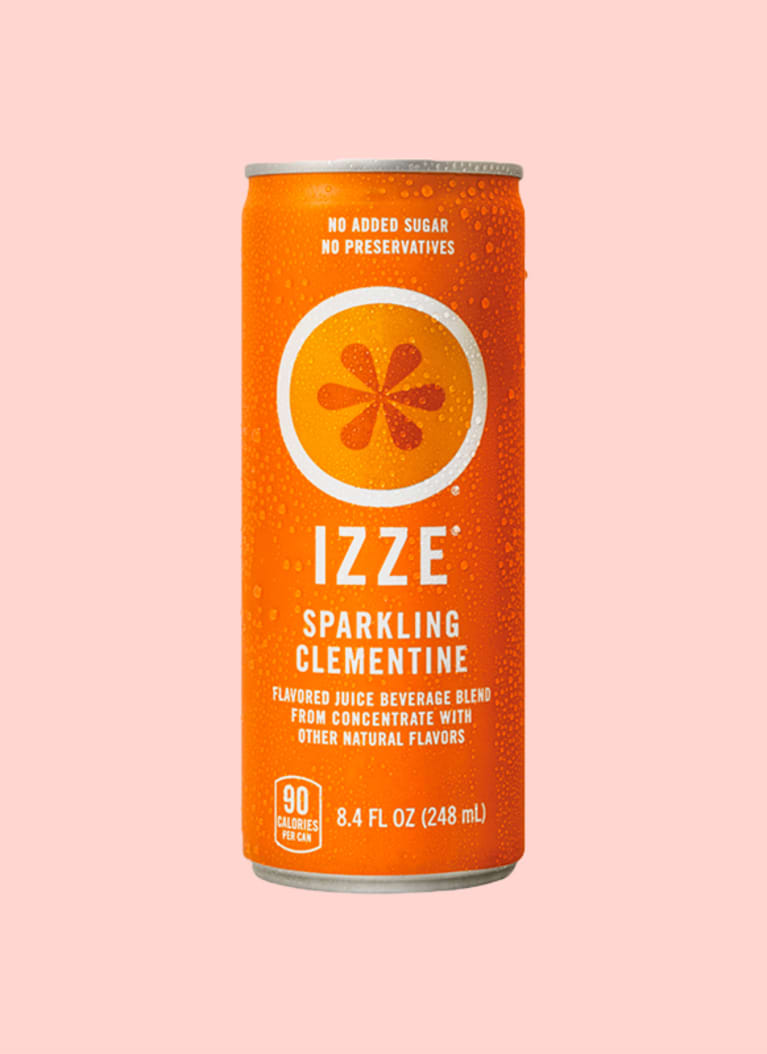 mbg creative + custom
Sound Sparkling Rose Tea with Lime & Cardamom
Sound is shaking up the beverage game with their sparkling teas, which use greens, whites, tisanes, and herbs to flavor sparkling water. While the white and green are delicious (the Green Tea with Grapefruit and Mint is an especially nice summer option), the Rose Tea wins for its caffeine-free versatility and delicate, Middle Eastern–inspired flavor. All of the teas are organic and Whole30-approved, as well as free from any sweeteners and preservatives. As a bonus, the herbs and teas add other benefits—the rose in this one is stress-relieving, for instance, and the cardamom is so anti-inflammatory that it's been called "the next turmeric." Sparkling Rose Tea with Lime & Cardamom, Sound ($29 for 12 12-fluid-ounce bottles)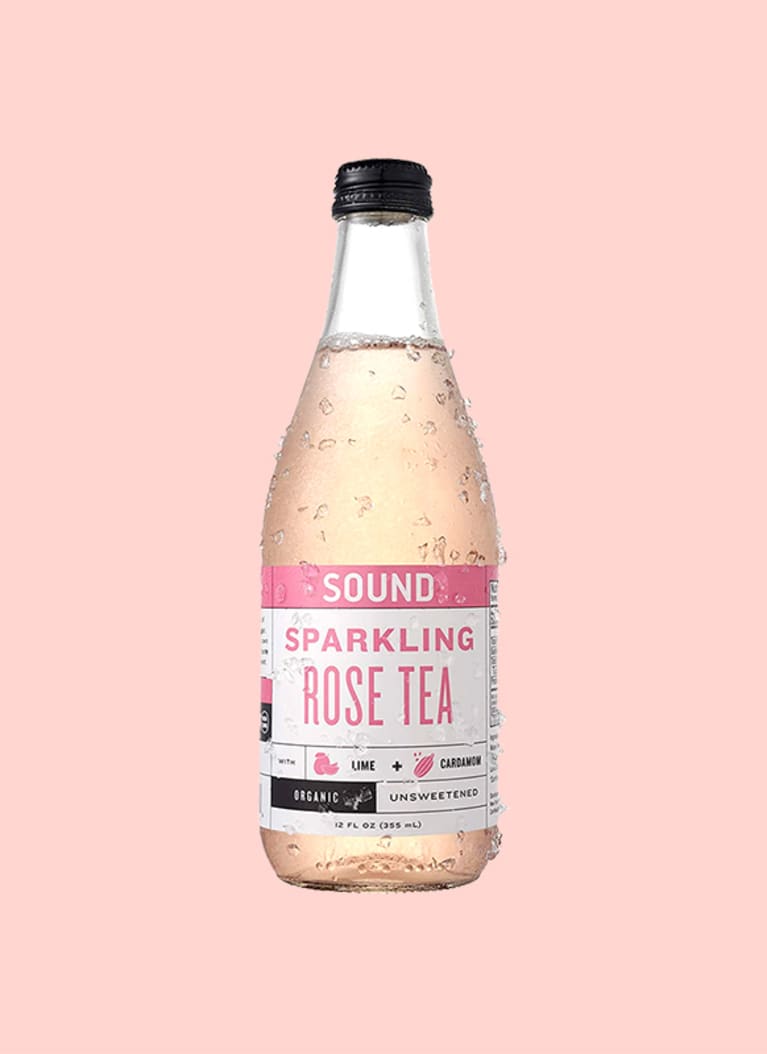 mbg creative + custom
bubly Sparkling Pineapple Water
If the bright, poppy cans don't make you smile, what's in them surely will: delicious, effervescent sparkling waters in an array of winning flavors. We love them all, but the tropical ones are especially fun—there's a mango variety, and the playful, fruity pineapple one we've chosen here. The flavors are completely natural, and there's zero sugar or anything else in each can, making them easy to incorporate into your everyday. Serve it over ice with a paper umbrella to feel like you're on a white-sand beach. Pineapple, bubly Sparkling Water ($10.99 for 18 12-fluid-ounce cans)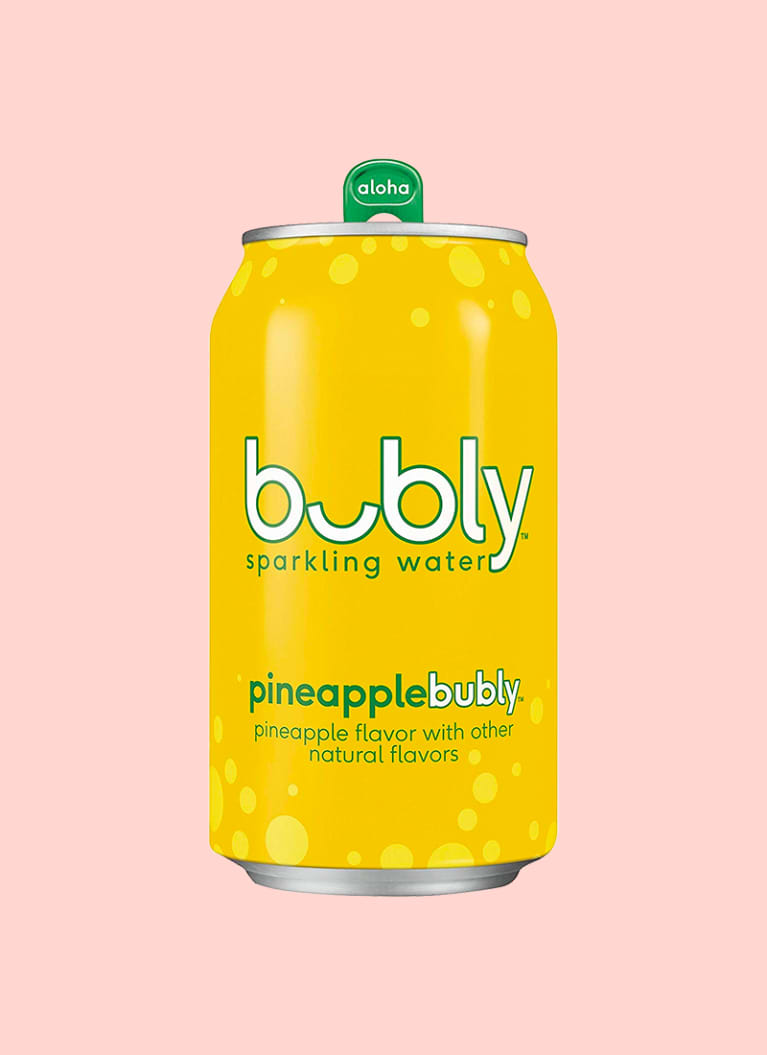 mbg creative + custom
Spindrift Half & Half Lemon Sparkling Water
Spindrift has made waves with its innovative approach to sparkling beverages. They take a small amount of fresh, real fruit and combine it with sparkling water for a taste that's slightly more robust than other sparkling waters but more subdued than sparkling fruit juices. This variety, a take on an Arnold Palmer, is especially innovative, combining real brewed Argentine black tea and fresh-squeezed lemon juice for a refreshing and addictive blend. All of their products are non-GMO-project-verified and Whole30-approved, with real, fresh-from-the-farm ingredients and no flavorings of any sort. Half & Half Lemon Sparkling Water, Spindrift ($17.97 for 24 12-fluid-ounce cans)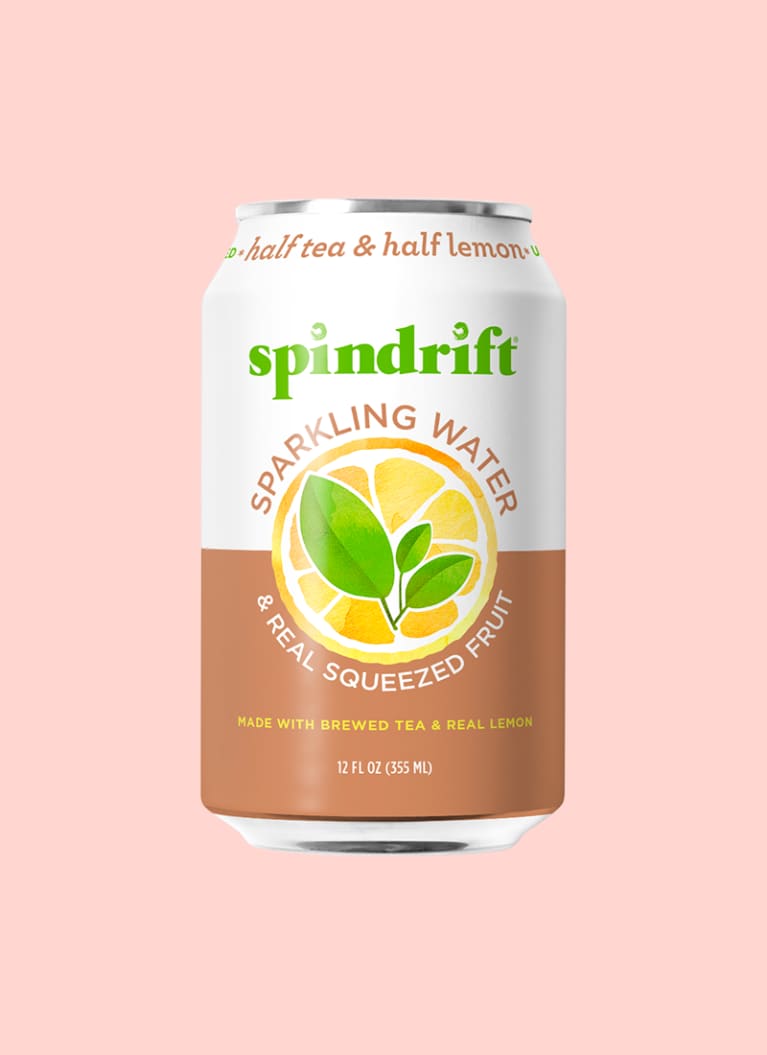 mbg creative + custom
Sunwink Turmeric Cleanse Sparkling Herbal Tonic
Sunwink took the innovative step of deciding that sparkling beverages should not only be delicious—they should be healing as well. They have four flavors—a liver-supporting ginger burdock, an immunity-boosting goji and elderberry, a damiana-spiked lemon and rose, and this "turmeric cleanse" version, which features anti-inflammatory turmeric, black pepper, ginger, and sea buckthorn. While the company bills its 12-bottle packages as "six-day cleanses," you reap all of the benefits by simply drinking them as soda replacements when you get a craving. Lightly sweetened with maple syrup and filled with the spicy herbal notes, you'll be primarily drawn to how incredibly delicious they are. Turmeric Cleanse Sparkling Herbal Tonic, Sunwink ($60 for 12 12-fluid-ounce bottles)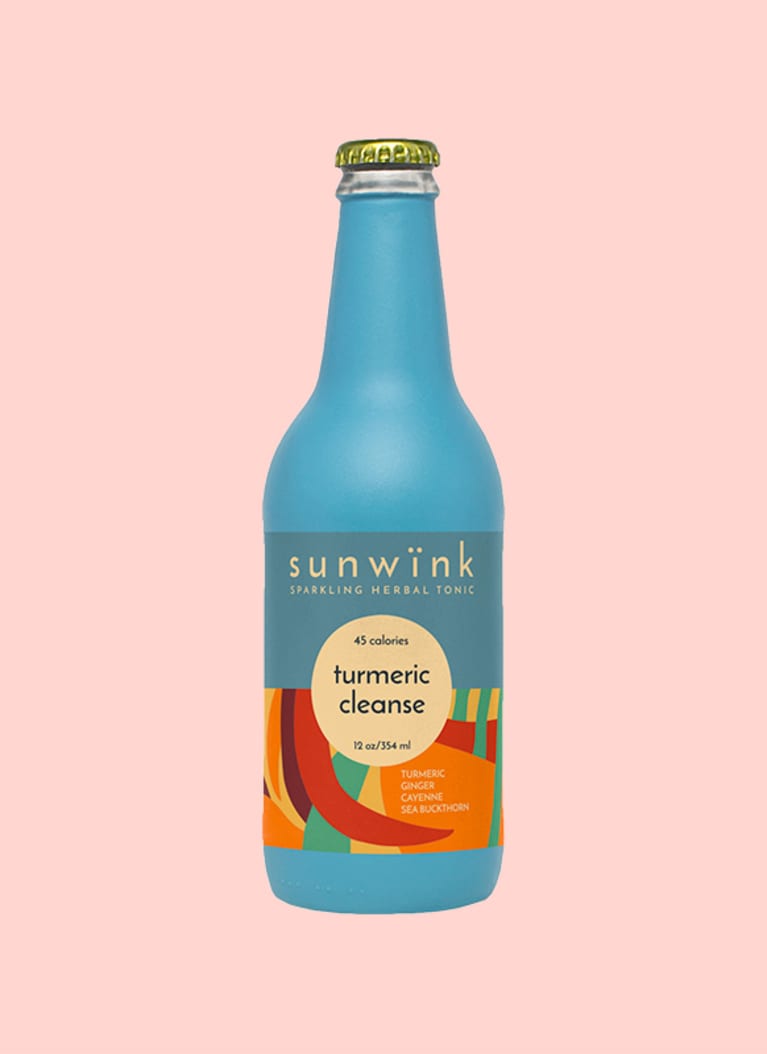 mbg creative + custom