The Best Pumpkin Spice Snack of 2018 Is Blood Sugar Balancing & Protein-Packed — And I Can't Stop Eating It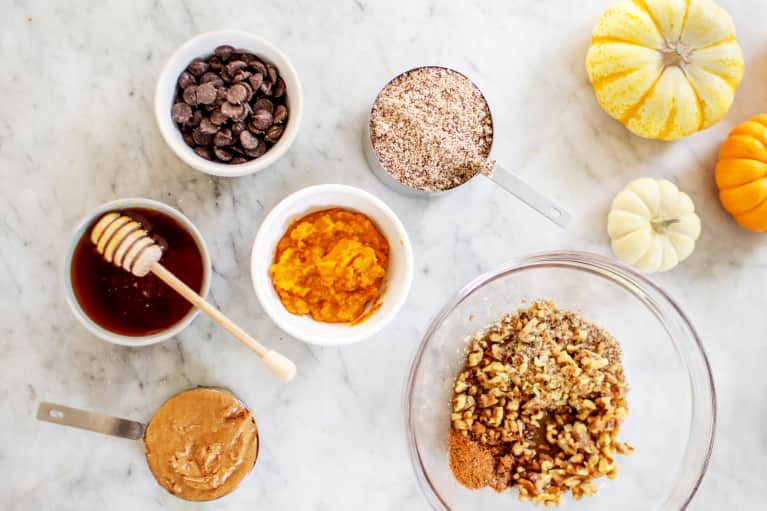 Pumpkin spice has become a bit of a joke. It's permeated basically every element of our culture. It's in cereal. It's in coffee creamer. I'd not be surprised if, while wandering the aisles of my local bodega, I stumbled upon pumpkin-spice-scented toilet paper.
Still, it persists. Maybe it has something to do with the transience of fall: a short blip of time between the heat of summer and winter's chill when we all inhale the opportunity for renewal. In a world of on-demand pleasure, fall's delights remain stubbornly associated with these few months: Pumpkin patches briefly take over empty parking lots; leaf peepers keep refreshing foliage maps, hoping to catch the brief moment of brilliant orange before the empty branches settle in for winter.
It could also be that the combination of spices associated with "pumpkin spice" is really damn delicious. Modeled after the notion of pumpkin pie (most products, despite the pervasiveness of autumnal orange, don't actually include pumpkin or pumpkin flavoring), pumpkin-spiced products are typically a blend of warming spices like cinnamon, nutmeg, allspice, and cardamom. Together, they form a flavor that's the gastronomic equivalent of warm, fuzzy socks and curling up with a good book and a blanket on a chilly day. They're cozy. They're comforting. They're like a hug for your tongue.
Like hugs, I enjoy pumpkin spice but only in moderation (I wasn't raised in a touchy-feely family, OK?). I save my taste buds for only the best products, eschewing the artificial syrups and cloyingly sweet blends for ones that satisfy my desire for that warm, spicy flavor—and also for the nourishment the season demands.
And this year, after taste-testing more than 40 pumpkin spice products (the things I do for mbg readers), I found the best one. Meet the Kween Pumpkin Spice Granola Butter. The product is an offshoot of Kween's original granola butter, which I tried and enjoyed last year. The Pumpkin Spice blend, though, is everything a granola butter should be (which, you know, might not be much, given that founder Ali Bonar pretty much created the category). The pumpkin spices blend perfectly with the nutty, warm oat and flax base, and the flavor is perfectly designed to elevate all of the fall staples. It's sweet and spicy and tastes like a decadent treat but boasts an almost ridiculously saintly ingredient list: gluten-free oats, flax, olive oil, maple syrup, coconut oil, pumpkin seeds, salt, vanilla extract, and spices. It's all organic. It's (literally) dripping with satiating healthy fats and protein (4 grams per serving!). It tastes like if the cookies they distribute on Delta flights had a baby with a pumpkin pie, and that baby shapeshifted into a nut butter. It's fall on a damn spoon.
I eat it by the spoonful when my blood sugar is dipping in the middle of the afternoon, and the healthy fats and proteins power me through my post-work yoga class and dinner prep time. I drizzle it on top of my smoothie to give it an Instagram-worthy swirl and seasonal flair. I stir it into oatmeal and top it with crushed pecans for what I call "pecan pie oatmeal" ("It's not pecan pie," my husband says. "It's good, but you need to stop calling it that"). I've been capping most nights by sautéing up a few chopped apples in ghee with salt and vanilla, then drizzling the granola butter on top (it's apple pie, basically, but don't tell my husband).
It's also, like all elements of the season, available for a limited time only—part of its magic, maybe. All I know is that I'm stocking up.