These Were The Top 10 Healthy Food Trends Of 2017
Contributing Food Editor
By Liz Moody
Contributing Food Editor
Liz Moody is a food editor, recipe developer and green smoothie enthusiast. She received her creative writing and psychology degree from The University of California, Berkeley. Moody is the author of two cookbooks: Healthier Together and Glow Pops and the host of the Healthier Together podcast.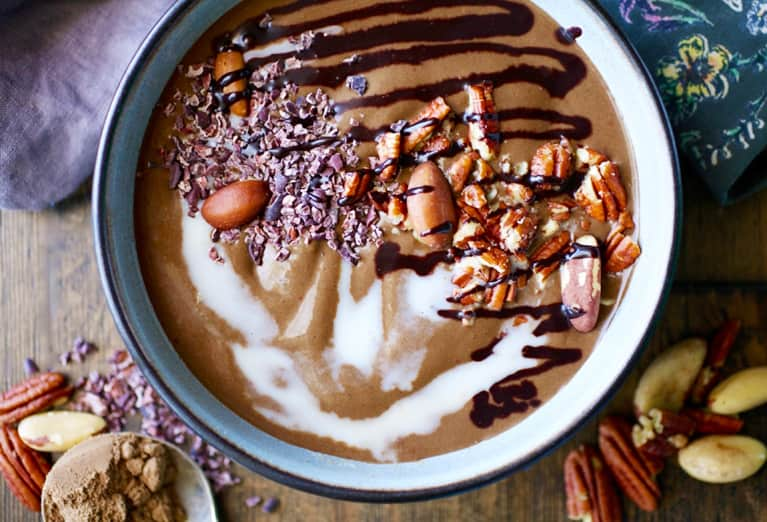 Our editors have independently chosen the products listed on this page. If you purchase something mentioned in this article, we may
earn a small commission
.
December 20, 2017 — 10:35 AM
While we're excited to be looking forward at what trends are up and coming for 2018, it's also fun to look back on the new foods that permeated wellness culture over the past year. We asked some of the best R.D.s and wellness experts in the country to share their favorite trend of the year. Here are their picks:
1. CBD-infused chocolate.
I loved the trend of CBD-infused foods, especially chocolate. CBD is becoming more mainstream, and its powerful anti-inflammatory properties turn an ordinary "treat" into something functional.
Try the trend: We love this super-calming CBD-infused hot chocolate.
—Lisa Hayim, R.D., founder of The Well Necessities
My favorite trend of 2017 was that mindful eating became important and "cool." While eating mindfully is mental, it can have real physical effects and can help people lose weight and achieve their health and wellness goals. I just hope that this is a trend that's here to stay because it is such an important component of achieving and maintaining a healthy lifestyle.
Try the trend: Do this meditation before your next meal to get in touch with your body.
—Allison Aaron, R.D., founder of Nutrition Curator
I was super excited about collagen peptides this year. I really love the versatility of this protein powder, not to mention that it helps to improve gut health and the integrity of hair, skin, and nails. My favorite factor is that it's virtually taste-free, so it's undetectable in smoothies, drinks, soups, tea, and more!
Try the trend: This turmeric collagen tonic helps fight inflammation and heal your gut.
—Cristal Sczebel, CHN, founder of Nutrition in the Kitch
With the overuse of modern medications to deal with the effects of stress, it's nice to have less-toxic alternatives available. Adaptogenic herbs have been in use for thousands of years across centuries and cultures, which strengthens the evidence for their use. Some of their many qualities include boosting the immune system, increasing endurance, increasing mental focus, and relieving anxiety.
—Kim Suddeath, R.D., founder of Unrefined RD
I've love adaptogen everything in all the forms. Ashwagandha in smoothies and energy balls has been my personal favorite for stress relief.
Try the trend: This guide will help you figure out the best adaptogens for your body and needs.
—Carlene Thomas, R.D., founder of Healthfully Ever After and Next Great Nutritionist winner
My favorite healthy food trend of 2017 is hands down spiralizing EVERYTHING! I'm all about zucchini, cucumbers, squash, and literally anything else that I can turn into a noodle! You don't have to just replace traditional spaghetti and red sauce with veggie noodles—it's fun to get creative with them and try new things. For instance, baking squash noodles or using cinnamon and maple syrup to make a sweet side dish are some of my favorites.
—Leah Silberman, R.D., founder of Tovita Nutrition
Veggie noodles were genius in getting people to eat more vegetables. I love that if you mix a veggie noodle, like zucchini noodles or cauliflower rice, with their grain counterpart, like spaghetti or brown rice, you automatically get double the volume and nutrient density, without overeating.
Try the trend: These three vegetables are better spiralized—here's how to prep 'em!
—Sammi Haber, R.D., founder of Nutrition Works NY and Next Great Nutritionist winner
7. Globally inspired flavors.
I am beyond excited by the trend toward a more global world cuisine. There is so much we can learn about one another through the offering of food. Food has the amazing capacity to build bridges instead of walls. Beyond the warmth of sharing of cultural perspective, many of these foods are full of healing spices and invite us to eat things that we might normally overlook such as beans and whole intact grains. Two dishes that I am particularly excited about are this earthy chicken chickpea stew and congee.
Try the trend: This sweet potato and kale recipe teaches you how to make your own za'atar—it's shockingly easy!
—Kimberly Evans, R.D., founder of Whole Health Nutrition
My favorite healthy food trend has got to be the surge of the Instant Pot. I love that people are getting back in the kitchen making old-fashioned meals like soups and stews with the aid of this super-fast appliance that has changed my life. As a busy mom, I love how I can come home from work and whip up a slow-cooked meal like pulled pork or beef stew in less than an hour.
Try the trend: These are the three healthiest recipes you can make in an Instant Pot.
—Diana Rodgers, R.D., founder of Sustainable Dish
My favorite healthy food trend this year was the golden/turmeric milk lattes. I love the health benefits that turmeric brings, and it is a cozy, caffeine-free option when you don't want coffee or tea.
Try the trend: Want a ready-made turmeric latte? We tried all of the brands, and these were the best.
—Alanna Waldron, R.D., founder of Eat Real Food
My favorite healthy food trend this year has been the rise in backyard and community gardening. A recent statistic reveals that 35 percent of all households in America, nearly 42 million households, are growing food at home or in a community garden, which is up overall by 17 percent in the past five years. This is great news, as growing our own food has significant health benefits as well as environmental benefits as well.
Try the trend: It's easier than you think to build a vertical garden in your own home.
—Emily Kyle, R.D., founder of Emily Kyle Nutrition