These Are The Healthiest Energy Drinks You Can Buy Right Now

Contributing Food Editor
By Liz Moody
Contributing Food Editor
Liz Moody is a food editor, recipe developer and green smoothie enthusiast. She received her creative writing and psychology degree from The University of California, Berkeley. Moody is the author of two cookbooks: Healthier Together and Glow Pops and the host of the Healthier Together podcast.
Image by mbg creative / product sites
Our editors have independently chosen the products listed on this page. If you purchase something mentioned in this article, we may
earn a small commission
.
September 23, 2019
Healthy energy drinks? What was once an oxymoron has come to full fruition, with companies sourcing clean energy from South American superfoods like yerba mate and others using the latest in high-tech science to create buzz-boosting concoctions. Combined with health-supporting boosters like electrolytes and polyphenol-rich fruits, these are perfect for when you need a clean pick-me-up.
Advertisement
This ad is displayed using third party content and we do not control its accessibility features.
Guayakí Organic Yerba Mate—Bluephoria
Guayakí has revolutionized the energy drink market by using yerba mate, a vitamin-, mineral-, and polyphenol-rich naturally caffeinated plant native to South America. While Guayakí makes a number of products—their shots and non-effervescent bottled drinks are addictive—we love this sparkling beverage, which hits the same spot as a soda (but it's much healthier!). The Bluephoria comes from blueberry and elderberry, which balance the sweetness of the grassy yerba mate while adding extra antioxidants. ($40.62 for 12 cans)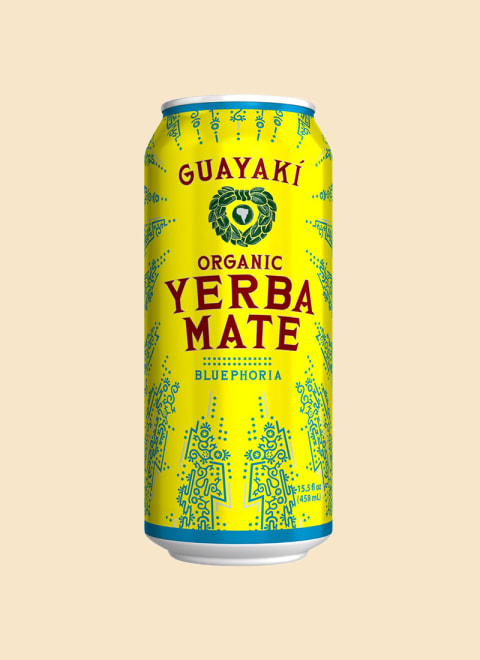 mbg creative / product site
O2 Natural Recovery Drink—Grapefruit Ginger
O2 contains seven times the oxygen of normal water. It also contains 2.5 times the electrolytes of an average sports drink, and the profile of those electrolytes is the same as an IV drip. While it also does have caffeine—derived from green coffee beans—simply giving your body the boost of oxygen and electrolytes should help you feel more awake (there are also two caffeine-free flavors if you want the boost sans caffeine or want to drink it at night). The Grapefruit Ginger flavor is bright, citrusy, faintly spicy, and utterly addictive. $(15.99 for a Four Pack)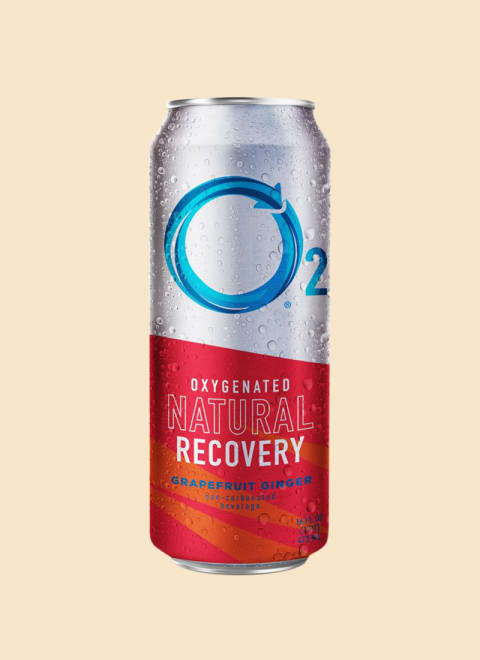 mbg creative / product site
Sambazon Organic Amazon Energy—Original Acai
This energy drink is renowned for its delicious flavor, which is just the right amount of sweet and fruity. It uses acai as its base and gets its energy-boosting components from a mix of guaraná, yerba mate, and green tea, so you get the distinct benefits of all three types. It has the equivalent caffeine of two shots of espresso and is made with all organic and non-GMO ingredients, so you can feel good about your buzz. ($24.65 for 12 cans)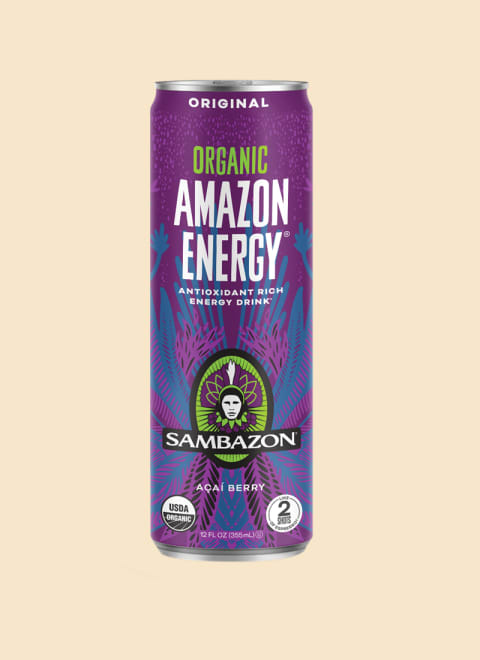 mbg creative / product site
RUNA ZERO Organic Clean Energy Drink—Watermelon
RUNA makes their energy drinks from guayusa, an Amazonian leaf that's brewed like a tea but contains more caffeine than an equivalent amount of coffee—plus polyphenols and L-theanine. RUNA sources their guayusa from "forest gardens" tended to by Kichwa farmers, an indigenous people of the Amazon, which means every can purchased helps support small farmers and rainforest preservation. We love the Clean Energy Zero line, which contains zero calories and zero sugar (the watermelon flavor is thirst-quenching and delightful). ($29.88 for 12 cans)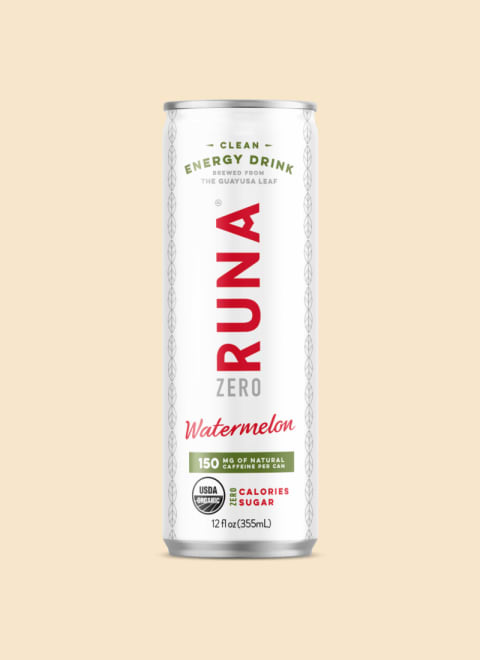 mbg creative / product site
Your Super Energy Bomb Superfood Mix
If you prefer to control the amount of drink you have and exactly how you consume it, this powdered superfood mix is perfect for you. It contains a mix of guaraná (which provides the caffeine and thus the energy component), maca, lucuma, acai, and banana powder—and nothing else. With a faintly fruity, caramel-tinged flavor, you can mix it with a milk of choice or water and gulp it down, or stir it into a smoothie or oatmeal. The powdered form also makes this a great one to travel with. ($26.90 for 10 single-serve packs)
mbg creative / product site
Advertisement
This ad is displayed using third party content and we do not control its accessibility features.
Reset Your Gut
Sign up for our FREE doctor-approved gut health guide featuring shopping lists, recipes, and tips