Cookie Dough, Ice Cream & Chocolate-Covered Caramel: These Are The Best Healthy Desserts You Can Buy Right Now
Contributing Food Editor
By Liz Moody
Contributing Food Editor
Liz Moody is a food editor, recipe developer and green smoothie enthusiast. She received her creative writing and psychology degree from The University of California, Berkeley. Moody is the author of two cookbooks: Healthier Together and Glow Pops and the host of the Healthier Together podcast.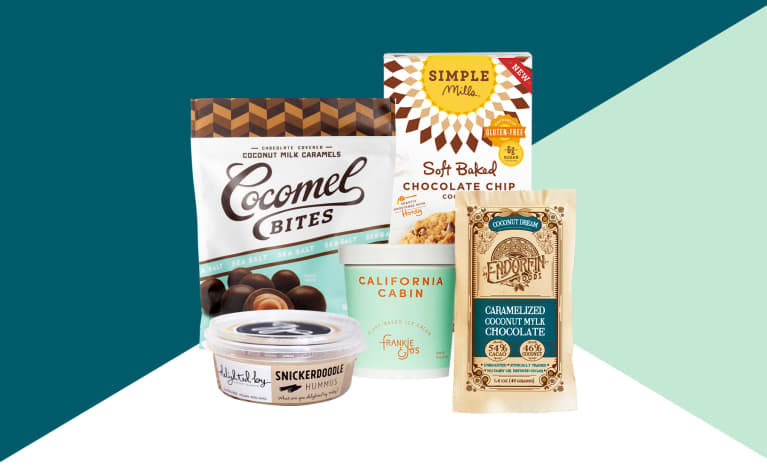 Our editors have independently chosen the products listed on this page. If you purchase something mentioned in this article, we may
earn a small commission
.
It's a hard job, but someone's gotta do it: We tested our way through all of the healthy desserts on the market to find the cream of the crop. Here are our favorites available on store shelves right now, from perfectly soft-baked chocolate chip cookies (made with almond flour!) to sprouted-cashew ice cream.
Simple Mills Soft-Baked Chocolate Chip Cookies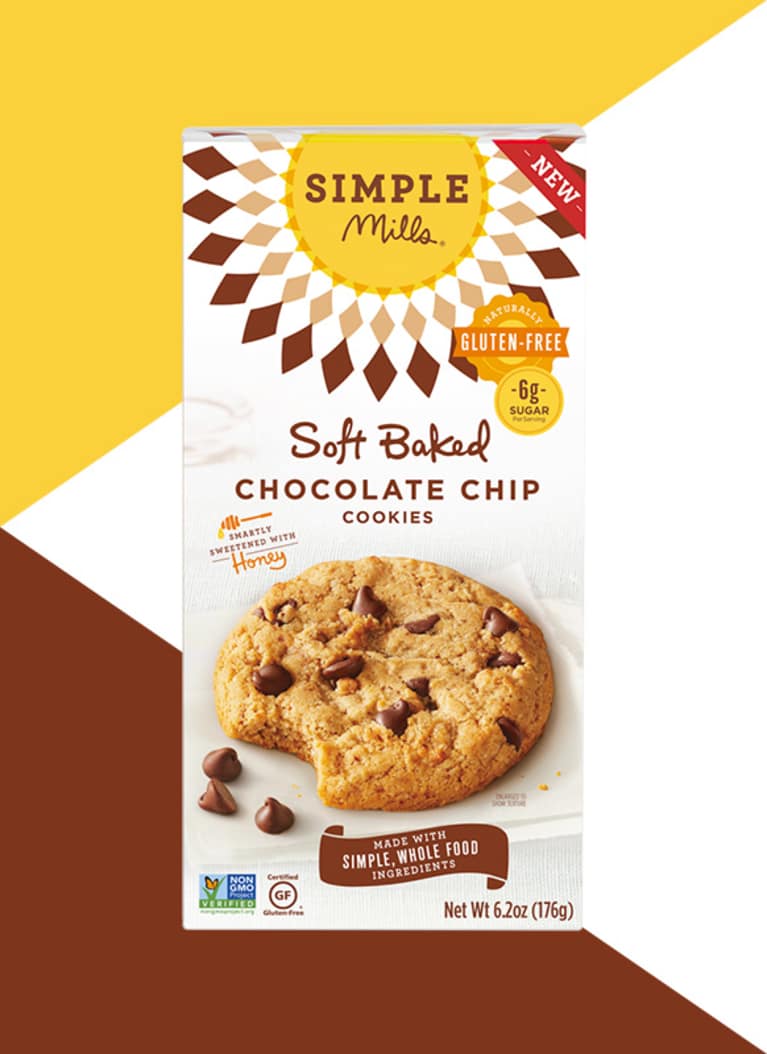 Simple Mills has long been our go-to for clean ingredient, healthy versions of our favorite treats, and their newly Soft-Baked Cookie line only adds to their stellar track record. Perfect for people who prefer a softer (versus crispy) cookie, these have the perfect mouth-feel and an incredible (non-GMO, gluten-free, grain-free) ingredient list featuring almond flour, flax meal, and a hint of honey for sweetness. The line also includes Snickerdoodle, Toasted Coconut Dark Chocolate, and Peanut Butter. Soft-Baked Chocolate Chip Cookies, Simple Mills ($4.99)
Endorphin Foods Coconut Mylk Chocolate Bars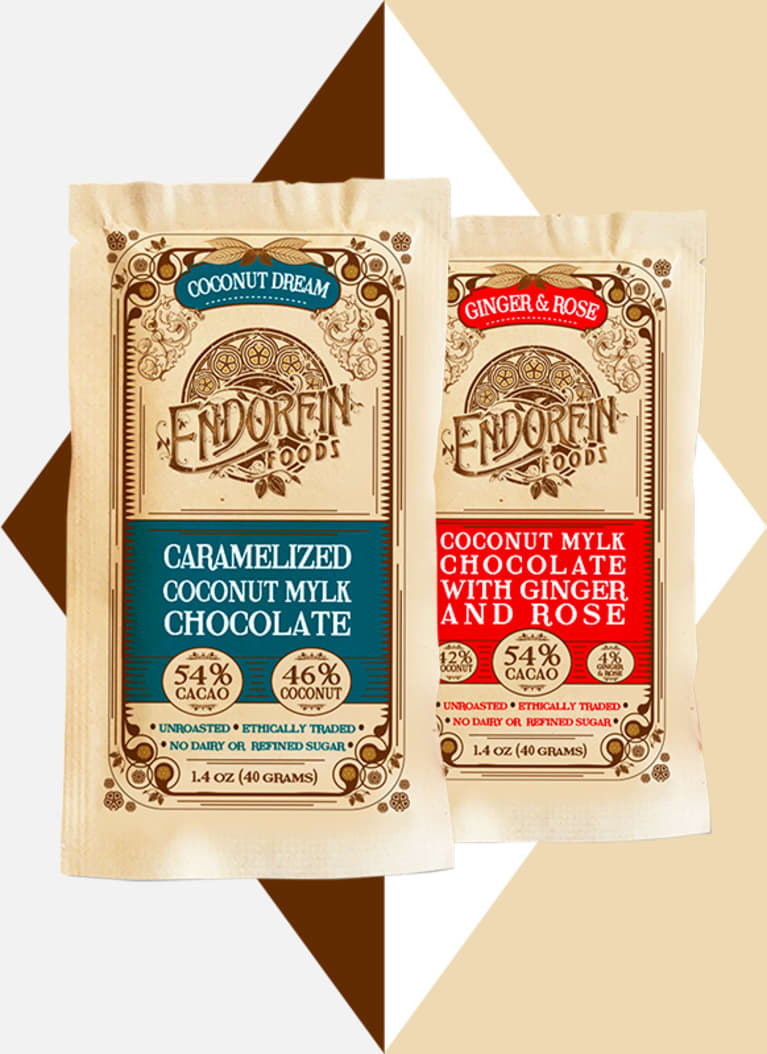 If you've always heard that milk chocolate isn't as good for you as dark but you love that silky, creamy flavor, these are the bars for you. They're raw, vegan, and paleo and use raw cacao mixed with coconut sugar, caramelized coconut, and cocoa butter for a bar that is, in a word, mind-blowing. The caramelized coconut, particularly, adds a burnt sugar flavor that is utterly addictive. The creative flavor profiles—we particularly love the Pink Peppercorn and Pink Sea Salt—only add to the deliciousness. Coconut Mylk Chocolate Bars, Endorphin Foods ($6.50)
Because Cookie Dough Oatmeal Chocolate Chip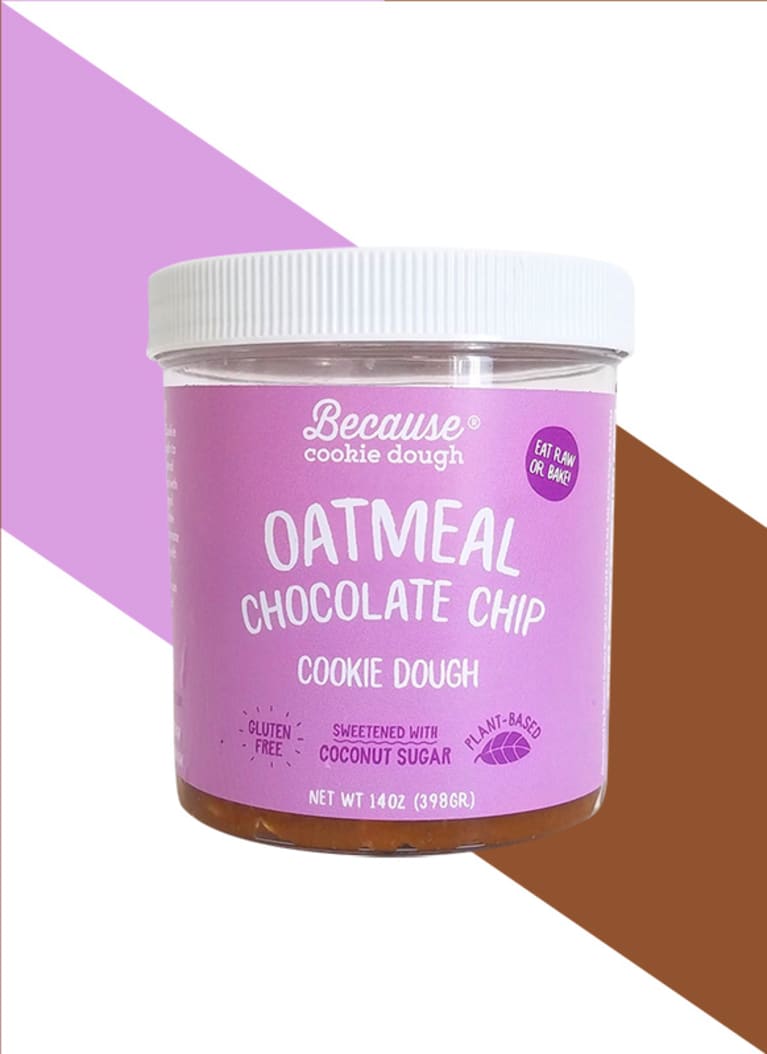 Are you the type of person who eats cookie dough or brownie batter straight out of the bowl? We're raising our hands, although now we've replaced our unhealthy habit with these perfectly portioned Because Cookie Dough bowls. They have a brown rice and oat flour base and are sweetened with a touch of maple syrup and applesauce, but somehow they perfectly mimic the unbaked glory of typical cookie dough. We love the oatmeal chocolate chip cookie flavor, but the classic and double chocolate brownie ones are great too. Oatmeal Chocolate Chip, Because Cookie Dough ($49 for a 12-pack)
Frankie & Jo's California Cabin Plant-Based Ice Cream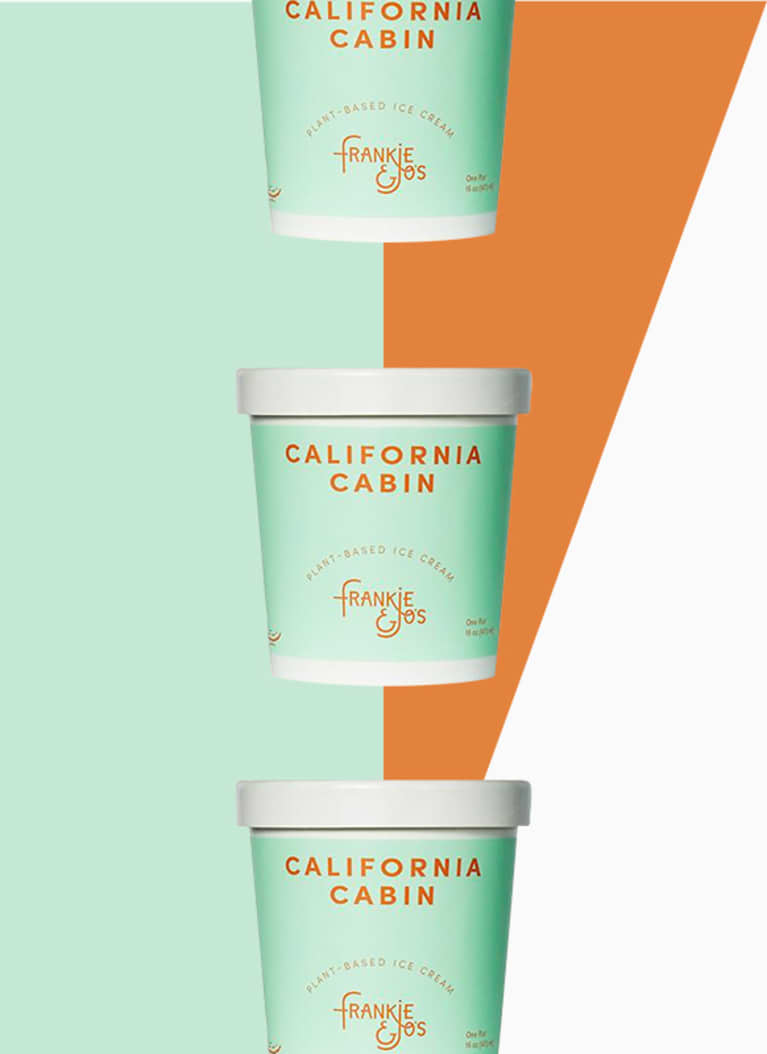 You've likely seen this on Instagram—the startling colors of the Gingered Golden Milk and black Salty Caramel Ash ice creams are a favorite of food bloggers across the country. Frankie & Jo's makes plant-based ice creams that are just as rich and creamy as dairy options. They're sprouted-cashew-and-coconut-based and completely free of gums and stabilizers—plus they come in exceptionally creative flavors. The California Cabin version has notes of smoky wood and pine needles and is as interesting and unique as it is delicious. California Cabin Plant-Based Ice Cream, Frankie & Jo's ($52 for 4 pints)
Delighted By Snickerdoodle Hummus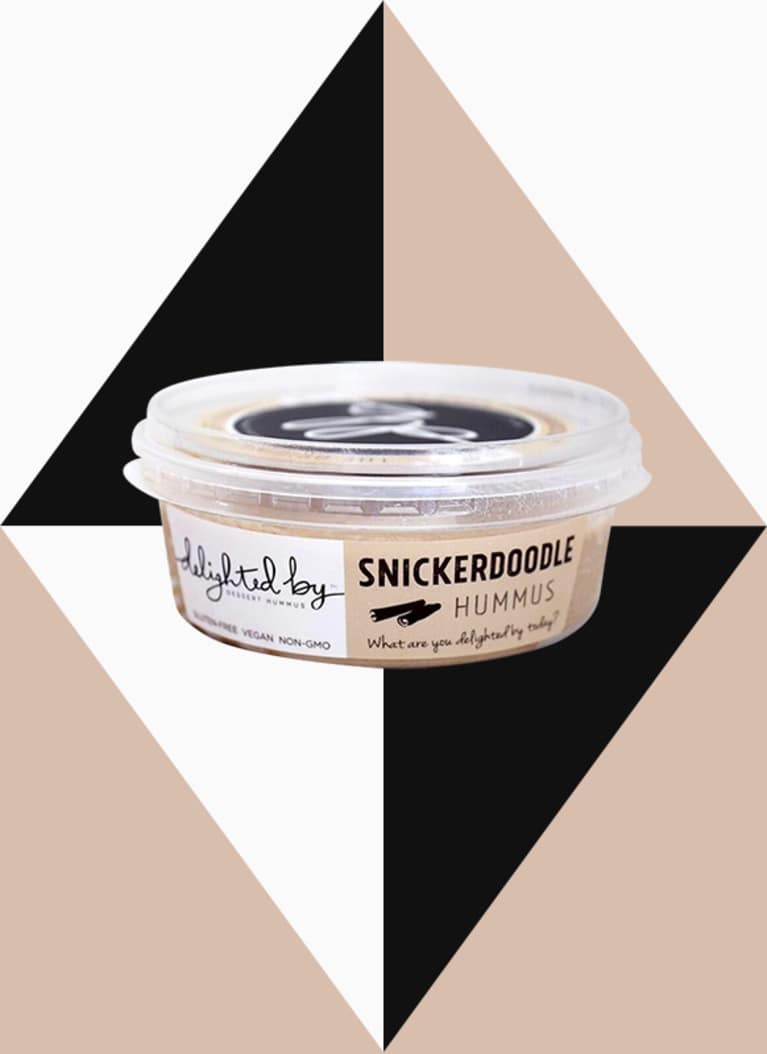 If you haven't gotten on board the dessert hummus train yet, we suggest you hop on quickly. Taking the same concept as hummus—chickpeas blended into a creamy, protein-packed paste—but with sweet flavorings instead of savory. Delighted By got its start on Shark Tank and has chocolate mint, brownie batter, and vanilla bean flavors, but our favorite is hands-down the cinnamon-spiked Snickerdoodle one. Spread it on toast, dip fruit in it, or just eat it with a spoon! Snickerdoodle Hummus, Delighted By ($5.99)
Cocomels Chocolate-Covered Caramel Bites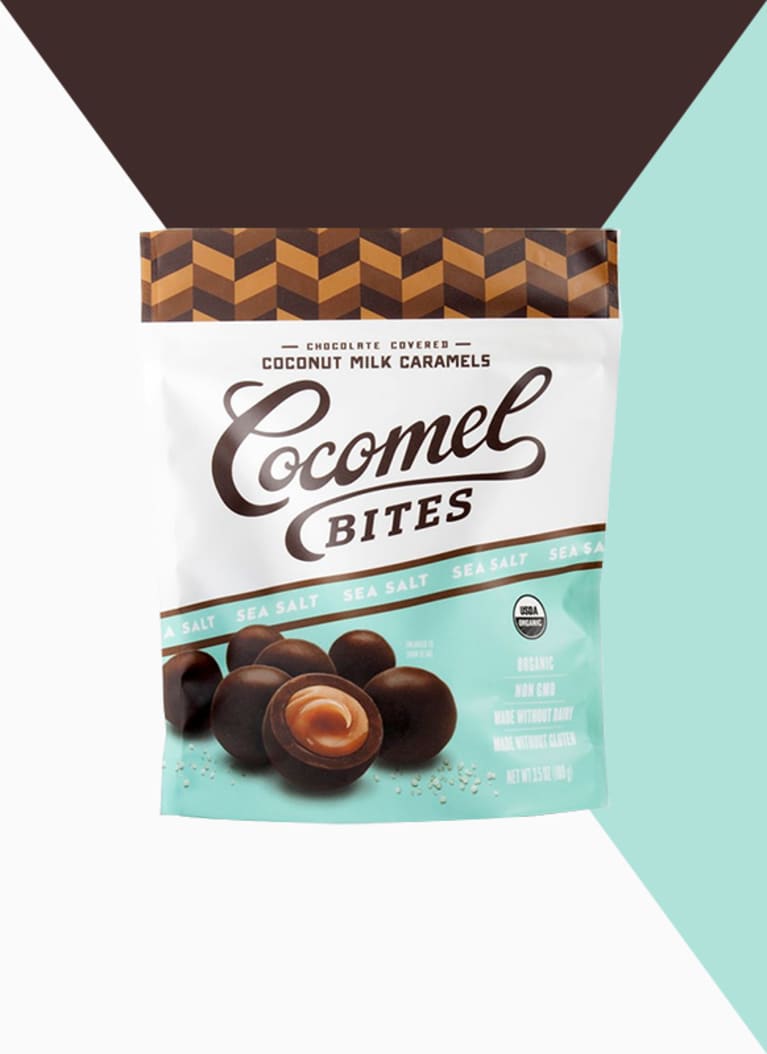 Imagine biting into a chocolate shell and finding a rich, chewy, perfectly sweet caramel center—now, imagine that the whole treat you're eating is organic, vegan, and non-GMO. Cocomels has taken their mega-successful caramels and wrapped them in a chocolate coating for a dessert that's as elegant as it is blissful. They boast a coconut milk base and are sweetened with just a touch of organic brown rice syrup. Bet you can't eat just one! Chocolate-Covered Caramel Bites, Cocomels ($9.28 for a bag)