19 Best Pieces Of Advice We Heard On Our Podcast This Year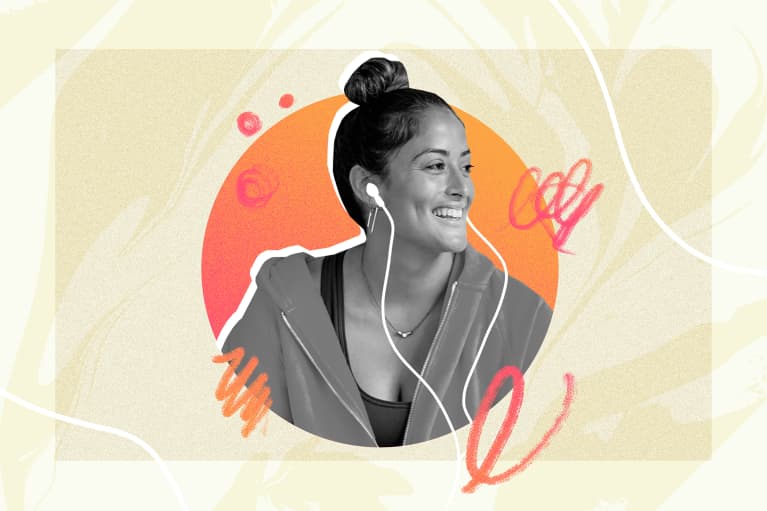 In 2019, we hosted many guests on the mindbodygreen podcast, sharing a wealth of knowledge to help us learn more about uniting soul with science.
While we learned something new and exciting from each one of the 76 episodes this year, we wanted to compile some of our favorite gems as we embark on a new decade. Some of our favorite themes from the year include the importance of brain health, building better relationships, finding purpose, the promise of self-healing, and the future of well-being.
On brain health & supporting our mental well-being.
Brain health was a big buzz topic this year. David Perlmutter, M.D., reminded us that diet is the most important aspect of brain health. He encouraged us to eat more healthy fats to support our brains' health, and to eat more prebiotic fiber to help fight inflammation (listen to Episode 92 on iTunes).
We also learned four key diet guidelines from Georgia Ede, M.D., all meant to help us support good mental health when the traditional Western diet fails us. We also learned that she, too, is a fan of the keto diet, having seen how it can help patients with dementia or Alzheimer's (listen to Episode 154 on iTunes).
In October, Daniel Amen, M.D., gave us three tips for training the brain to better manage anxiety. He shared with us how supplements, especially magnesium, are important for helping combat anxiety and promoting brain health (listen to Episode 150 on iTunes).
But it's not just about what we put into our bodies; brain health is about our routines and habits too. Neuroscientist Ilene Ruhoy, M.D., Ph.D., told us that bedtime isn't just for kids anymore: It's an important part of maintaining brain health for adults and kids alike (listen to Episode 152 on iTunes).
On relationships with our friends & family.
Relationships were also in the hot seat this year. Alexandra Sacks, M.D., a reproductive psychologist, joined us to discuss how the conversations around motherhood need to change and why it's important to support the new parents in your life, even if it's just by letting them know you're still there for them (listen to Episode 138 on iTunes).
For new parents thinking about their child's future, we sat down with Esther Wojcicki. Author of How To Raise Successful People (and parent of three successful children of her own), she spoke to us about why she thinks we should be treating kids more like adults: because they're more capable than we may give them credit for (listen to Episode 143 on iTunes).
In the face of all the coverage about the loneliness epidemic facing our society, we spoke to psychotherapist Lori Gottlieb about the relationship between loneliness and anxiety. She shared three of the best ways to prevent loneliness that you can do every day, like being intentional about putting away electronics when you're with family and friends (listen to Episode 115 on iTunes).
Dan Buettner, whose stories of "Blue Zones" inspired multiple New York Times bestsellers, told us the top three unexpected habits he noticed about people living in these healthy longevity hubs, and interpersonal relationships cropped us here too. In Buettner's mind, one of the most important habits embraced by people in the Blue Zones is their tight-knit, uplifting social networks (listen to Episode 157 on iTunes).
On active consciousness & identifying purpose.
We spoke to spiritual leader Deepak Chopra multiple times this year. For his second ever appearance on the mbg podcast, Deepak Chopra joined us to talk about the importance of conscious choices and the concept of mindful awareness (listen to Episode 100 on iTunes).
Later in the year, we spoke with Chopra again at our annual revitalize event in Arizona, where he explained why waking up and embracing active consciousness are so important to boosting longevity (listen to Episode 139 on iTunes).
Another repeat guest was Whole Foods Market CEO John Mackey, who we spoke to this summer about meaningful leadership. Mackey shared why it's important to be a conscious leader and how identifying and following your personal purpose can help you better lead consciously (listen to Episode 130 on iTunes).
More recently, we spoke to Ryan Holiday, author of Stillness Is The Key. Holiday shared the aspects of ancient philosophy that can help us find happiness and fulfillment in the modern world. One of his more interesting tips? That we need to learn to feel gratitude for things that we wouldn't traditionally be grateful for (listen to Episode 166 on iTunes).
On healing & listening to what our bodies need.
We also turned to ourselves in 2019 and spoke to experts about the complex and more miraculous processes of healing. Kelly Turner, Ph.D., shared stories of Radical Remission, her book, and shared how releasing suppressed emotions can help heal even physical ailments (listen to Episode 121 on iTunes).
When we spoke with Lissa Rankin, Ph.D., she echoed that same power of self-healing and explained how finding and following her "inner pilot light" and tuning into what her body needed helped her to heal (listen to Episode 111 on iTunes).
More recently we heard from someone who experienced the power of self-healing himself when we spoke with Jason Karp about how he was able to restore his fading vision by cutting out packaged food, caffeine, and alcohol, among other lifestyle changes (listen to Episode 125 on iTunes).
On the future of well-being & longevity.
We also spent much of 2019 thinking about the years to come (and you can read about how we're leaving the term "wellness" behind). We discussed strategies for living longer with the founders of Onegevity, who reminded us that challenging our bodies as we age is key to a healthier aging process (listen to Episode 117 on iTunes).
Longevity and healthy aging also came up back onstage at revitalize. We spoke to leading functional medicine experts Frank Lipman, M.D., and Robert Roundtree, M.D., who explained that smaller, more sustainable changes can do more to promote healthy aging than extreme measures (listen to Episode 131 on iTunes).
Another buzzword we encountered? Biohacking. Molly Maloof, M.D., shared her area of experience with us, making us think more about our nightly (and morning) routines. She explained how sleep can help us tune into our bodies for optimal health and how it can also be an answer for some health challenges (listen to Episode 146 on iTunes).
And while we're talking about sleep, it's a good time to reflect on the advice Chris Masterjohn, Ph.D., gave us for sleeping better. Masterjohn reminded us of the importance of good sleep hygiene—and we don't mean washing your hands before bed. It's about making sure you're getting outside and getting sunlight to help support your natural rhythm (listen to Episode 123 on iTunes).
We're excited to continue bringing important conversations about mental, physical, spiritual, and environmental well-being with industry leaders. Don't forget to subscribe to our podcast on iTunes, Google Play, or Stitcher, and sign up for our podcast newsletter!