Get Organized In 2018: Our Definitive List Of The Best Guided Journals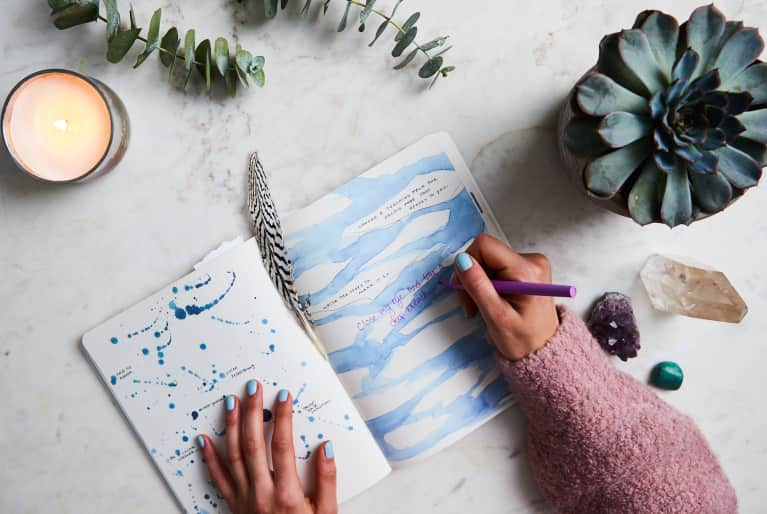 Our editors have independently chosen the products listed on this page. If you purchase something mentioned in this article, we may
earn a small commission
.
Last year, we covered six different strategies to help you get organized based on personality type. This year, we've got 11. The new year is right around the corner—developing a journaling habit can help you make the most of it. Here are our top picks, with some helpful guidance alongside them:
1. For the no-B.S. yogi: Practice You.
Sage yoga teacher Elena Brower has outdone herself again with this beautiful journal. Its watercolor pages are stunning, but the artistry here is her skillful understanding of the questions that pierce through B.S. and get straight to the heart. Journaling with Practice You will help you find your truest truths and authentic voice in a way that's equal parts nurturing, thoughtful, and oh so real. (Pictured above.)
2. For the aspiring life coach: SELF journal.
The co-founders of SELF Journal created it because they felt busy but not productive. Sound relatable? They scoured books, podcasts, and research and interviewed experts on productivity before they released their first edition. Then, they got feedback and optimized accordingly, and kept going like this until they landed on the current version for 2018. It's designed to visualize the goal-setting process and helps you break down and prioritize tasks by day, week, month, and year while serving up nuggets of wisdom along the way.
3. For the mystic who loves practicality: the Katonah planner.
Katonah Yoga, founded by Nevine Michaan, uses ancient Taoist theory and geometry combined with magic and metaphor to "potentiate personal and communal well-being," through yoga, breathwork, and meditation. It sounds like a lot because it is—Katonah's one of the richest yoga philosophies of our time. One of Michaan's many mystical practices, the magic square, uses these principles to develop a time management system. The Katonah planner provides an introduction to the square, which is mapped onto every day of the year, and guides you through both practical and esoteric applications for each day.
4. For the list-maker: the cult-favorite Bullet Journal.
Bullet journaling is a way to keep track of your to-do list, goals, feelings and, ultimately, create a record that you can reflect upon years later. While there's a systematic listing approach in place for bullet journals (index, future log, monthly log, and daily log), its founder, Ryder Carroll, maintains that it's an adaptable practice that can be adjusted to best serve you. (Check out mbg's favorite minimalist bujo inspo!)
5. For the time-starved journaling hopeful: the Five-Minute Journal.
The Five-Minute Journal was developed as an efficient system for people who want the benefit of journaling but don't feel they have the time. On each page is an inspirational quote and a few different prompts to recall good things that happened that day, affirmations, and a suggestion to course correct. It's simple, effective, and many five-minute journalers claim the habit has created measurable, palpable, positive change in their lives. (link)
6. For the employee who thinks meetings are a waste of time: the Action Journal.
The Action Journal was designed by employees of Behance, an Adobe company that empowers artists to display their work online, who wanted a better way to capture ideas from brainstorms and meetings. There is a colored section on the right-hand side of each page designated for action items, a smaller "backburner" spot for good ideas that could take shape long-term, and a blank page beside it for notes and doodles.
7. For the person who loves surprises: a year-long HOLSTEE membership.
Holstee's membership is excellent for anyone who loves the anticipation of a monthly delivery. Once each month, Holstee sends a small package filled with themed art, envelopes, writing prompts, and templates for notes to share. The themes touch on mindfulness, gratitude, and resilience—they're all infused with intention and often layer well into the season and world events. To see more, check out the evergreen shop. Use them to inform your journaling! (Holstee)
8. For the writer with writer's block: 642 Things to Write About.
Fun fact: This book was written by 35 different writers in one day. Po Bronson, the coordinating author, explained how the book was born. His editor requested that he write a book about 642 things to write about. He didn't think he could pull off such a high number, but after emailing his colleagues at the San Francisco Writers' Grotto, he'd lassoed all 642 ideas by the end of a single day. "I tell this story because it's a lesson in hidden potential," he wrote in the book's introductory pages. With prompts like "write a story using four L words: lipstick, lust, loss, locked" and "a houseplant is dying, tell it why it needs to live" and "a bad smell and where it came from," you'll start to see things in a new light immediately.
9. For the minimalist creative: Northbooks.
Recommended by Katie Daleabout, who wrote a book about journaling, Northbooks are simple, neutrally-colored journals that are easy on the eyes and offer flexibility for writers. "Northbooks are ideal for anyone who doesn't want to be too precious about what they're jotting down. Without parameters you can draw, make list, cross out, and scribble without feeling like you're coloring outside of the lines," she said. Bonus? They're designed and made in the United States.
10. For the perfectionist: Wreck This Journal.
A fresh journal is appealing, but do you ever find it so pristine, it's paralyzing? If so, Wreck This Journal is for you. Creator Keri Smith understands the perfectionist psychology and has produced an imperfect journal while encouraging the writer to make a mess of it, quite literally. To see a fascinating example of someone's Wreck journal, check out this YouTube video with 5 million views and counting.
11. For the "I'm not a morning person" person: the Morning Sidekick journal.
If you want to home in on forming new habits (if you want to wake up earlier, this is particularly helpful) the Morning Sidekick journal book is for you. It's a 66-day journal because, according to the introduction, "It takes 66 days to form a habit." Each day you fill out a worksheet answering questions in the morning like sleep time and wake time, most important tasks for the day, and in the evening, reflecting on what went right and how tomorrow could be better. Then, each day has a mini study guide that shares relevant habit science and practical techniques.
12. For the Zen-seeker: the I Am Here Now mindfulness journal.
Chock-full of more than 80 activities, it's easy to mistake this creative journal for a mindful coloring book—but don't. Each activity is different and requires an engaged mind. One page explains the prompt, and the opposite one asks something of you: to fill the page, to consider an idea, etc. Create a meditation map, expert tips on how to sit well, writing a wheel of "what ifs," and drawing flowers are just a few examples of the minimalist, line-drawing, and illuminating tasks that can shift your mind into the present moment.
As with most endeavors, the important thing isn't what you do, it's how you do it. With writing, being consistent in your practice is important. Whichever method you choose, be sure to stick to it throughout the year or make a conscious change—otherwise, you'll risk losing many of the benefits of structured journaling. These products make it a bit easier and more fun. Happy writing!
Want more journaling inspo? Here's what happened when one woman wrote in her journal every day for 25 years.