This Is What I Eat To Combat Dry Winter Skin
Contributing Food Editor
By Liz Moody
Contributing Food Editor
Liz Moody is a food editor, recipe developer and green smoothie enthusiast. She received her creative writing and psychology degree from The University of California, Berkeley. Moody is the author of two cookbooks: Healthier Together and Glow Pops and the host of the Healthier Together podcast.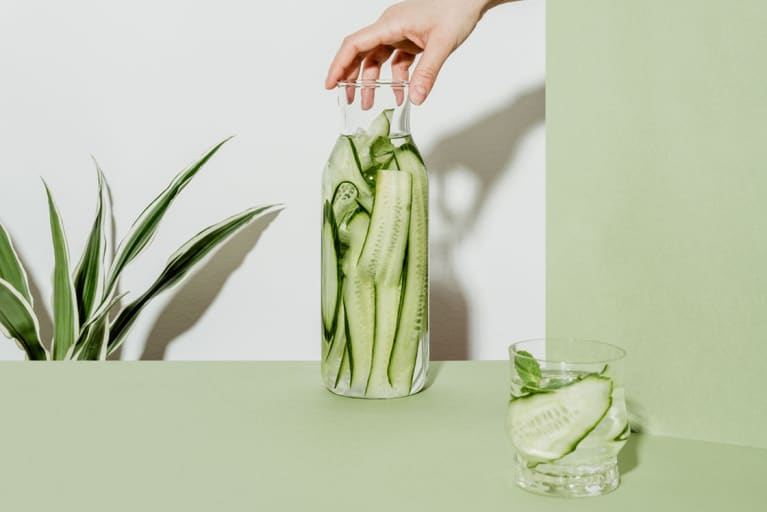 Our editors have independently chosen the products listed on this page. If you purchase something mentioned in this article, we may
earn a small commission
.
I went to my dermatologist recently for my annual skin cancer check (PSA: Get your skin checked!), and, after she gave me the all-clear, she frowned a bit.
"There is one thing, though," she said.
My heart stopped. Did I have a tumor? Flesh-eating bacteria? (The word "hypochondriac" may have, in the past, been used in close proximity to my name).
"Your skin is really dry," she said. "You should work on that."
While I take a fairly lax approach to beauty, preferring to encourage my body toward a state of homeostasis sans a ton of product, East Coast winters have made that fairly impossible. My California-raised skin becomes inflamed, red, and flaky—and I'm not alone.
"Every winter, my lips peel off my face," one friend told me.
"My hands were so dry last month that they cracked," another shared. "Like, literally, the skin cracked apart."
Since that fateful dermatologist visit, I've made it my mission to nurse my skin back to its West Coast, summer-ready self. Oils rubbed into my skin while it's still damp from the shower help, as does taking slightly cooler showers in the first place (very hot water, while it feels oh-so-good, can be drying). The thing that's helped the most, though, is attacking the problem from the inside out.
I've long known that what you eat has a significant impact on how you look and feel (I am, after all, a healthy cookbook author and health food editor). A few months ago, I started a two-tablespoons-a-day olive oil regimen that did wonders for my own chapped lips. According to Will Cole, D.C., the best-selling author of Ketotarian, this makes sense: "The essential fats in olive oil keep skin supple and well-moisturized from the inside out. Olive oil is also rich in vitamins and polyphenol antioxidants vitamin E, squalene, and oleic acid, which all promote skin cellular renewal."
There are a number of other food sources of hydration, although Jessica Cording, R.D. and founder of Jessica Cording Nutrition, likes to consider seasonality in addition to water levels in her client recommendations. "Yes, watermelon is hydrating, but watermelon you buy in February is pretty damn sad," she says. "Oranges are one of my favorite foods for staying hydrated in winter because there are so many delicious citrus fruits available during this season. A cup of orange sections has about two-thirds of a cup of water in it. The vitamin C in there also supports collagen production, which is great for skin elasticity" (i.e., no more cracking!).
Cording also notes that we tend to drink less in the winter since we're missing the thirst cues that often signal us to chug water in the summer. "You can set an alert on your phone or tether drinking water to another habit that's already in place to help make it part of your routine," she says. "You can also sip herbal tea throughout the day."
Kimberly Snyder, the best-selling author of Recipes for Your Perfectly Imperfect Life, recommends her clients load up on the three C's: celery, cucumber, and coconut water. "For centuries, people in Southeast Asian and Pacific Island countries have been drinking the water from young coconuts for hydration," she explains. "These days coconut water is easy to find. Most grocery and health food stores sell it bottled in the beverage section." Celery is water and mineral-rich, as is cucumber, which also has silica to help rejuvenate skin and make it glow.
But hydration is just the tip of the iceberg when it comes to eating for supple skin—there are a number of more unexpected elements at play.
"While dry skin is often a symptom of winter, it's also sometimes a symptom of an omega-3 deficiency," explains Leah Silberman, R.D. and founder of Tovita Nutrition.
Cole agrees. "Omega-3s are necessary for helping your skin retain moisture and can help protect your skin from drying out in harsh cold-weather conditions. While omega-3s are important to include in your diet on a regular basis, it can be especially helpful to up your intake of wild-caught seafood, flaxseeds, and chia seeds during these winter months."
I've taken all of their advice to heart. I put orange zest and flesh in my smoothies, along with flax and chia, and re-upped my herbal tea and olive oil game. The difference has been profound—my skin is far more supple, and the scaliness is barely a memory. I can only hope that my dermatologist would be proud.