5 Game-Changing Flaw-Positive Beauty Brands To Look Out For
Contributing Wellness & Beauty Editor
By Lindsay Kellner
Contributing Wellness & Beauty Editor
Lindsay is a freelance writer and certified yoga instructor based in Brooklyn, NY. She holds a journalism and psychology degree from New York University. Kellner is the co-author of "The Spirit Almanac: A Modern Guide to Ancient Self Care," with mbg Sustainability Editor Emma Loewe.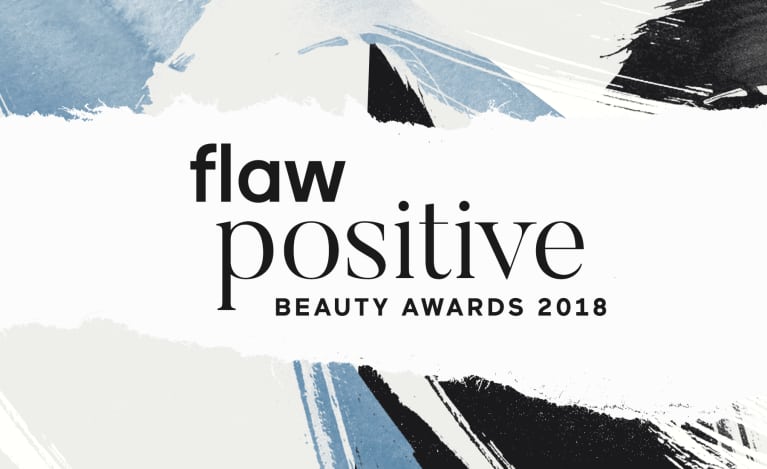 Welcome to mbg's 2018 Beauty Awards! For more of our favorite products of the year, check out the rest of the awards here.
Flaw-positive products are the poster children for the representation revolution that's just starting to pick up speed in the mainstream. Beauty comes in all shapes, shades, sizes, and formats, and the brands starting to recognize it deserves some recognition. Instead of "fixing" faces or "banishing" blemishes, these products offer the skin what it needs in a more loving, nurturing way.
You could argue that this is all marketing, but so what. If marketing is content, and we're consuming it, then change at that level is worthy of praise. It's shifts like these that help change the tide at a macro level.
This year, we questioned the same flaws many cosmetics companies exploit to entice us to buy product—hyperpigmentation, chronic skin conditions, acne, gray hair, fine lines, and more—and asked how they could be beautiful. In our Flaw Positive category, we're highlighting brands that encourage customers to embrace where they are in the skin or hair journey without shaming the "conditions" they may want to improve.
Cocokind Chia Facial Oil
Cocokind's chia oil is truly champagne luxury on a beer budget—you don't come across food-grade, organic, glass product under $20 every day. Led by its fearless founder Priscilla Tsai, Cocokind uses its platform for good with videos like the Art of Beauty that asked real women to use the vibrant ingredients from skin care (chlorophyll, beet powder, turmeric, charcoal, and more) to express outwardly how they felt about their beauty. Plus, she keeps it real on Instagram, sharing her struggles, insights, insecurities, and triumphs, which is not lost her community.
Chia Facial Oil, Cocokind, $16
Girl Undiscovered Under The Waterfall Crystal Cleansing Water
Girl Undiscovered is an indie skin care brand based in New Zealand but that sources all over the world for the best sustainable, potent natural ingredients. Its blog, Real Girls, chronicles how self-care and skin care makes women feel versus how it makes them look. The cleansing water gently removes debris and makeup while hydrating, revealing the best version of your face.
Under The Waterfall Crystal Cleansing Water, Girl Undiscovered, $42
CoverGirl TruBlend Liquid Makeup
Earlier this year, CoverGirl TruBlend liquid makeup featured a model with vitiligo, a skin condition that causes hypopigmentation, as its Cover Girl. While CG isn't a natural makeup brand, it is one with tremendous scale, and showing beauty of all kinds continues to expand the collective consciousness around it. Brava, CG, brava.
TruBlend Liquid Makeup, CoverGirl, $5
Odacite C for Colette Vitamin C Serum
Valerie Grandury, founder of Odacite, is French. You know the French, they do everything with a little more panache and confidence, or so it seems. Valerie is an active proponent of aging gracefully and turns to nature and oils for healing before anything else. This serum gives everyone their best skin—whether you have forehead wrinkles, freckles, or hyperpigmentation, it gives you a sometimes-needed nudge to leave the house sans makeup.
C for Colette Vitamin C Serum, Odacite, $149
Osmia Organics Rosemary Body Mousse
Sarah Villafranco, M.D., founder of Osmia Organics, is outspoken in her love of all things natural—including aging. She wrote a piece for mindbodygreen about how she started embracing her graying hair and wrinkles as badges of honor, a philosophy that extends through everything she creates at Osmia. The rosemary body mousse can also be used as a hair mask, whether your strands are going gray or not! Check out this tutorial.
Rosemary Body Mousse, Osmia Organics, $47