Anxious About Summer Ending? We've Got An Essential Oil Blend For That
Doctor of Chiropractics
By Mariza Snyder, D.C.
Doctor of Chiropractics
Mariza Snyder is a functional wellness practitioner and public speaker currently living in Northern California. She received her Doctor of Chiropractic degree from Life Chiropractic College West and specializes in holistic medicine and nutrition.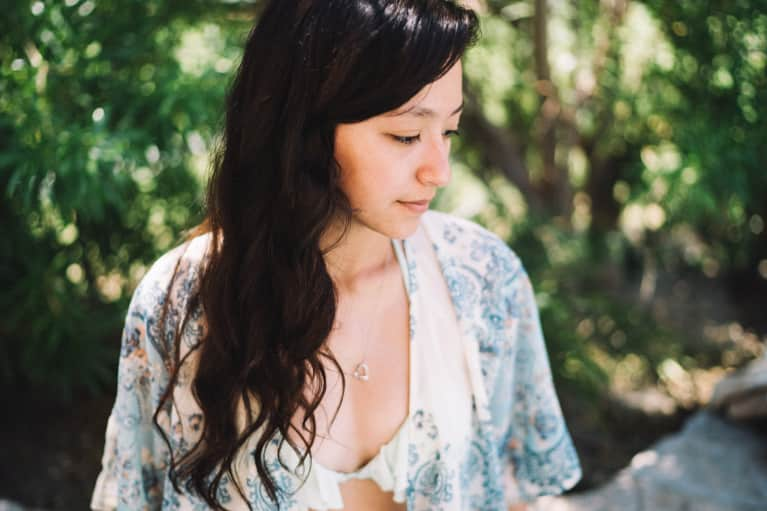 If you've suffered from them, you know: Summer scaries are real. Imagine an amplified version of the Sunday scaries that last way longer than a single night. It makes sense—the shift from summertime into autumn is huge and anxiety-inducing. It's arguably more significant for both our bodies and our schedules than ringing in the New Year, for example, and yet we don't give ourselves the time or head space to make sure we're equipped for the change.
Luckily, feeling good about this seasonal transition (which happens in approximately one month, by the way) doesn't have to be an elusive dream when you have essential oils in your cabinet. Once you figure out what is blocking your natural confidence, you can use the aromatherapeutic power of essential oils to boost you back to the top of your game.
Counteracting a lack of confidence or certainty
I have found time and time again that anxiety can come from a lack of confidence or certainty, or both, which often stem from self-care neglect. Taking care of yourself begins with viewing self-care as health care. The biggest detriment to our ability to succeed and the optimum functioning of our body is stress. It impedes our ability to sleep and recharge our body, can make us tired, induce unhealthy cravings, and more.
Spending time in relaxation and meditation or prayer and finding time to breathe deeply each day can help to lower your stress levels and help you find a few minutes of calm in your day. Moving your body can also help to reduce stress and bring balance back into your life. Focusing on your own self-care can prepare your mind and body for the ease and confidence that it so deserves. Essential oils are so helpful in making these parts of your self-care routine more fun, exciting, and sensory.
Harnessed for centuries for its dual support of the mind and body, aromatherapy has a direct impact on the brain. The olfactory nerve is the only sensory cranial nerve that has direct contact with the environment, which is how essential oils can trigger the limbic system. When we inhale an essential oil, it immediately enters our body and lungs, affecting our system more quickly than any over-the-counter digestible remedies. This direct access to the limbic system allows the essential oils to influence a variety of body systems, such as centers for sleep, memory, and emotion, which is why it's helpful to have them around as the first defense against anxiety and stress.
Another aroma element to consider is your memory and psychological conditioning. If there are certain scents that give you a boost of confidence or scents that you associate with moments of success or pride in your life, use those to trigger that deep-seated emotion during times when you are searching for a boost.
Stress-busting essential oils
Peppermint always takes a top spot in my arsenal against stress and confidence saboteurs. The energizing menthol content allows the mind to focus on the task in front of you and block out the extraneous distractors. In addition, it can help any digestive distress by relaxing muscles and supports the respiratory system by opening airways. When stress threatens to zap your confidence, use peppermint and deep breathing to calm those nerves and find your focus.
Wake up & energize diffuser blend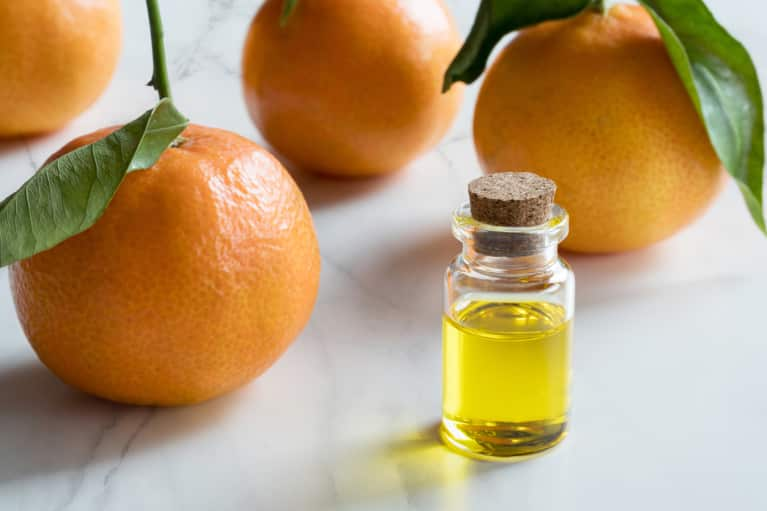 Citrus oils, such as wild orange, grapefruit, lemon, and lime, contain high levels of limonene, allowing for a clarifying effect on the mind and balance to the body by uplifting your mood. It can help to curb cravings and increase your motivation, especially when paired with peppermint. One of my favorite ways to start the morning is by diffusing wild orange and peppermint to give me the caffeine-free jolt I need to start the day.
Just note: You'll need to get a diffuser for this blend; the same goes for any blend that I've indicated as a "diffuser blend." If you've never used one, a diffuser is a small, humidifier-like device that mixes your oils with water (I'm a fan of this one).
3 drops peppermint essential oil
3 drops wild orange (or your favorite citrus EO)
Fight afternoon fatigue diffuser blend
The unique profile of bergamot never ceases to amaze me, as it has the power to uplift your mood while simultaneously calming your mind and body. As a hybrid citrus, the limonene content charges the mood so that you can find your energy for the next task, but the linalool like that of lavender calms any stress. You can also dilute bergamot and massage it into tense muscles to double the aromatherapeutic effect. Pair it with the uplifting peppermint to supercharge your morning self-care rituals and boost your confidence for the day.
3 drops bergamot essential oil
2 drops grapefruit essential oil
1 drop peppermint essential oil
Mental focus diffuser blend
Rosemary adds another element to your quest for confidence by increasing your focus and memory. The 1,8-cineole content triggers the limbic system to stimulate your mind and memory, even during times of stress, when you simply inhale the oil. It can also support your body in times of fatigue and soothe nervous tension or anxious feelings. Paired with other essential oils, especially peppermint, it can usher those confidence saboteurs right out of your life and give you the boost you need to succeed.
2 drops rosemary essential oil
2 drops peppermint essential oil
1 drop bergamot essential oil
Restful slumber room spray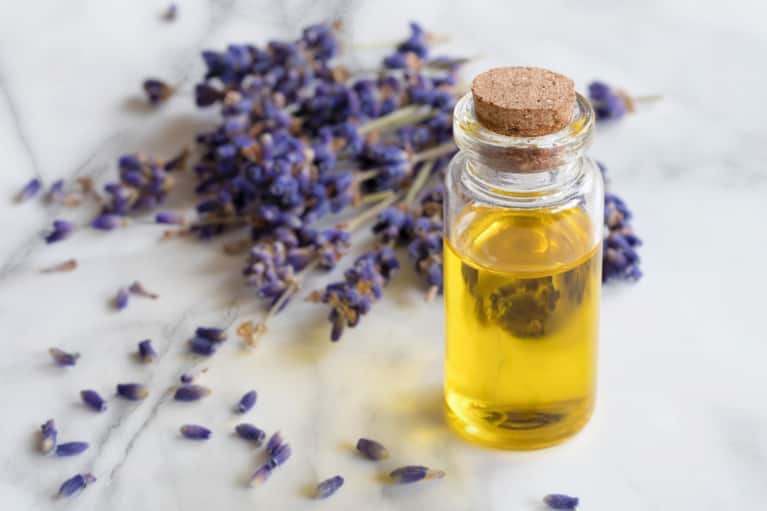 Lavender has linalool as its primary constituent, which instantaneously calms the body and mind. Coupled with deep breathing, it can help you to banish anxiety by eliminating the detrimental effects of daily stressors. When used as part of a nightly self-care routine, it can help your body to relax and unwind so you can get the restful sleep that your body needs.
15 drops lavender essential oil
2 ounces distilled water
Directions: Add essential oils to a 2-ounce glass spray bottle and fill the rest of the way with distilled water. Spritz on your bedclothes and around your room before bedtime to ease your body into a restful slumber.
I start each morning with this blend by applying it on my wrists, ankles, and behind my ears. I also recommend applying the roller bottle blend over your palms and breathing it in before a big meeting, moment, or stressful situation.
Superwoman roller-ball blend
12 drops clary sage essential oil
10 drops lavender essential oil
5 drops cedarwood essential oil
5 drops geranium essential oil
4 drops ylang ylang essential oil
Carrier oil of choice
Directions: Put the oils in a 10-milliliter glass roller-ball bottle and fill to the top with a carrier oil of choice. Roll the blend over your pulse points on your wrists, ankle, and necks, and over your heart (after doing a patch test on your wrist).
No matter what you face in life, confidence can be reclaimed by focusing on self-care and giving your body and mind the attention that they deserve. Balancing stress levels and using the aromatherapeutic power of essential oils can set you on the track of success as long as you are taking the time to give your body the relaxation and nutritious fuel that it needs. Work self-care rituals into your day, taking time to breathe deeply and know that you have the confidence within you to take on your world and find success.
If you're new to essential oils, check out our beginners' guide and the only three essential oils you need for your home.