Meet The Mayor Of Kauai: An Ex NFL Player, Sustainability Icon, & Master Collaborator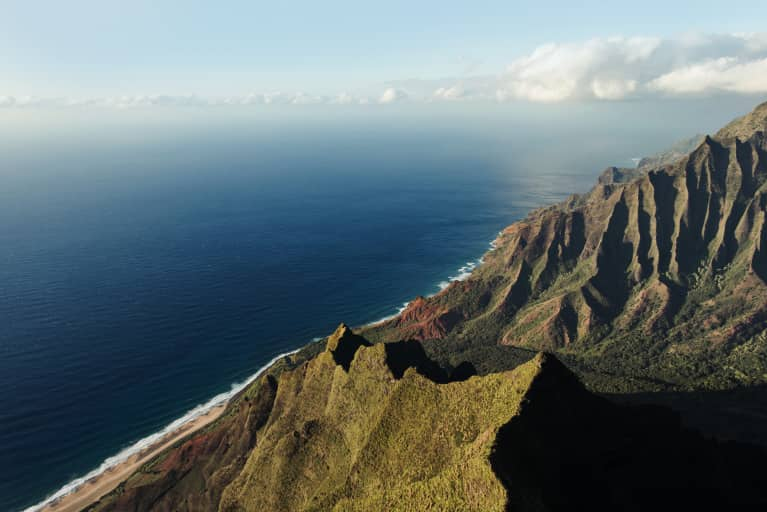 Welcome to the new mbg! We've relaunched and realigned ourselves with an evolved mission. Our take on wellness can be summed up in three words: You. We. All. You: You, yourself, are the foundation of wellness. We: We grow our spirit by nurturing our connection to our families, friends, and neighbors. All: All creation on our planet is interwoven and interdependent. To achieve true wellness, we need to nourish ourselves, our communities, and our planet. The time is now—rise with us. You. We. All.
Bernard Carvalho, a professional football player turned politician with an eco-friendly agenda, epitomizes the principles of You. We. All. He cultivated a love for culture and community within himself, shared it with his island, and is now spreading it to the world in the hopes of forging a more sustainable future. Here is his story.
After attending the University of Hawaii on a full football scholarship, Carvalho spent two seasons in the NFL with the Miami Dolphins. Many of his political principles trace back to those years on the field: "Working hard, never giving up, surrounding yourself with good people, depending on each other—those are all values I learned from football," he tells mbg. A few years on the mainland made him miss the place he'd always called home, and he soon returned to Kauai—a small island of around 67,000 citizens—to spend 17 years working in the Department of Parks and Recreation. He approached public service as yet another team effort, and he loved that the job gave him the opportunity to interact with people from all walks of life. In 2008, when the then-mayor passed away in office, Carvalho stepped into that role with the same emphasis on collaboration.
"It's all about listening to people and bringing them to the table. It's about surrounding yourself with good people, with good hearts and souls, and putting their ideas into action." Now approaching his 10th year as mayor, he continues to work closely with people of Kauai, gleaning inspiration from visits to the grocery store and casual conversations in his office—one that always has its door open. It's these encounters that helped him shape Holoholo 2020, a progressive set of 38 projects that reduce the island's carbon footprint while celebrating its cultural history.
"In Hawaiian, Holoholo means 'let's get on board, let's rock 'n' roll, let's move—let's go.'"
What sustainability looks like in Kauai.
"When I was growing up, everything was about growing a garden and taking care of the water and the land, because that's what we depended on," Carvalho explains of the inspiration for his green policies. Through his lifetime, he's seen two hurricanes ravage the island, watched rising sea levels cut shorelines short, and mourned the loss of coral reefs. "The things that are happening are not normal," he says. "Which is why we need to figure out how we're going to take care of our island."
One way he plans to do so is by making clean energy accessible to everyone. Hawaii is at the forefront of the renewable energy movement in the United States, and it was the first state to set a goal to achieve 100 percent clean energy, something it hopes to do by 2045.
In Kauai, the progress is even more impressive. Thanks to a new 13-megawatt Tesla solar farm—and 272 battery packs that will store the clean energy for nighttime use—the island will likely run off 70 percent renewables by 2030. This farm, like most initiatives on Kauai, was a team effort, a collaboration between the government and a member-owned energy cooperative that fuels the entire scheme. In order to keep up the momentum, Carvalho recently worked to make every streetlight on Kauai run on more eco-friendly LED bulbs, and he's now working to switch all of the island's police cars over to electric vehicles.
Another way he's preserving the land is by bringing back traditional farming practices. Before Big Ag came to the island, Kauai was divided into self-sustaining plantations called ahupua'a—sections of land that stretched from the mountains to the water, and contained freshwater streams. They all had the resources necessary to run as entirely self-sustaining, biodynamic systems, but they were largely driven out by competition from overseas.
In order to renew a sense of ownership—and fruits and vegetables back to an island where one in four adults are now obese—Carvalho set aside a massive public farm for locals to grow on. "We took 75 acres of land, where the community can come to grow what they want and manage their own land. We bring it back into the community with farmers markets, where they can sell produce at reasonable prices."
Also in Carvalho's 2020 vision is what he calls a "Disneyland of waste"—a landfill that will house an educational visitor center where kids and adults can come and learn about how to divert waste, similar to the model in Kamikatsu, Japan, a nearly entirely trash-free community. He hopes to complete the new vision with a methane conversion scheme that turns gas from trash into fuel for the island's public buses.
How we can all take care.
According to Carvalho, sustainability is all about maintaining cultural integrity and community while forging a safer future. "There's a cultural connection in climate, and how we look at our environment that has to be brought to the forefront, always," he says. "It's bringing the past to the present so the future can flourish. That's the more connected part of how I think regarding climate change."
And the principles he's using in Kauai can be translated anywhere. "People come from neighboring islands to visit our island, and we're telling them that if we can do it, you can do it too! If we can do it together, more resources will come. To me, it applies to Nebraska, to Oklahoma, to California—everywhere."
At the end of the day, Carvalho hopes to spread one idea in particular: Mālama, the Hawaiian mantra for preserving and protecting the world around you. "It all ties into assuring that wherever we are, we live with mālama, we take care. That's the important thing."
These resources will help you live your life with more mālama, too.