Science Confirms That Extroverts Tend To Perform Better At Work
mbg Sustainability Editor
By Emma Loewe
mbg Sustainability Editor
Emma is the Sustainability Editor at mindbodygreen and the author of "The Spirit Almanac: A Modern Guide To Ancient Self Care."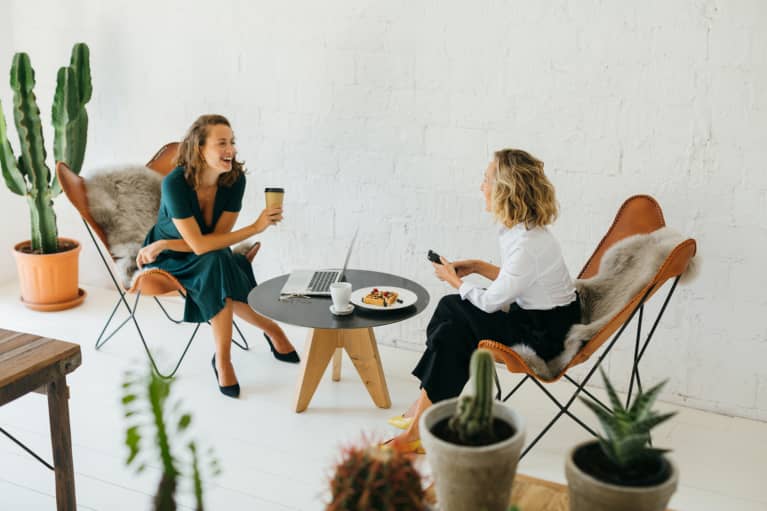 Every workplace has a stereotypical extrovert: The one who talks a mile a minute and always adds new ideas to the conversation. Maybe you sit next to one, hear them from across the room, or maybe identify as one yourself.
While we can go ahead and guess how this extroversion might translate to job performance and achievement, researchers at the University of Toronto recently set out to find concrete answers.
"There's been much debate in popular culture recently about the advantages and disadvantages extroverts have in the workplace, but it often overlooks the scientific literature," says Michael Wilmot, study lead. Wilmot's team's report, published today in the Journal of Applied Psychology, reviews research from 91 studies, conducted across professional industries around the world, tying job evaluations to personality type. And their conclusions might make you want to speak up more in meetings.
While every industry is different and success is relative, on the whole, extroverts were found to possess four key advantages at work: Greater motivation to achieve goals, more work satisfaction, stronger communication skills, and better job performance overall.
What's an introvert to do?
Now, this doesn't mean that people who identify as introverted are doomed for professional failure. At all. Wilmot caveats these findings by saying that work ethic, cognitive ability, and passion for the work are ultimately what makes a successful employee; extroverts just might have a leg up on certain types of workplace relations.
"If you're motivated to achieve a goal at work, if you're feeling positive and you're good at dealing with people, you're probably going to perform better on the job. These advantages appear to have a cumulative effect over the span of one's career," he says.
Remember, too, that introversion and extroversion are extremes, and the vast majority of us fall somewhere in the middle of the two.
From that perspective, this study is simply a reminder that it might be beneficial to tap into your more outgoing side in the office.
mindbodygreen's contributing sex and relationships editor Kelly Gonsalves said it best in her review of a 2018 study that found that 96 percent of people view extroversion as the more socially desirable trait: "Our current culture might grant more social and economic benefits to people who are more bold and outgoing, and perhaps it's worth embodying those more bold and assertive traits in certain situations to access those benefits—but that doesn't mean there's anything inherently better about being extroverted as opposed to being introverted."
Introverts make for incredible listeners, thoughtful problem-solvers, and observant and caring colleagues. Pair that with a stellar work ethic, a passion for the job, and a willingness to get vocal when necessary? That's employee-of-the-month potential right there.