Will Acupuncture Help Your Kid Or Totally Freak Them Out?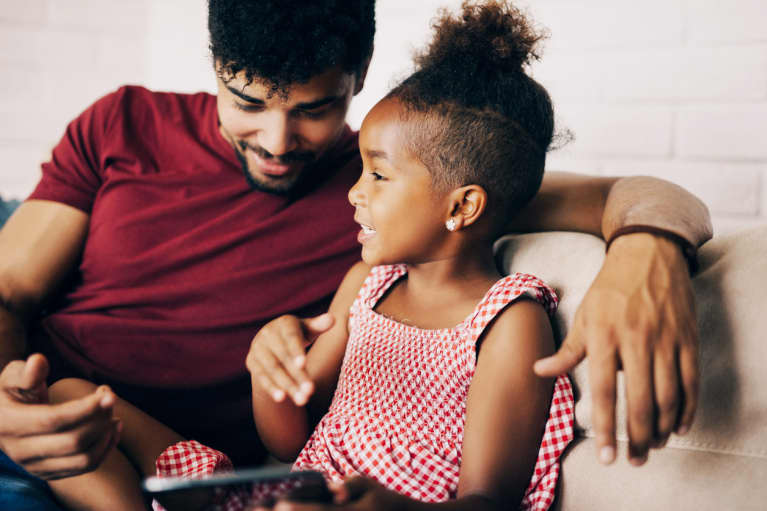 For centuries, adults have been swearing by the benefits of acupuncture, a form of traditional Chinese medicine that utilizes super-thin needles. Decades of research on acupuncture have found that it has a number of physical and mental health benefits, from easing symptoms of depression and anxiety to helping with insomnia and pain relief. In fact, acupuncture is taken so seriously in Western medicine that the FDA even suggests doctors send patients to acupuncture before prescribing them painkillers.
Recommending acupuncture to a full-grown human is one thing, but getting your child excited about getting pricked with tiny needles is another ballgame entirely. So is encouraging your child to get acupuncture safe and worth it? Here's what the science—and the experts—have to say.
The science on kids and acupuncture.
In the past decade, acupuncture for kids has gained continuously wider acceptance—and that's in large part thanks to the amount of science that backs up not only its safety, but its benefits. A 2015 study conducted out of a Harvard-affiliated children's hospital practiced acupuncture for one year on 243 kids ranging between ages six months and 18 years who were dealing with back pain, headaches, stomachaches, and other chronic issues. The researchers found that when acupuncture was used it, it resulted in a lower level of pain overall.
A smaller study conducted in 2016 and published in the journal Medical Acupuncture also looked at the effects of acupuncture on children over the course of one year. Once again, a good handful of the kids saw lower pain levels."This study shows that acupuncture can be a safe, well-tolerated, and effective therapy for children and young adults with pediatric-onset disabilities," explained lead study author Scott Schwante.
Helping your child reap the benefits of acupuncture.
When it comes to kids and acupuncture, the first thing you should do is a little bit of research. Make sure to look for someone who is not only licensed in acupuncture, but specializes in kids specifically. Once you've done that, get excited—because there are two big benefits to kids' acupuncture. The first is that acupuncture works just as well on kids as it does on adults, and the second is that the needles don't have to be left in nearly as long for kids to absorb the benefits. "Disorders that are common to children such as common colds, cough, flu, allergies, asthma, digestive disorders, anxiety, depression, and adolescent-related hormone imbalances are all treated very successfully by acupuncture," says licensed acupuncturist and mom Jill Harrison. "When my daughter was an infant and she had a fever, I used needles and successfully lowered her temperature. Now that she is 6, I use acupuncture, herbal medicine, and cupping to help her treat all of the common ailments that kids get."
Tiffany Jackson, N.D., adds that acupuncture is great for kids because it's typically customized to fit each child's needs and temperament. "All aspects of a child's health are taken into consideration such as diet, digestion, sleep, energy, and immune function," she says.
An additional benefit of acupuncture for kids is that it's an excellent way to relieve painful symptoms without medication, which typically comes with a number of side effects that are especially hard on kids. Benjamin Katholi, M.D., a doctor at Cleveland Clinic Children's Hospital, recommends acupuncture for everything from sleep problems to stomachaches. "We can address multiple symptoms in a single treatment just by different point selection," he explains.
Helping your child get over the fear of needles.
While kids don't have to sit with needles in their skin for very long to absorb the benefits of acupuncture, that doesn't mean needles—which they typically associate with shots and getting their blood drawn—will be any less terrifying for them to face. To help your kid feel less spooked, Harrison suggests showing them just how thin acupuncture needles really are.
"When they see how thin they are and that they look nothing like the hypodermic needles given with shots, it puts them at ease," she explains. "The other thing I do is ask if I can do one quick needle on them before they lie down on the table just to see how it feels. At that point they can see for themselves that it doesn't hurt. In fact, oftentimes they don't even feel the needle go in."
Jackson also recommends parents let kids watch acupuncture being conducted on them as a way to ease the fear of needles. "Most kids are surprisingly open to having acupuncture done to them," she explains. "The needles are the size of a strand of hair and not painful."
So if your child is suffering from anything you suspect could be eased with an acupuncture session, consider seeing a trusted specialist for a consultation.
Want to learn more about the benefits of acupuncture? This doctor can break it down for you.