Before You Throw Out Your Christmas Tree: Read This
mbg Health Contributor
By Gretchen Lidicker, M.S.
mbg Health Contributor
Gretchen Lidicker earned her master's degree in physiology with a focus on alternative medicine from Georgetown University. She is the author of "CBD Oil Everyday Secrets" and "Magnesium Everyday Secrets."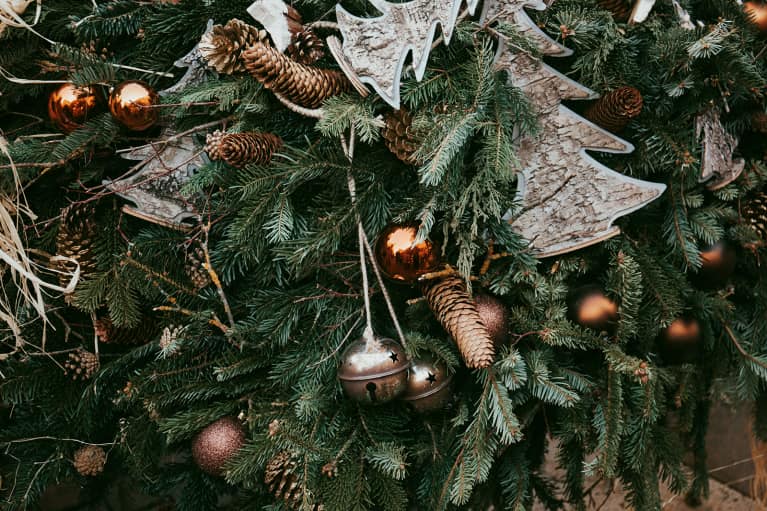 December 29, 2017 — 10:10 AM
This holiday season was the most mindful yet. We learned the pros and cons of real and artificial Christmas trees, we bought our loved ones gifts that give back, and we became more aware of the role that holiday traditions play in mental health. In other words: We spent this holiday season thinking about how it can be a healthier experience for us, our loved ones, and the planet.
Now that the holidays are winding down, it's important to maintain this mindfulness, especially as we dispose of our holiday decorations and most importantly—our Christmas trees. According to a new article from the New York Times: It's important that we don't just throw our trees away. You don't want it to end up in a landfill where it won't be put to any good use. Luckily, there are a ton of ways to recycle it.
So where do you start? The first way is easy: Turn it into mulch. This option is available in many cities and towns and the mulch is then distributed onto public land, where it acts as "natural wildlife erosion control" and an "organic nutrient supply" to our parks. Sometimes it's even given out to people who will use it in their gardens or yards. If you live by the beach, old trees can be used to help rebuild sand dunes and prevent erosion. (They did this a lot after Hurricane Sandy). Live by a lake or creek? Old trees can be sunk and used as natural habitats for fish and other aquatic creatures. If none of these are viable options for recycling your tree—you might even be able to replant it.
The bottom line? Don't let your tree end up in a landfill where it will emit harmful greenhouse gases. Lucky for us, there are seemingly endless ways to reuse and recycle trees that will contribute to the good of the planet. And what's more festive than that?
Are you already shopping organic? Here's how to take it to the next level.