Hey Parents! These 6 Mindful Hacks Will Help You Beat The Back-To-School Rush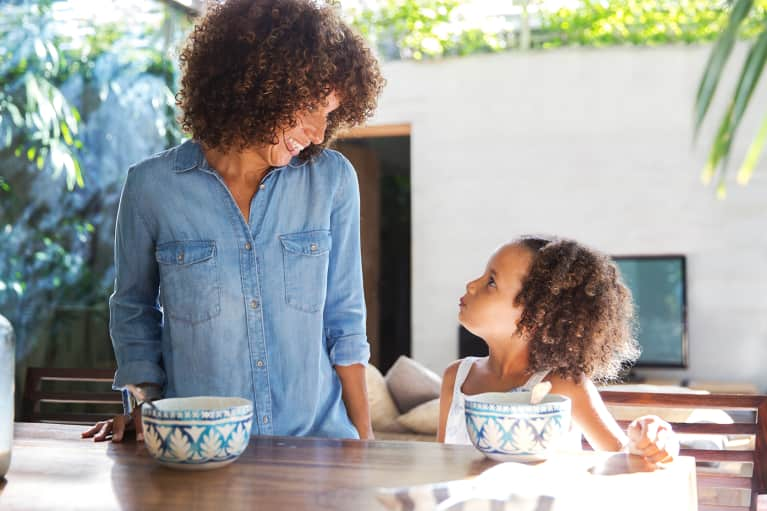 As parents, we're all driven to do our best, but sometimes we need to just embrace the messy moments that inevitably come up. This back-to-school season, mbg's teaming up with Chrysler Pacifica Hybrid—the first-ever hybrid minivan—to celebrate what we like to call
mostly
mindful parenting.
Back-to-school season is stressful for parents, too: One minute you're enjoying the summer sun with (or without) your kids, and the next thing you know you have to pick up new calculators, think up new packed lunches, and help out with math homework. But you're more prepared for the autumn craze than you think. Here are a few parent-approved time- (and sanity-) savers that will make those first mornings back to school a little more seamless:
1. Be a breakfast repeater.
Yogi and meditation teacher Anna Gannon has the ultimate breakfast hack: Eat the same thing as your kid. "Instead of preparing two different meals, I prepare one healthy one that takes a total of three minutes to make," she says. Right now, she and her daughter share a faux "cheesy bread": an Ezekiel slice with olive oil, nutritional yeast, ground flax, chia, hemp, and sesame seeds.
2. Do your morning prep the night before.
For mbg Collective member Sophie Jaffe, a nutritionist and founder of superfood company Philosophie, prepping school lunches the night before has become a type of ritual. "It allows me to take the time to prepare it with love and make wise choices," she says.
Phyllis Timoll, a holistic health coach, has a similar strategy: "Every night at bedtime, we pick out clothes for the next day; I wash and fill up water bottles, empty backpacks, and set them out for easy grab and go; and set up as much breakfast prep as I can for the morning." Save yourself even more time in the mornings by using this foolproof recipe guide for healthy, satisfying lunches.
3. Repurpose the stuff you already have.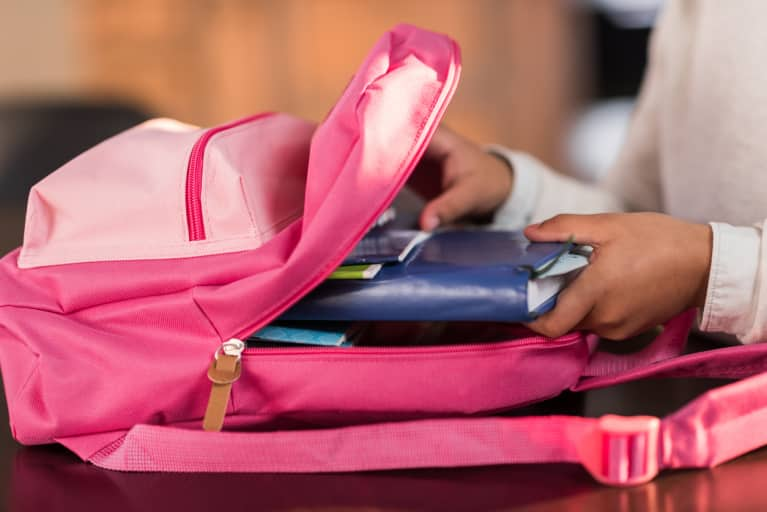 Daunted by the idea of wrangling up a new cartful of school supplies for your kiddos? This school season, try breathing new life into the ones you already have instead. You can add patches and stickers to backpacks, DIY your own desk accessories, and repurpose old notebooks. Check out this piece for project ideas (bonus: They're eco-friendly, too!).
4. Delegate some of the chores.
We love this technique from empowerment coach Elaine Bayless. She creates a "routine" for her kids that is all theirs: Morning tasks like making the bed, brushing teeth, etc., are all part of it. "Instead of telling your kids every single action to take, you can just say, 'Do your routine,'" she writes in a piece on stress-free mornings. It's a simple language switch, but she's found that it saves a lot of time and energy.
5. Create a nice scene that engages all the senses.
Making a few simple tweaks around the house can help bring down your stress levels and boost your mood during crazy mornings. Before your kids wake up, open the blinds in common areas to let in some light (as soon as you wake up is ideal), put a few of your kid's favorite songs on in the background, and diffuse or spray an energizing citrus scent like lemon or orange.
6. Set aside time to connect as a family.
It can be easy to get lost in the back-to-school rush, but psychologist Bobbi Wegner, Ph.D., finds that setting aside time to connect with her three kids helps keep the whole family grounded.
"I always schedule one-on-one time with all of my children the first week or two of back-to-school. They pick the activity, and it gives us something to look forward to," she says, explaining that doing so helps keep the transition back into school more seamless for kids—and just feels good for her as a mom. "Kids and adults cope much better when the connection is strong and the communication is present."
So smile and take a deep breath—you got this!
This protein-packed dinner takes less than 10 minutes to make and is the perfect end to busy days.