Back To School: Experts Explain How To Establish A Morning Routine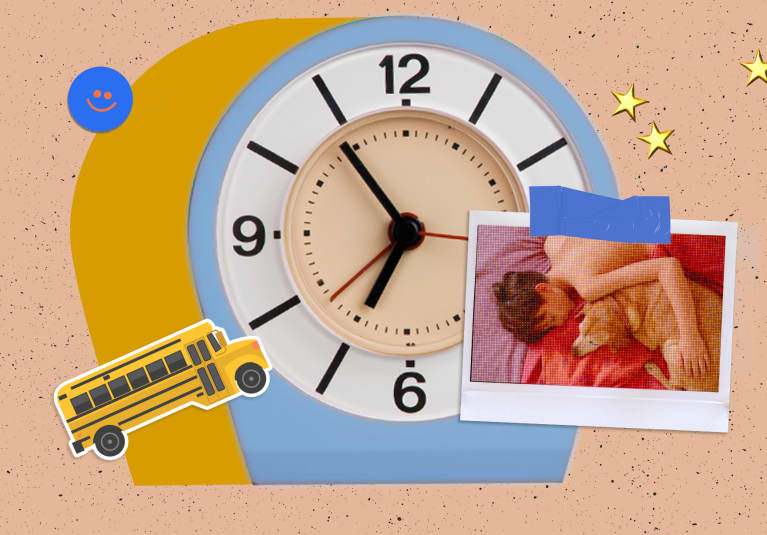 Summer's not over, but it is time to start thinking about getting your family
Back to School
. And there are plenty of wonderful things that signal the start of the school year—from fresh notebooks and sharp pencils (tablets?) to the endless creativity that comes with a new box of crayons. But that doesn't mean all of it is: Getting your family settled into a routine that takes you from sunrise to bedtime is anything but effortless. So we talked to experts to figure out how
you can be happier each step of the way
: a mindful morning routine, helping ease any school-time anxiety, healthy lunches kids can pack themselves, and how to prioritize family meals, so no matter how crazy the day gets, you can wrap it up together.
How you'd like to start your day and how you actually start your day are likely two different scenarios. Perhaps they're not that far off (for example, maybe you really do fit in that morning run—kudos!), but perhaps they're worlds apart. And as the start of the school year inches closer, the reality is that you need to establish a routine that works for your entire family and still gets you out the door to make the morning bell—and maybe even your own meeting. But establishing something consistent, or as consistent as it can be, will help you in the long run—as well as help you be more present in the moments when it matters.
"Routines help build a sense of safety and confidence, so you don't have to spend every morning in that limbo of thinking, OK, what needs to get done, and did I do that other thing? which will leave you and your family feeling stressed out," says Aliza Pressman, Ph.D., the cofounding director and director of clinical programming for the Mount Sinai Parenting Center.
Start early with a conversation.
"Before the school year starts, come up with a family plan, so you are partnering with your child," says Pressman, who notes it doesn't need to be a full month out but at least a week before Day One. "As time goes on, you can broaden the space you give them to interject and help you based on their age. A young child might need more prompting than an older kid who can have say and autonomy."
And you don't need to kick off the conversation right away with a step-by-step manual. Instead, start the conversation by asking what makes summer and the school year different? What are their feelings on that? What are they excited about? By talking this all through, they'll better understand and digest why they are doing a routine in the first place—instead of just being shuffled around the house. Giving them a sense of independence is key.
From there, you can even help them get in a little practice by starting trickling elements of the morning routine before the school year starts, says holistic psychiatrist Ellen Vora, M.D. "Get kids ready for the year by starting now. It will help orient them."
Make a "want" and "need" list.
During your conversations with your kids, write down a "Need to do" and a "Want to do" for their morning routines, says Pressman. Their needs will include all the basics: eat breakfast, get dressed, brush teeth, packing lunch, you name it. The wants? Maybe it's playing outside while the weather is nice. "And if they can get through those have-to-do's, then they get to go on to the want-to-do's; it likely won't happen a lot, but there are early risers out there," she laughs. This will set boundaries in the morning—without cutting off everything a kid might enjoy.
For example, she says, when her daughter decides she wants to change outfits from her preplanned set, Pressman reminds her that "changing outfits" is not on the need list. "I tell her to set her new outfit to the side for the next day, and if she gets through her other tasks and has time, she can come back and change," she says.
And for Vora, firmly establishing certain elements of the routine (the "needs," as Pressman calls them), will help you move faster through the basics instead of getting hung up on every step: "When you are able to establish certain things as fact—this is where you go to the restroom, this is when you brush your teeth, this is when you get dressed—it just helps kids with the flow instead of questioning the agenda," says Vora. "It just helps things go smoothly."
First, establish why a meltdown might be happening, says Vora. "I think a lot of meltdowns are physiologic." Like, for example, their blood sugar is crashing and they need breakfast, or they're tired and you need to adjust bedtime going forward.
"But some meltdowns happen when kids feel they are not being heard, they're not being seen, they're not getting enough attention," she says. "Instead of a 'timeout' try a 'time in,' where you connect with them and figure out what's going on. It lets them feel seen, heard, and understood."
Of course, this is easier said than done when it's bright and early and you're running late. But Vora suggests a small mental trick: "Don't think 'Ugh, you're really being difficult,' think, 'OK, you're really being a 5-year-old.' This stuff is all developmental and typical of growth. We're all supposed to be learning and growing! And it might be exhausting, but developmentally it's right where they need to be."
Take the pressure off the morning.
We're fans of morning mantras here, and we often espouse the idea that how you set your intention in the morning can affect the rest of your day, which often it can. But mornings are hard, and they're especially hard with families and moving parts. So the gentlest thing you can do for yourself? Remind yourself that you don't need to have a perfect morning to have a good day. "That's a lot of pressure to put on yourself and your family that can put everyone on edge," says Pressman. "Don't let a less than ideal morning ruin your whole day, because it doesn't need to."