I Tried Amazon's Cult-Favorite Clay Mask & This Is What Happened
Contributing Wellness & Beauty Editor
By Lindsay Kellner
Contributing Wellness & Beauty Editor
Lindsay is a freelance writer and certified yoga instructor based in Brooklyn, NY. She holds a journalism and psychology degree from New York University. Kellner is the co-author of "The Spirit Almanac: A Modern Guide to Ancient Self Care," with mbg Sustainability Editor Emma Loewe.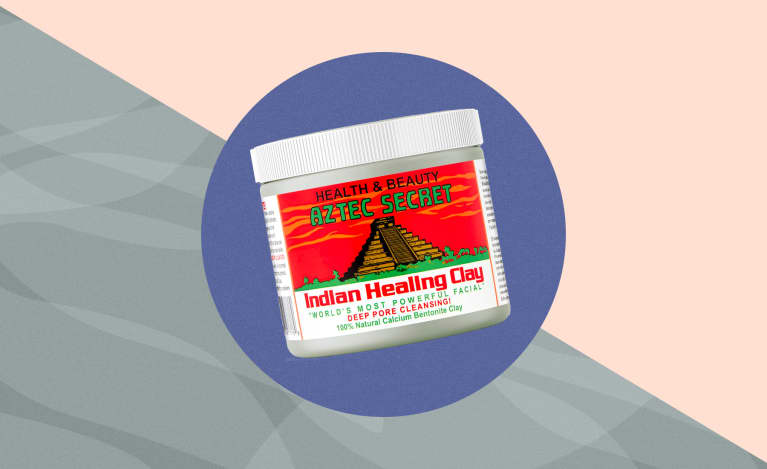 Our editors have independently chosen the products listed on this page. If you purchase something mentioned in this article, we may
earn a small commission
.
Producing a cult-favorite product whose status lasts indefinitely is a rare thing that happens only to a select few beauty brands, and this mask is one such legend. With well over 15,000 Amazon.com customer reviews, 70 percent of them are five stars—and it garners engagement on Reddit, Instagram, and in person—it may very well be the most raved-about mask on the internet. Meet the Aztec Secret Indian Healing Clay, the 100 percent natural calcium bentonite clay that's rocked the natural beauty world for years. Wondering whether it lives up to the massive hype, I decided to give it a try.
The directions versus what I did.
I freestyled a bit, which is encouraged given that the mask is made of only one ingredient—it lends itself to versatility. The directions said that the massive 1-pound tub produces 10 to 15 masks, which meant that each mask should use a substantial amount of clay. I poured out about 6 to 8 tablespoons of clay into a small mug (no metal allowed) and mixed it with a masking brush. That was a mistake: Don't bother with your brush. Mine is pretty thick, and it wasn't sturdy enough to handle the clay. I wasn't expecting the powder to become a full-on clay once it was hydrated, but that's exactly what happened. So spare your masking brush and use your hands!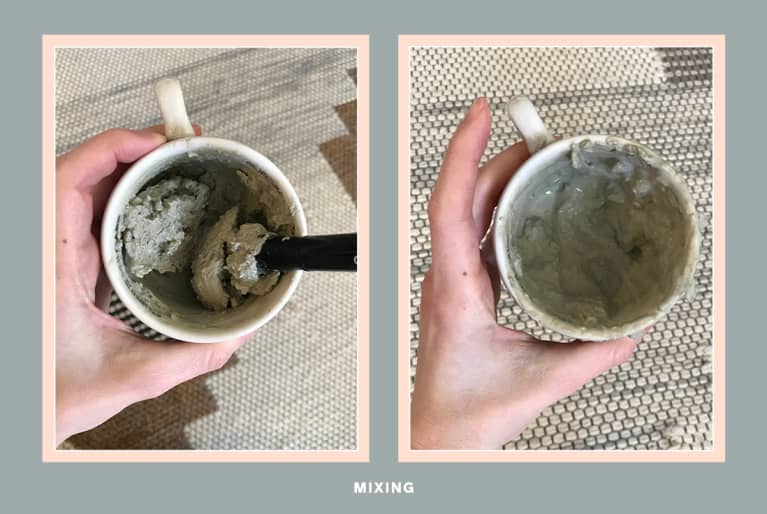 "Stir mixture well into a smooth paste," the directions read, but that didn't happen. It was like working with wet clay at a ceramics studio; little chunks here and there were inevitable. I have semi-sensitive skin, so the "FEEL YOUR FACE PULSATE" written on the side of the tub in red capital letters was enough to deter me from adding any apple cider vinegar to the mix, even though the instructions recommended it.
I tried once more to use my masking brush to slather it on, but this was a futile attempt. Again, use your hands. The directions say to apply one-eighth to one-quarter of an inch of clay to your face, which is quite a bit! I did the best I could, and it came out looking like a clumpy, papier-mâché mess.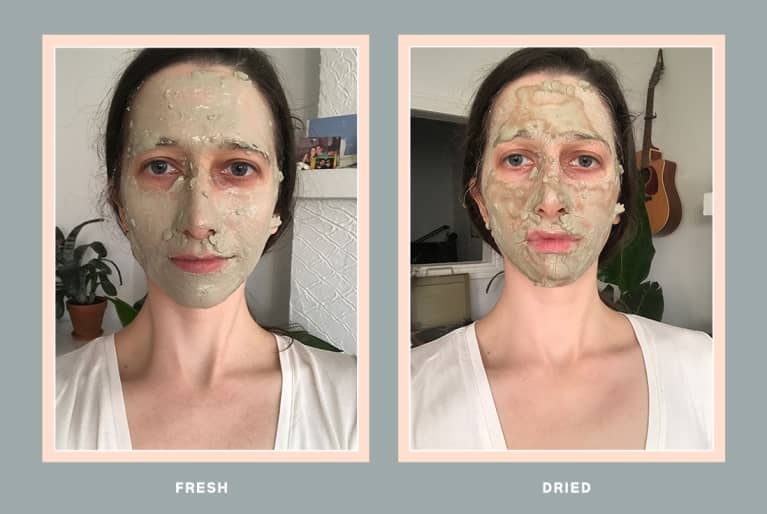 The first thing I noticed after applying the mask was the earthy smell, which was unexpectedly comforting and was a welcome departure from overly fragranced masks I've grown accustomed to. Perhaps this wouldn't be as intense as expected, I thought. But I was wrong, very wrong.
The drying begins almost immediately and intensifies with each passing moment. According to the instructions, people with sensitive skin should leave the mask on for 5 to 10 minutes while people with "problematic" or normal skin can go up to 15 or 20. Even after the mask looked fully dry, I noticed that the tightening sensation continued, and I did indeed feel my face pulsate. I didn't have any product on my lips, but that's where I first noticed the pulsating. Then it spread to my lower cheeks and neck, to the tip of my nose, until it rounded up to the eye area and mid-forehead. My entire face was getting a fresh wash of circulation, but the sensation wasn't one of burning or itching; it was simply tight.
Pro tip: This is not a mask you want to do while you're getting ready for an event, or with limited time. Plan to shower afterward, so you can wash everything off, including your hair, which will also be covered in clay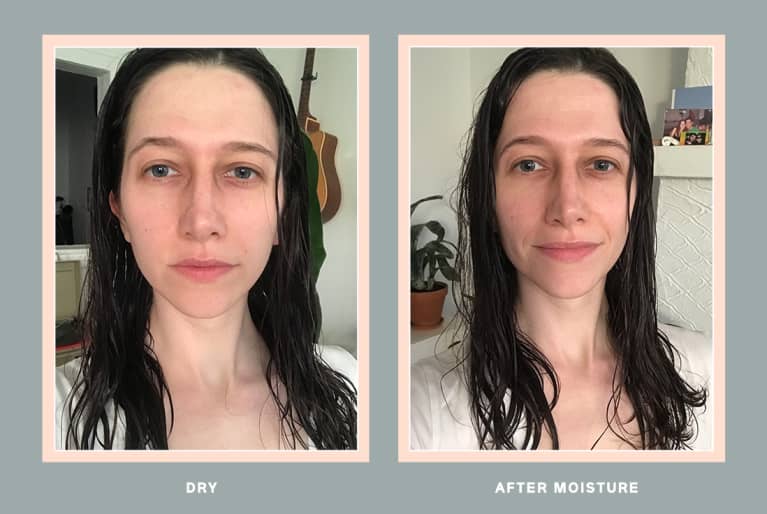 My face was a little red after the treatment, but it wasn't a tomato situation. The prevailing feeling was dryness—mind you, I tried this at the end of February in New York—but also lightness. A close examination of my pores revealed that it indeed did some detoxifying and unclogging, which is more than what most masks can claim. But what the mask did best was prime it for hydrosol, serum, and oils, which I promptly patted in. For the rest of the day, my skin was smooth, glowy, and clear, which means it is successful enough to add to the monthly rotation