Your Weekly Horoscope Is Here: What's In The Stars For You?
Astrologers & Best-Selling Authors
By The AstroTwins
Astrologers & Best-Selling Authors
Dubbed the "astrologers to the stars," identical twin sisters Ophira and Tali Edut, known as the AstroTwins, are professional astrologers who reach millions worldwide. The AstroTwins have been featured by The New York Times, Good Morning America, the Today Show, and People Magazine, and have read charts for celebrities including Beyoncé, Stevie Wonder, Karlie Kloss, and Emma Roberts.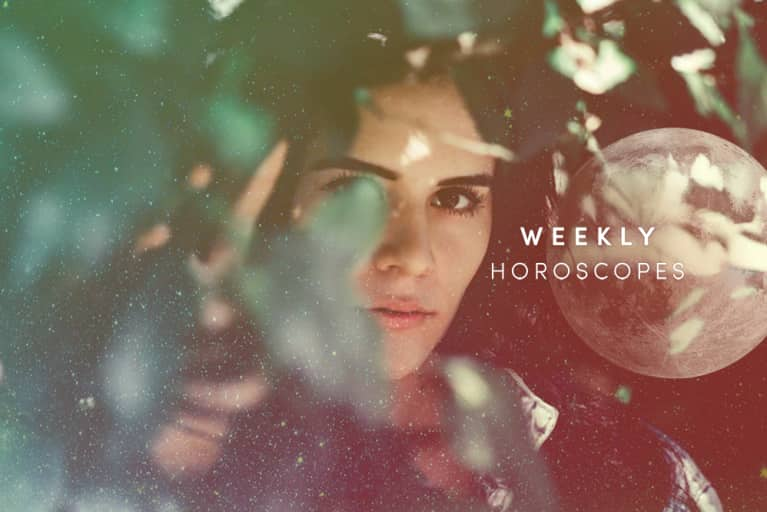 Next stop: The Collaboration Station. And it might just be located on Mars. This Monday the 7th marks the first of August's two eclipses. This one is a lunar (full moon) eclipse in the sign of Aquarius, the zodiac's team player, technologist, and space cadet. Join forces AND resources.
Turns out there's more than enough to go around if everyone would just share. Time to add some basic sandbox lessons into our adulating plans. From ride-sharing to co-working to communal property ownership, this eclipse awakens us to the power of pooling. Under these utopian moonbeams you might even embrace the concept of the "gift economy," which thrives each year at the very Aquarian Burning Man festival in Nevada.
The concept is straightforward enough (though obviously most effective when many people are on board)—create extra; give it away, trust the universe to provide. And no, you don't have to travel to the deep desert to experience it. This week, try making a "free" pile in your front yard and let neighbors go to town. Then, sit back and let the laws of the universe take hold. To wit, Tali gifted some beloved, but no longer useful, vintage goods on her lawn right before moving into a new house. A week later, she was hired to do readings at a mattress company. She was paid with a generous store credit, which she used to purchase a much-needed new bed.
That said, if you need to make some extra scratch, Aquarius DOES rule all things internet and social media. Put some goods up for sale on Facebook or Craigslist and voilà! The rent is covered. Lunar eclipses can reveal hidden data or even illuminate shadowy people. (Will we finally get to the bottom of this Russia investigation?) Take extra precautions with your own sensitive intel and think about switching to a VPN (virtual private network) to fend off data miners. Another reason for this? From Saturday until September 5, messenger Mercury will flip into retrograde—a time when information can wind up in the wrong hands...or Twitter feed.
Ground Control to Major Elon! Days before the eclipse, Mr. Musk announced that his SpaceX program will send its rocket Falcon Heavy on its first flight this November. Anyone wanna bid on a charming alcove studio on Mars? Down here on Planet Earth, this eclipse could mobilize the masses on both the progressive and populist sides of the fence.
We may see some "radical" notions being touted or an alarming uprising from a fringe group.
Stay aware when out and about. And if a crowd starts veering toward groupthink or you sense an overly intense energy percolating, trust your instincts and duck out. But this eclipse may also serve as a unifying wake-up call, reminding us that people are people—and that we're going to need to band together if we want this planet to survive.
Now back to Saturday's Mercury retrograde.
Until August 31, the fleet-footed planet backpedals through anxious Virgo, making everyone just a little more neurotic. Then, until September 5, he'll moonwalk through Leo's den, making everything feel a bit more laborious and "extra" just in time for Labor Day. The key in navigating the last few weeks of summer is to know the difference between "essential" and "optional." Mercury retrograding through both Virgo AND Leo can make us insanely fussy about details...to the point of driving everyone around us to the edge.
Choose your battles and your bells and whistles with care.
Keep a careful watch on mobile devices, too. Leaving your cell in a cab or dumping coffee on your laptop? Mercurial mistakes like these can be avoided with a little extra caution. With trivia-obsessed Virgo at the helm, however, we can harness the "re" powers of this cosmic cycle and dive into research missions. And ringmaster Leo can help us source amazing graphics, fashion staples, and music to make everything pop. By the time the speedy planet corrects course on September 5, we'll be armed with all the facts and figures we need to put on a killer show. Ta-da! More on Mercury retrograde here.
Looking for more astrological insight? Check out your August horoscope, then find out what your zodiac sign says about your relationship.