Your Weekly Horoscope Is Here: What's In The Stars For You?
mbg Contributors
By The AstroTwins
mbg Contributors
Ophira and Tali Edut, known as the AstroTwins, are professional astrologers based out of New York and Seattle. Their work has been featured in The New York Times, Elle Magazine, Vogue and Good Morning America and they are the authors AstroStyle, Love Zodiac, Shoestrology, and Momstrology.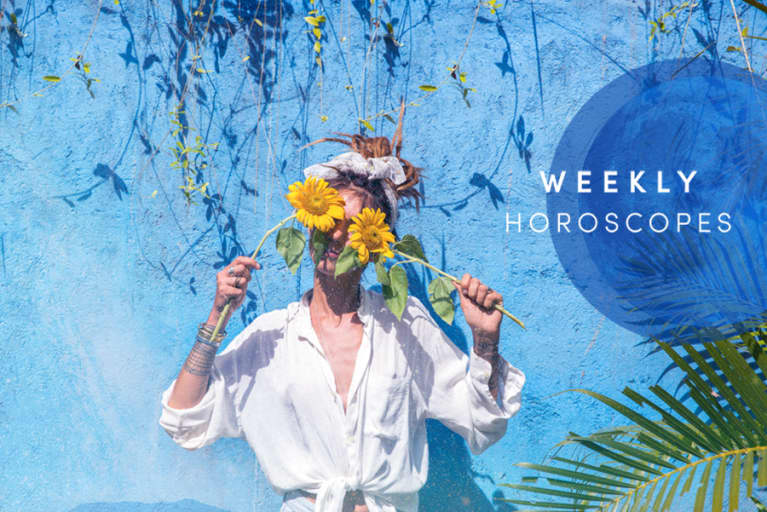 Eclipse glasses? Check! On Monday, August 21, 2017's most buzzed-about cosmic event will finally go down: the first total solar eclipse to be visible in the United States since 1979! And this is a doubly special lunar moment because it's also the second in a rare pair of consecutive Leo new moons, a sequel to its July 23 counterpart.
New moons are known for their powers of renewal and motivation—and all the more in confident, creative, can-do Leo.
But solar eclipses come with a bit of a twist. As the moon appears to block out the light of the Sun (Leo's ruling star, FYI), it's like a temporary power outage. The Sun illuminates the obvious; it rules our egos and personalities.
The moon is subtler, governing our deep desires and gut feelings. During a solar eclipse we are forced to "see" with the moon's sensitive viewfinder instead of leading with swagger. (Certainly not a bad thing, given the current world climate.) This can be disorienting. But instead of groping in the dark, the invitation is to stop and tune in to our intuitive senses. We may realize that something must be released in order for something new to be reborn.
Get ready for action, though! Just as the magic of an eclipse lasts for a brief window of time, the opportunities it delivers can also be fleeting if we don't carpe diem.
On Tuesday, the razzle-dazzle of Leo Season simmers down and practical magic takes the helm as the Sun moves on to Virgo until September 22. After a month of neon-bright hedonism and unapologetic excess, we could all stand to simplify, at least a little. Minimalism reigns supreme during Virgo season. Start a Pinterest board of clever storage solutions and efficiency hacks—even if you wait until after Labor Day (and Mercury's direct turn next Tuesday, September 5) for the implementation phase.
This earthy solar cycle reminds us to make cleaner AND greener choices. Skip the sweatshop specials and opt for the sustainably sourced—or the repurposed and upcycled if you're on a budget. (Fall-fashion clothing swap, anyone?) And don't forget that some of the best things in life are still free. Squeeze some al fresco exercise into these last days of summer. Bike rides to the beach, yoga in the park, jogs along the shore? Yes, please! Fresh air does the body good.
On Friday, stalled engines begin to turn over as structure-hound Saturn wakes up from a sluggish retrograde, which began on April 6.
While frustrating, this backspin forced us to review our long-range plans to make sure they were built on more than just a wing and a prayer (and a pinch of unicorn dust). If you've fortified your foundation since the spring, you will soon find yourself back into the productivity (and hopefully profitability) zone. You may even expand into new territory as Saturn lumbers through its final four months of a three-year journey through worldly Sagittarius.
From December 23, 2014, until this December 19, 2017, the taskmaster planet is parked in the Archer's fiery, outspoken, and expansive realm. We've certainly seen some swagger on the world stage during this backspin—from missile tests to threats of fire and fury—not to mention an increasingly scary level of intolerance and hate crimes. Rifts that have festered, unhealed, have been exposed at a level we haven't seen for decades. But Saturn is like a personal trainer breaking us down, revealing our weak spots and forcing us to do the heavy lifting so that we can actually get stronger.
As structure hound Saturn pulls itself out of the ditch, we won't be able to rely on Band-Aid solutions or bury our heads in the sand. There's work to do—lots of it—but with "Father Karma" back on track, we can clean up the messes we've made since April. Hey, we might even see progress happening before the end of the year. Saturn's direct path through Sagittarius will uphold wisdom and truth as key values. Lies may be exposed and shaky laws could crumble, giving way to systems that are more inclusive. Here's hoping!
Although the eclipse marked the final day of Leo Season, on Saturday, romantic Venus resumes that roar as she shimmies into the lion's den until September 19.
If you've had trouble tapping into your fierceness, fall will be different. This glamorous, amorous cycle inspires us to partake in dress-up dates, fancy dinners, and full-on fashion dares. (So maybe you SHOULD splurge on the glitter boots...in red.) This is a powerful time to initiate creative projects, dive back into the dating pool, or rev up romance with a new interest or long-term love. Work on your "branding" to make sure your outsides are a reflection of the genius within. If you're challenged in finding a style that makes your soul sing, a few sessions with a stylist could be a game changer AND a money saver.
When it comes to love, this Venus cycle holds nothing back. Hire the skywriter, gush like a hopeful on The Bachelor ("I am so ready to take this journey with you..."), Tinder like it is your second job. But don't forget legendary Leo Whitney Houston's words: Learning to love yourself is the greatest love of all.
Want more astrological insight? Find out your moon sign here, then explore your love horoscope.