Athleta's Empowering Message To Breast Cancer Survivors
mbg Contributor
By Leigh Weingus
mbg Contributor
Leigh Weingus is a New York City based freelance journalist writing about health, wellness, feminism, entertainment, personal finance, and more. She received her bachelor's in English and Communication from the University of California, Davis.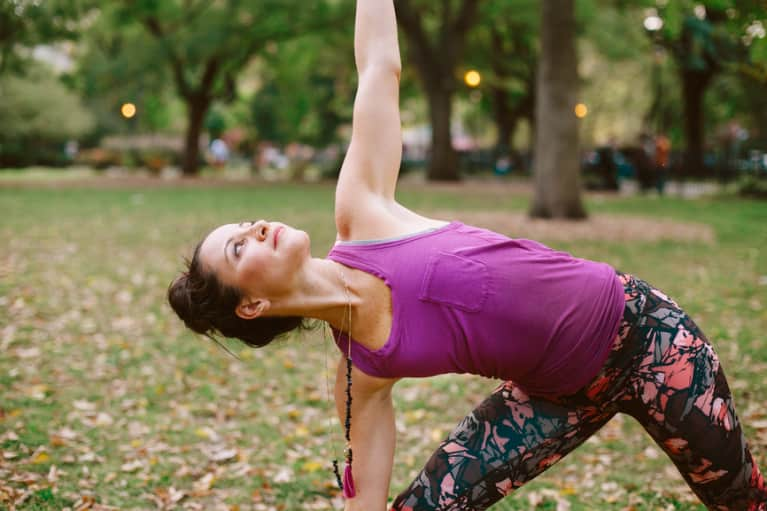 October is breast cancer awareness month, and Athleta has a bold statement for any woman who has undergone a mastectomy: Yes, there's a sports bra for you, too.
It's called the Empower Bra, and it was co-created with two-time breast cancer survivor Kimberly Jewett for women who are back in the fitness game after undergoing breast cancer treatment. The Empower Bra includes a cup that expands for post-mastectomy prosthetics, adjustable straps, lightweight compression fabric, and design details.
With 12 percent of women in the U.S. developing invasive breast cancer at some point in their lives, Athleta is making an important statement by providing breast cancer survivors with a sports bra that fits their post-treatment breasts, especially as exercise is an important part of healing from and preventing cancer.
Studies show that exercise helps prevent breast cancer—thus lowering the chances of the cancer recurring—and research shows that yoga helps breast cancer patients sleep better at night, which is crucial to the recovery process. Yep, this is a bra we can get behind.
Inspired by Athleta's statement? Here are the habits of European women that help reduce breast cancer, and the truth about how lifestyle habits affect your cancer risk.