Astronauts Could Be Changing The Future Of Cancer Treatment
mindbodygreen Editorial Assistant
By Sarah Regan
mindbodygreen Editorial Assistant
Sarah Regan is a writer, registered yoga instructor, and Editorial Assistant at mindbodygreen. She received her bachelor's in broadcasting and mass communication from SUNY Oswego, and lives in Brooklyn, New York.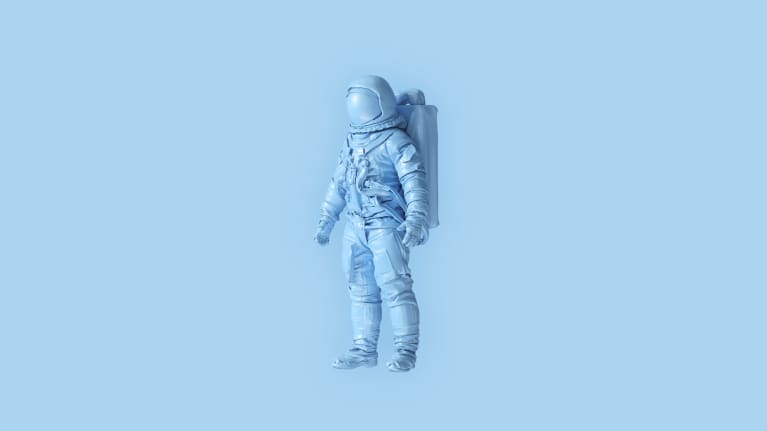 December 22, 2019 — 17:43 PM
What do cancer patients and astronauts have in common?
Answer: More than you might think, and it could change the way we approach cancer treatment.
In recent research published by Cell, scientists discovered that cancer patients undergoing treatment like chemotherapy may reap long-term benefits from an astronaut's fitness routine.
The effects of outer space on astronauts are strikingly similar to the effects cancer treatments like chemo, immunotherapy, and targeted therapy have on patients.
Jessica Scott, Ph.D., senior author and exercise physiology researcher at the Memorial Sloan Kettering Cancer Center's Exercise Oncology Service, says the similarities they found were surprising.
"Both have a decrease in muscle mass, and they have bone demineralization and changes in heart function," she notes. "Astronauts may get something called space fog, where they have trouble focusing or get a little forgetful. That's very similar to what some cancer patients experience, which is called chemo brain."
Yet despite the similarities, cancer patients aren't required to exercise at nearly the rate astronauts are, if at all.
Different approaches to similar symptoms.
According to the research, astronauts leverage fitness as a way to prepare for, survive in, and return from, space. They work out before takeoff, while they're in space using special equipment, and when they come back to Earth, all under the supervision of a doctor who monitors their health and symptoms and makes sure they return to baseline health.
Cancer patients, on the other hand, "...may still be advised to rest in preparation for and during treatment and may have to ask permission to exercise from their physicians," says Scott.
The purpose of the astronauts' exercise schedule is to ensure they can handle the effects of space.
However, the same cannot be said for cancer treatment, as the study notes, "NASA has technologies that can keep astronauts safely in space for up to 11 months, but for the 90% of patients who now survive early-stage cancer, there have not been similar efforts to counteract the stress their body undergoes during treatment."
Changes to treatment on the horizon.
Based on their findings, the researchers suggest simple forms of movement during and after cancer treatment may offer long-term benefits for patients by reducing the negative side effects treatment can have.
"Many patients aren't dying from their cancer," Scott says, "but they're now at risk of dying from these side effects. Using NASA's exercise plan could help with this."
Scott and her team are now conducting clinical research to prove whether an astronaut's exercise schedule will benefit cancer patients undergoing treatment, by having them exercise before, during, and after treatment.
And should the findings indeed point to astronaut fitness as a key to recovery, it could completely change the way we approach cancer care.