The Complete Zodiac Guide To 2021: What's In The Stars For You?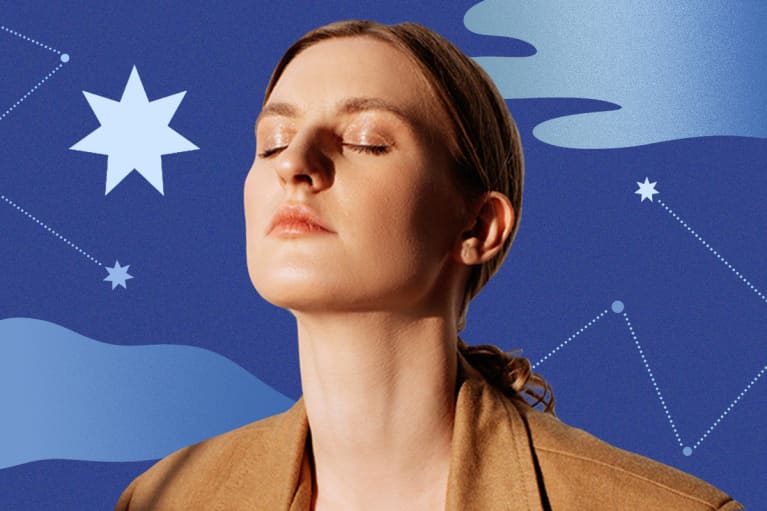 As we examined the stars for 2021, looking in earnest for signs of stability, a story began to unfold. There's no denying it: We are in the middle of a great historical change that we believe will truly start taking shape in 2022.
In many ways, the cosmic lineup of both 2020 and 2021 are a prelude—a Star Wars prequel for some, a Hunger Games for others—designed to prepare us for shifts in world power, economic systems, weather patterns, and the way we live.
The prospect of change can seem upsetting and scary when it's ahead of us. But what really drives our angst is the idea of navigating the unknown without a map. As astrologers, it's our job to provide that galactic GPS.
So here we are, with another year stretching in front of us—and the bewildering prospect of trying to plan in the face of massive global uncertainty.
Here's a simplified strategy: To navigate through 2021, you must keep your eye on both the here-and-now and the fast-approaching future.
In other words, live in the moment and "one day at a time." But simultaneously play the long game by saving money, being resourceful, and investing in things that may not pay returns for five to 10 years or longer. Build and plan...but also let go and be flexible. If 2020 taught us anything, it was that the best-laid plans must sometimes pivot at a moment's notice.
In 2021, both expansive Jupiter and structured Saturn will travel through Aquarius, the sign of society, technology, and revolution. This is a huge change from their stalwart march through Capricorn in 2020, which emphasized themes of government (historic election much?), business, and hierarchy.
Now, our sights are set on innovation and massive changes that will reform the way society is organized, governed, and serviced. Will all the technological advances set us free...or limit our freedom and privacy?
Here are some things that will remain in a state of flux, if not continue to undergo seismic shifts, in 2021.
Our relationship to time will change as Saturn and Uranus square off.
While Jupiter, Pluto, and Saturn all circuited through Capricorn in close proximity for most of 2020, our sense of time warped, flattened, or outright disintegrated. Before the discovery of Uranus in 1781, Saturn (aka Chronos the time lord) was the ruler of both Capricorn and Aquarius. This year, as Saturn darts into three shape-shifting squares (90-degree angles) with disrupter Uranus, we can expect to dance the Time Warp again, a la the song from oh-so-Aquarian cult musical The Rocky Horror Picture Show.
When Jupiter dips into Pisces, which is associated with nonlinear time, from May 13 to July 28, things could get even more "quantum." (Interestingly, the European Union has voted to end daylight saving time in March 2021.)
Saturn in Aquarius could keep things feeling distant for the foreseeable future.
We got a sneak preview of "social distancing" when restrictive Saturn made a short visit to Aquarius, the zodiac sign that rules group gatherings, from March 21 to July 1, 2020. Now, Saturn is hunkered down in Aquarius until March 2023 for a celestial winter.
That doesn't necessarily mean that we'll have to cancel every wedding, industry conference, or music festival until then. But if astrology is any indication, we can certainly expect to see modified versions of these assemblages, perhaps with some technological help from pioneering Aquarius.
Jupiter in Aquarius and Pisces: Finding hope again? 
As expansive Jupiter darts between idealistic Aquarius and compassionate Pisces (which it ruled in classical astrology), at least some of our focus will be on crafting a more hopeful future worldwide. But with restrictive Saturn also in Aquarius this year, it won't be an overnight job.
Truth-teller Jupiter reveals what's been hidden. We'll be patching up, if not gut-renovating, the very infrastructure that's needed to make these lofty Jupiter visions a reality.
Gemini/Sagittarius eclipses could hint at global transformation.
Since June 2020, a series of eclipses on the Gemini/Sagittarius axis has overturned our relationship to long-distance travel (Sagittarius) and the local community (Gemini). One ticket to...the supermarket?
As the karmic north node moves through Gemini from May 5, 2020, until January 18, 2022, our relationship with mobility, community, and communication will continue to be overhauled. This cycle, which happens roughly every 19 years, disrupts all themes associated with Gemini and Sagittarius. With the south node submerged in Sagittarius, which rules global travel and relations, it's no surprise that countries have banned foreign travelers, and "sheltering in place" has become part of our lexicon.
...and the Taurus/Scorpio eclipses spell economic change.
A new eclipse series could affect the economy starting on November 19, 2021, as these lunar shape-shifters begin sweeping through the "money signs" of Taurus and Scorpio. For the next year, these eclipses will be interspersed with those on the Gemini/Sagittarius axis, altering commerce and community at once.
This is the first time we've had Taurus/Scorpio eclipses since November 2012 to October 2014, which was a time of economic turnaround in the United States and turmoil in other parts of the world, such as Greece, Venezuela, and Russia.
The first eclipse is in Taurus, the sign of finances and material security, and it may be a sneak preview of the fiscal reforms ahead. We have our sights set on April 30, 2022, when a Taurus solar eclipse makes close contact with Uranus, the planet of technology and upheaval. The global economy could make a major pivot.
Is the world ready for a new monetary system? Well, a prior Taurus/Scorpio eclipse series brought us the euro, which began to officially circulate as coins and notes in 2002. Just like in 2021, this was a year when eclipses also fell on the Gemini/Sagittarius and Taurus/Scorpio axes, shifting global and economic policies.
The next round is certain to bring a new wave, and perhaps, as we've predicted for several years now, the "internet of the economy" will be fully born.
Wishing you a happy, healthy 2021.
Want to know what the stars have in store for your relationships in 2021? Register now to join the AstroTwins for their FREE Relationship Revolution Webinar.