Why Astrology Was The Answer To My Anxiety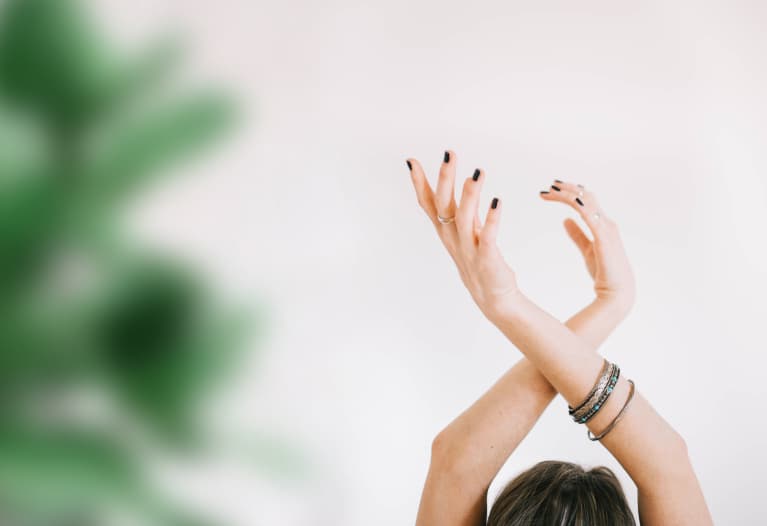 I don't know about you, but from where I'm sitting, this year has gotten more emotionally draining as the months pass by. As a mom, student, counselor, wife, etc., life is always busy, but recently it seems to have a particular edge to it.
From January through March, I was too distracted with the day-to-day tasks of life to even notice how emotionally spent I was. I was inspired to dedicate the month of May to a mindfulness practice, figuring it could be an antidote to my anxiety and overwhelm. I set out to meditate daily and incorporate mindful activities into my days, even simple ones like paying attention to the smell of the shampoo while showering or taking in the sounds of the birds chirping while on a bike ride.
For the most part, I stuck to this plan (though I'll admit that nobody's perfect, and I missed a few days here and there). In the process, I began to understand that with mindfulness comes an avenue to acceptance—to coping with scary and distressing thoughts and feelings. It opens a door to the less savory aspects of your life that you haven't quite accepted, and it shows you where you may need to make difficult changes. It opened up a lot of fear for me, and I began to wonder if there was something, well, bigger going on.
That's where astrology comes in.
Around this time, when I was in a bit of a stuck spot, my acupuncturist said, "I think you should see an astrologer" after one particularly intense treatment. Now understand, both my shaman acupuncturist and I share a somewhat science-based mind when it comes to treatment. But I, somewhat hesitantly, took the advice and booked an appointment with an astrologer.
And that's when I learned that Uranus is screwing up my life.
The astrologer told me that the planet Uranus is in direct opposition to where it was when I was born in 1975. In astrology, this transit often manifests as a "midlife crisis" of sorts, a time during which you have to reckon with your past in a big way. You see, the outer planets (like Uranus) move more slowly through our birth charts, with profound effects that can last years and shape our lives on a drawn-out scale.
Upon further research, I discovered that if you are around my age of 41, you may be feeling the effects of a "Uranus opposition," too, though your reaction to it may be a bit different. It really depends on how much you resist what Uranus is calling for you to do.
Best of all, according to my chart, this whopper-of-a-astrological-cluster-eff lasts until 2019!
Although it was bit difficult to swallow, my reading ultimately gave me a sense of comfort. Now I know my instinct from back in May was correct: There were other factors at play in my anxiety. In fact, it may even have a specific, universe-influenced purpose: transformation.
How I'm making peace with my chart.
Over an extended period of time, anxiety makes you doubt yourself, makes you lose trust in your instincts. The reading told me that my gut was right—that I am heading into a difficult time period of transformation, one that will be slow and painful.
I'm about to embark on a significant shift in my career, and I have many, many fears around letting go of the old and stepping into the new. These fears make me want to stop, curl up, and just avoid all the steps I must take in order for this change to happen. Even though it is a change I want, change itself scares me (as I'm sure it does many of us). Yet, even if I'm scared, I remind myself that this is supposed to happen. It is happening.
Might as well go with the flow. Might as well feel the fear and do it anyway. And I shouldn't worry because the universe has got my back.
Start exploring your own astrology chart with this primer on moon and rising signs.