How A Korean Scrub Helped Me Embrace My Body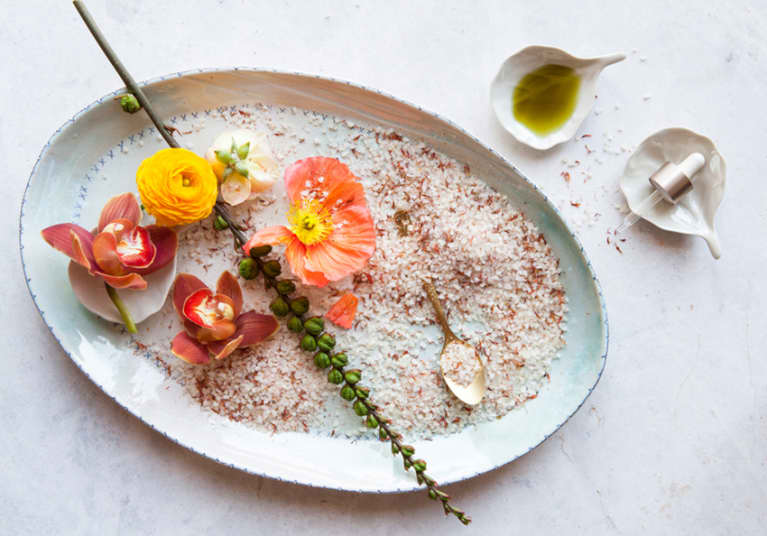 Our editors have independently chosen the products listed on this page. If you purchase something mentioned in this article, we may
earn a small commission
.
A Korean body scrub, or seshin, is the fascinating Eastern beauty ritual that satiates our ongoing lust for all things K-beauty. While jimjilbangs—spas replete with steam rooms, saunas, and mineral-water hot baths—have been around for centuries, their popularity has soared here in the United States the last few years, and the no-frills scrub is the star of the show and the ultimate exfoliating treatment. Here, writer Cyrena Lee took the plunge (quite literally) and makes the case for a diverse spa experience and the revelatory glimpse of what women really look like naked.
I've always been in awe of the fastidious Korean beauty regimes and the gleaming, glowing skin it results in; and so when my sister wanted to head to the newly opened, Korean-run Pearl Spa in San Francisco to try their famed jimjilbang body scrub treatment, I booked us an appointment without blinking twice.
The scrub is deeply entrenched in Korea, from the communal bathhouses in every city, to the hot springs that dot the outskirts of the villages. Even though utilitarian, the Korean bath house which centers around an ultra-abrasive cloth that vigorously sloughs off dead skin, is tempered by Koreans who follow their scrubbing with a series of naps and sips of roasted barley tea.
For those who have never stepped into a K spa before, it's not for the fainthearted. The experience demands that you go all-in and that your clothes go all off. Pearl Spa is strictly for women only, whereas other traditional Korean spas will have areas divided by gender where nudity is permitted and common areas where members of both sexes can relax. And when you go to a Korean spa, that's the whole point. There are rooms upon rooms to lounge and do absolutely nothing in, filled with Himalayan salt, buckets of clay, eucalyptus-infused steam, and other exotic detoxifying and purifying elements. Massages are usually booked as a bonus rather than the main event.
Yet, a Korean body scrub is THE event, and unlike anything I've ever encountered. The description of the service promises removal of "rolls of dark gray skin" to reveal "fresh pink glowing skin" and other than a photo of the scrub room, which vaguely resembles a mad scientist's laboratory with an affinity for pink, does not say much else. Unless you speak Korean, communication may be limited to effervescent smiles and pointing. Nudity plus a vigorous scrub can be a terrifying combination, but as I marveled at the therapist's no-nonsense exfoliation technique, I derived a unique satisfaction that one derives from extracting dirt from difficult-to-reach places on one's body.
The whole experience left my sister and me feeling that sometimes, TLC should come in the form of tough love, where older Korean women are wise to the fact that sometimes you just need a really good scrub. I left even more in awe of the Korean beauty traditions—but this time, I was glowing like one of them from head-to-toe.