Why I'm Incorporating Art Into All Of My Travel From Now On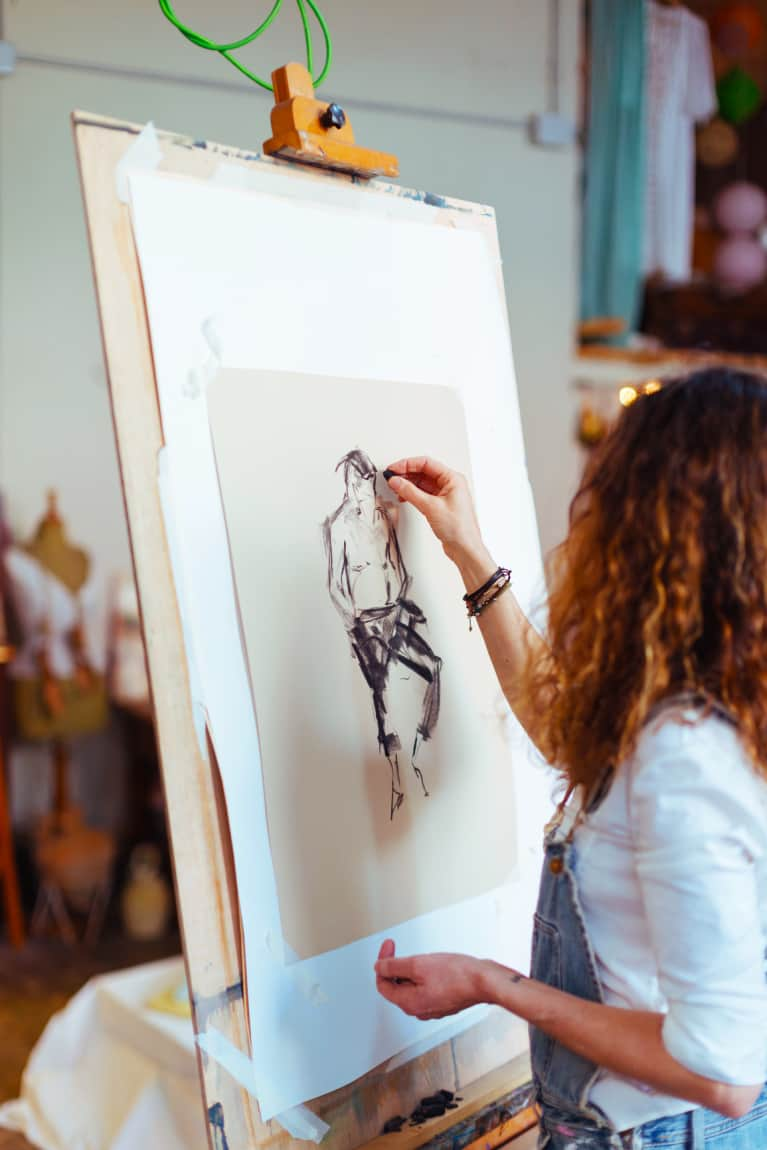 "Caution: I bear a power stick and will use it on you."
Upon my return to New York from a recent Panama business/leisure trip, I issued this warning to my three tween- and teenage kids: how I'd envisioned purposefully holding up and gesturing the hand-carved driftwood art object and evil-reflecting tool I'd crafted there, as protection against any rude back-talk or disrespectful behavior they exhibited. Not surprisingly, my announcement was met with smirks and giggles, so I decided the keepsake would command more respect and admiration atop my living room display shelf.
All is far from lost, fortunately, for although I'd re-entered my home turf and routine, each time I glance at this token take-home gift, memories of Panama and my brief but impactful encounter with its indigenous and partly endangered culture return.
At the Buenaventura Golf & Beach Resort, in Rio Hato, arts and craft workshops are offered on-site to travel groups. The hotel houses a small museum, which is operated by the Mua Mua Foundation, which literally translates to "soft, rippling ocean waves."
The nonprofit aims to preserve the craftsmanship and traditions of local indigenous cultural and ethnic groups. For example, a small, connecting gift shop sells the work of native master artisans, supporting their daily livelihood.
Part of the challenge is that as more native inhabitants and families migrate to the capital city to provide better education for their children, in this environment, girls do not learn popular, ancient, and generational arts such as Punula basketweaving or Mola sewing. In fact, it's estimated that 70 percent of girls do not know the secrets of their female elders, according to the charity.
To counter this alarming reality, initiatives focused on conservation, public education, transmission, and commercialization are carried out in additional ways, such as teaching native language to children when they move to the city, ensuring they remain bilingual. Contests are held to create awareness of the importance of craftsmanship and its emblematic role in culture. Auctions take place, during which Panamanian artists donate replicas of their work for replication. And in exchange, funds are dedicated to maintaining Mua Mua's programming.
For tourists like me, such efforts proved welcome and worthy in unexpected ways. Our Congo charm-making workshop, "Transforming the Mundane Into Art," took place in Buenaventura's lush courtyard, under a massive and gorgeous 200-year-old Corotu tree, which the hotel is actually built around. Through a translator, 36-year-old artisan Gustavo Esquina, originally from the Portobello District of Colon Provence, taught us a bit about the history and creative techniques of Congo art. The wooden sticks we painted and embellished held significant meaning for African slaves, who carried them as walking canes in the jungle, used them to guard against animal attacks, and most importantly, as protection against demons and bad spirits.
"One of the many traditions of the Congo culture is the transformation of mundane and insignificant objects into charms using art. A variety of colored beads, seeds, wood, and other elements are transformed into necklaces, pendants, or protectors for women," says Rosina Ynzenga, president of Mua Mua Foundation.
Beyond the educational benefit, during our two-hour session, many of us went on an artful journey to a more mindful state-of-being. There was a noticeable shift in demeanor and mindset. Surrounded by breathtaking nature, with nothing but our craft projects to focus on, our mental states eased. The uplifting effects of being creative and contributing to life in a positive way—especially as we supported a worthy cause—were instantly and powerfully felt. At once, feelings of gratitude, appreciation, and empathy set in.
The next time you're dreaming up a vacation, I'd highly recommend seeking out similar programs that immerse you in local culture using art as the guide. Here are a few more ideas to get your wheels turning:
1. Alebrijes Artisan Workshop at Andaz Mayakoba Resort Riviera Maya.
This resort brings in a local artisan and third-generation craftsman to teach the art of Alebrijes: brightly colored Mexican folk art sculptures of fantastical mythical creatures. Using cartoneria (papier-mâché) technique, the artist shares steps to create the hard-sculptured objects, explaining the process from forming its skeleton to the figure, then adding design and decoration. Hotel guests make their own special piece and may choose to purchase any of his pre-made works. The workshop is complimentary, and the artisan is compensated for his time.
2. Painting workshops at Douro Valley, Portugal.
Azulejos tile-painting workshops with local artisans are complimentary for guests and part of the weekly activities calendar of this hotel. The partner artisans paint tiles that are sold in the resort's gift shop and spa store, too. The resort also supports a local charity that helps young talented students whose families don't have the means to support their school and university fees.
3. Art demonstrations at Yao Noi, Thailand.
This resort partners with the Women's Club of Koh Yao Noi for an off-site, one-on-one batik painting lessons, which give guests a chance to learn about and support their products. Guests opt to watch a demonstration or partake in lessons themselves and can shop designs created by these talented women. Prices vary, but all the money for these trips goes directly to the local community of women artists.
Is vacation still too far away? You can get the benefits of travel without leaving home. Here's how.