A New Moon Ritual For Identifying Your Personal Mission & Changing The World
mbg Contributor
By Alexandra Roxo
mbg Contributor
Alexandra Roxo is the co-founder of Moon Club, a global monthly mentorship program dedicated to women's empowerment and moon rituals and a transformational coach and healer.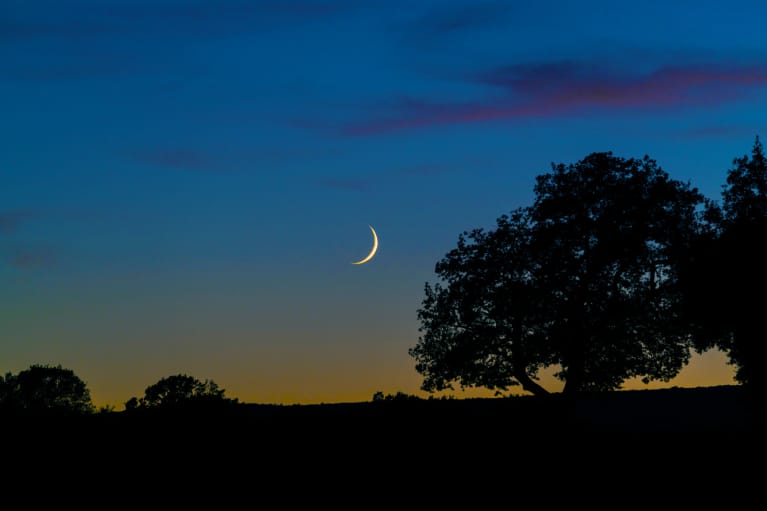 Aquarian energy gets us out of our old personal stories and traumas and wounds and reminds us of the bigger picture. It can seem like a big deep breath. Like joining the Women's March and feeling into the joy and passion and pain of the people around you—so much that you forget your own hunger and don't look at your phone for hours. This is the Aquarian vibe!
It's at play when you are working on your mission in the world. Instead of focusing on you, it's about what you are doing for the collective. What you have the power to change. To shift. To Awaken.
How to align with the energy of this time of year.
Thursday's Aquarius New Moon Solar Eclipse is a time to zoom out and tap into this perspective shift. It's also very close to Mercury in the sky, so communication is key right now. How can you become more curious? Who can help you spread your futuristic ideas far and wide in service of the greater good?
This new moon also corresponds with the eclipse that happened last August. Yes, the big one that had U.S. eclipse chasers excited about the moment of "totality" (when the shadow of the moon totally blocked out the sun). Did a seed get planted back in August 2017 that you can begin to see pushing out its first bold shoots of life now? Focus your energy here in the coming days and weeks to really watch it grow.
Aquarius is the most forward-thinking sign of the zodiac, and it speaks to a future that works for everyone. Taking on some of this expansive energy over the next month means committing your life to a big mission, to the greater good. Pinpoint the higher purpose of whatever it is you're doing. Create a meaningful connection to your work and to what you're able to change in the world and the impact you can have on others. On your co-workers. On the environment.
A new moon ritual for identifying your mission and changing the world.
Ask yourself: Are you aligning with a higher cause? Do you have a mission you connect with every day? Do you feel like you have a space to be of service or do work for the greater whole? Are you connecting with visionary ideas? New perspectives? Reading inspiring books?
This is the time to discover what really stirs up the passion within you. What pisses you off? What enlivens you? Watch all the Ted Talks you have saved on your desktop. Read up on visionary thinkers who inspire you.
Although the New Moon can be a time to get quiet and listen, this is a great moon to gather with friends. In Moon Club, our monthly guided ritual program to help you sync with the moon's cycles and supercharge your life, we took the time to chat with feminist venture capitalist Kimmy Scotti, who reminded us of the entrepreneurial power we have to shift the whole collective by thinking BIG and BOLD. Here is a ritual you can do over the next few days to harness some of the transformative energy of this time:
To help you bravely think outside the box, gather a few pals, the ones who make you think BIG, and give you tons of new ideas.
Ask everyone to write down 25 things you are curious about and 10 problems you would like to contribute to helping with in the world.
If you need a thought starter, use this journaling prompt: "The letter you would like to receive from your future self goes like..."
Share your lists with each other and brainstorm ways your curiosity can lead to small (or big!) ways to shake things up in the wider world.