How To Harness The Transformative Power Of Tonight's Full Moon (And Total Eclipse!)
Astrologers & Best-Selling Authors
By The AstroTwins
Astrologers & Best-Selling Authors
Dubbed the "astrologers to the stars," identical twin sisters Ophira and Tali Edut, known as the AstroTwins, are professional astrologers who reach millions worldwide. The AstroTwins have been featured by The New York Times, Good Morning America, the Today Show, and People Magazine, and have read charts for celebrities including Beyoncé, Stevie Wonder, Karlie Kloss, and Emma Roberts.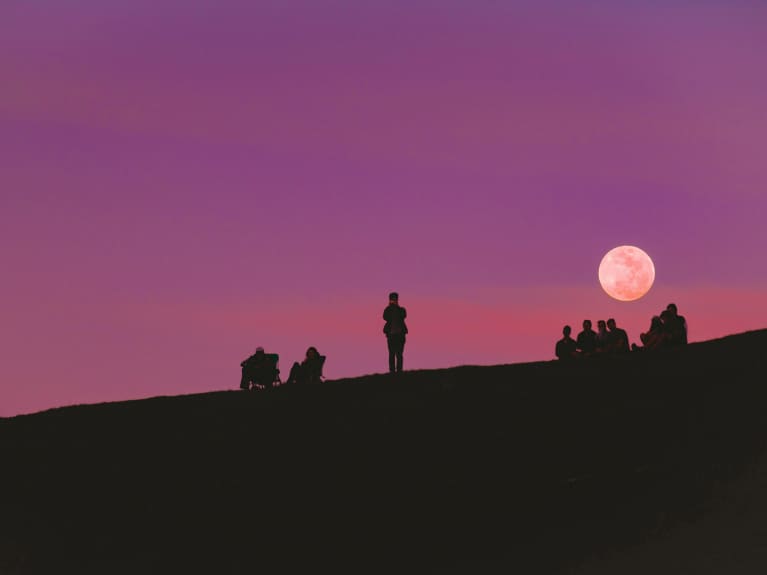 Power to the people! On July 27, 2018, at 4:20 p.m. EST, a blood moon total lunar eclipse in revolutionary Aquarius stirs up our righteous urge for freedom-fighting and sparking social change.
This celestial spectacle marks the midpoint of the summer 2018 eclipse season. The full moon in communal, idealistic Aquarius arrives with extra potency as a total blood moon lunar eclipse, the second in a trio of galvanizing eclipses happening between July 12 and August 11 of this year. Riding the waves of these future-forward moonbeams comes a message that rings loud and clear to set aside our differences and come together for the greater good. The Aquarius full moon of 2018 arrives as a catalyst for change, as the Earth passes between the bold Sun and the moon to create a garish, otherworldly reddish glow known as a blood moon (which can only happen during a full moon), and casts shadow on its otherwise illumined surface.
July's total lunar eclipse is a rare event, as the light from our life-giving Sun will become blocked for one hour and 43 minutes, the longest totality of the 21st Century. But alas, for those of us here in North America, this lunation won't be visible since it will occur in the late afternoon. But for our friends on the other side of the world, we hope you enjoy the show! But wait, there's more: joining the alignment of the Sun, Earth and moon is passionate Mars, which will positioned at its closest to earth since 2003, appearing brighter and more reddish than usual to the naked eye. Astronomers call this interplanetary lineup, "syzygy," since planets appear brighter when they're directly behind Earth and directly in the path of the Sun's light. For the next six weeks, take a peek at the red planet through a telescope if you can for the best viewing.
As a total lunar eclipse, the Aquarius full blood moon is also known by some Native American tribes as the "Full Buck Moon," since it is around this time of year that new antlers begin to push up through a young buck's forehead. Others have called this lunation the Full Thunder Moon, since thunderstorms tend to coincide with the height of the summer months.
With Aquarian energy in the cosmic mix, this starmap helps us visualize our ideal futures
Now, back to astrology! High-minded Aquarius is the sign of collaboration, groups and humanitarian efforts. It's all about uniting around a higher cause and the creative impulse to fight for our beliefs. This sign is more about universal love than intense one-on-ones. The casual Water Bearer can get nervous under the heat of too much passion and emotion. This is friendly, convivial energy at its best—platonic, playful and decidedly not romantic. But who cares? Aquarius is irresistibly fun, likable, and adorably goofy—making this liberating lunation a good time to be shared by all.
With Aquarian energy in the cosmic mix, this starmap helps us visualize our ideal futures, and then connect to the right people who can help us bring the big picture to life. When in doubt, take the unconventional route! Aquarius is the sign that governs teamwork and technology. There will be group victories to celebrate this week—or a deep desire to find our tribes. Turn on the searchlight: those kindred spirits could be revealed within the next two weeks.
Feel like making the world a better place? (Hands raised!) Rebel-rouser Aquarius guides us toward greater humanitarian missions. Whether your big-hearted endeavors involve global activism or a little community cleanup, there's strength in numbers, too. No good deed is too small…but why not go a little bigger, inviting your social network to get in on these kind acts?
You say you want a revolution? Make some wishes or intentions (see our guide to new/full moon rituals here) and get the movement underway. Meantime, here are star-powered tips to liberate yourself and pave the way for some serious ch-ch-changes at the Aquarius full moon/blood moon/total lunar eclipse.
7 ways to welcome tonight's Aquarius full moon.
1. Embrace weird science.
So you secretly believe that aliens inhabit the earth and live amongst us (come to think of it, that strange neighbor of yours does fit the profile...). You put hot sauce on your dessert. You don't believe in monogamy but you're certain unicorns exist. Whatever! The Aquarius full moon/total lunar eclipse urges you to stop hiding the parts of yourself that might be quirky, eccentric or just not in perfect harmony with the people around you. Because Aquarian energy is all about "live and let live," this full moon eclipse is great for authentic sharing—without forcing your ideas on anyone else.
Uber-rational Aquarius is a master of emotional objectivity. Where do you have your teeth and claws sunk in so deeply that you can't see the forest for the trees? The Aquarius full moon lunar eclipse is a great day to practice the Buddhist principle of non-attachment. Yes, you may WANT something with every fiber of your being. But do you also understand that if it doesn't happen, you'll still be okay? If you think you can't survive without a person, an outcome, or whatever you're hooked into, this lunar light helps you release that fear. Let go...and the Aquarius full moon eclipse will bring a better long-term resolution to your issues.
3. Manifest your vision of utopia.
Got a radical idea? Aquarius is the star sign of the future and also rules science fiction. It's the forward-focused mad scientist who envisions a quirky, idealized world—or perhaps one populated by aliens, cyborgs and a code of radical individualism. Consider what the perfect world would be like if you could create it. What does it look like—and how can you bring a healthy drop of that to your daily life? Maybe it's to the tune of Burning Man, where every day is a costume party and people share their talents, goods and services without exchanging money. You might want to read up on some New Age and shamanic ideas or even deepen your knowledge of astrology—all "out-there" Aquarian themes.
4. Carry your own Olympic torch.
Aquarius is the zodiac's team player, encouraging you to show pride for a group you belong to. Whether the activity you're involved in is sporty or stationary, wave the symbolic flag and wear the uniform. But don't sit in the stands, spectator-style. The gold medal goes to those who move their bodies! Aquarius is all about kinetic energy, and this full moon is the perfect time to commit to a sports league, train for a 5K with a team, or attend a group fitness class. The next two weeks are an especially rich time for jumping in with both sneakered feet. Summon your social network! Getting your friends into the fitness groove with you will keep you motivated.
5. Host a high-minded workshop.
Idealistic, intellectual Aquarius revels in the realm of cutting-edge ideas. The Aquarius full moon lunar eclipse creates the perfect space for a workshop or salon. Gather your brain trust for a topic-centered discussion, potluck style if you can, since group-centric Aquarius parties are even better when everyone contributes. You might even screen a film like No Impact Man or watch a high-minded TED talk to spark the conversation. Who knows? With the Aquarius full moon ruling the skies, the night could end with a plan for the New World Order.
Liberated Aquarius rules technology, so circle this full moon for spreading a message through social media and digital platforms. Ready for a job upgrade? The Aquarius full moon lunar eclipse prompts you to up your technical know-how. This full moon is a great time to launch an online marketing, crowdfunding or social networking campaigning, too. Ready, set, go viral!
As any yogi will attest, there's nothing more centering than a deep inhalation of oxygen. Aquarius is an air sign, so breathe deep! Many of us won't take a sip of water that isn't filtered, so how about giving our air the same attention at the Aquarius full moon lunar eclipse? Plug in the air purifier, deionizer, or dehumidifier. Try an essential oil mister for a fragrant and soothing blast. Just go easy on the patchouli—a fan favorite of this bohemian Aquarius full moon, but a strong whiff for the average sensory citizen. Grapefruit, lemon, tangerine and other citrus oils are uplifting and energizing. Perfect for the Aquarius "mad scientist" moments that could keep you up working on your master plan till the wee hours of the morn'.
Want more astro insights? Check out the AstroTwins' complete guide to cosmic love matches.