Some Astrological Magic Is In The Air This Week. Here's Your Horoscope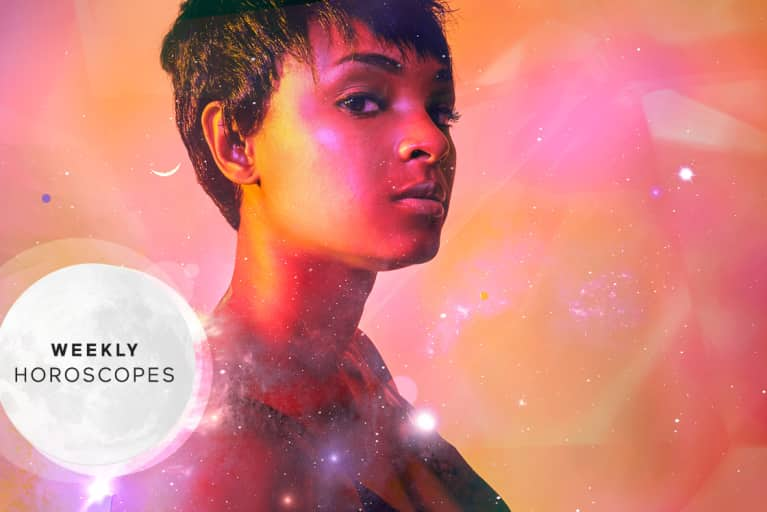 The AstroTwins are part of the mbg Collective, a curated group of our most trusted wellness advisers. Since 2009, we've had the brightest, most passionate mission-driven leaders in wellness share their intimate stories and world-class advice. Now, we're giving you unparalleled access to the people who, alongside mbg, are putting the "WE" back in wellness. Consider them your personal guides, there to support you and sustain you on your journey.
On Monday, Scorpio's full moon beams will continue to shine down on us.
Alchemy is in the air this Monday, April 30, as we revel in the afterglow of last Sunday's full moon in mystical Scorpio. That lunar lift may have sparked a major awakening while also revealing areas that could use a transformation. No sitting back and ruminating on Monday, though! The moon lingers on in Scorpio for the day and gets a supersize boost from daring Jupiter. Change rarely "just happens." Action is required to really kick it into gear. A calculated risk could bring major rewards in the early part of the week—but note the emphasis on the word "calculated." Leaping without looking could make a mess.
Start with some sort of plan in place, and have a safety net under you. Scorpio governs the most intense matters: sex, shared finances, investments, and loss. There's nothing light and fluffy about the moves we'll be inspired to make on Monday. If you're going to plunge into any sort of partnership, make sure you're playing for keeps. Does the other person have what it takes to go the distance with you? Run the background checks and assume nothing. The Jupiter-moon meetup could expose some hidden intel and yes, even a few scandals. Shock aside, it will be a relief to see what—and who—we're really dealing with. Don't be afraid to dig if your intuition starts flashing yellow lights. What you discover could actually be affirming, giving you the courage to go "all in."
Cosmically speaking, this is a chill week with no major planetary aspects happening in the heavens. Sweet relief! After an intense March and April (that Mercury retrograde, though...) we could all use a moment to stop and integrate. Lean into the grounding energy of the Taurus Sun, which can help us all get centered and organized. Taurus season, which lasts from April 19 to May 20, is a fine time for putting down roots. But the other side of the coin is ensuring that we aren't "stuck in the mud." Assess your universe: Where would you like to be more firmly fixed...and where could you use more mobility? Pivot accordingly. Pledge a deeper commitment to the people and activities that make your heart sing. And don't be afraid to work for what you want. Taurus time can inspire us to develop a "practice" so we can slowly and steadily ascend to the master class.
The moon is in Capricorn on Friday, which can bring our dreams into focus.
Just before the weekend, the moon hunkers down in Capricorn for two-plus days, syncing up with serious Saturn on Friday. That Cinco de Mayo rager might have to wait until Sunday—or just use the frozen margaritas as a reason to meet with a prospective collaborator and talk shop. This resourceful alignment can help us bring our dreams into sharper reality. Set aside some idealism and think in tangibles. What time, money, and people power will it REALLY take to pull off a grand vision? Running the numbers and checking the facts might seem daunting, but here's the silver lining: Seeing what's actually required may reveal that your plan is more doable than you imagined!
Want more insights from the AstroTwins? Check out their sign-by-sign astrological forecast for 2018!