Monthly Horoscope: There Are Not 1, Not 2, But 3 Retrogrades Coming In April
mbg Contributors
By The AstroTwins
mbg Contributors
Ophira and Tali Edut, known as the AstroTwins, are professional astrologers based out of New York and Seattle. Their work has been featured in The New York Times, Elle Magazine, Vogue and Good Morning America and they are the authors AstroStyle, Love Zodiac, Shoestrology, and Momstrology.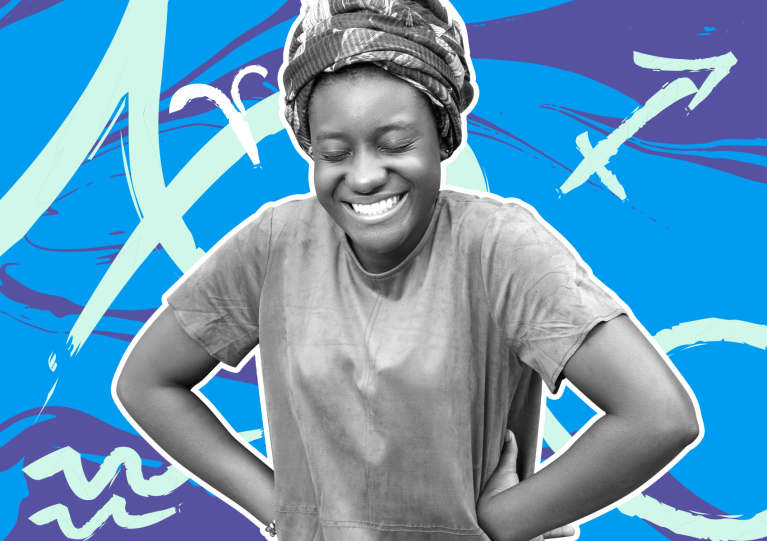 Celestial spring has sprung as we move through the heart of Aries season until April 20. With the zodiac and astrological calendar reset, it's the perfect month to think about fresh starts and new ventures. Sure, we're only a little way into 2019, but who else is ready to call Q1 a wrap?
Officially, the zodiac started on March 20, at the spring equinox. But with Mercury retrograde from March 5 to 28, many big plans were delayed.
Now Mercury retrograde is off our backs, but that doesn't mean we can totally plow ahead with abandon.
It didn't help that Mercury was backing through Pisces, the last sign of the zodiac—a bit of an emotional hangover for us all. We heard many accounts of people getting weepy, frustrated, and overwhelmed by the storm surge of Pisces #feels. And with Mercury squaring off with Jupiter, the planet of higher education and truth-telling, the month served up everything from a college admissions scandal to the Mueller Report (what the heck is really in there anyway? It ain't over till Mercury sings…).
Now Mercury retrograde is off our backs, but that doesn't mean we can totally plow ahead with abandon. This month, three of the slower-moving outer planets start their annual retrogrades—a downshift that might actually be welcome. The outer planets turn retrograde for four- to five-month windows every year, giving us a chance to integrate changes and correct course as needed.
Jupiter goes retrograde on April 10, and it'll slow down time a bit.
The first to decelerate is expansive Jupiter, which has been barreling through its optimistic, risk-loving home sign of Sagittarius since November 8, 2018. From April 10 to August 11, Jupiter will backtrack, a time to be a little more cautious—or just to play catchup! Things have been developing SO fast with Jupiter galloping through speedy Sagittarius, and if you've lost control of the horse (er, Centaur!), you can grasp the reins again.
The last week of April, Pluto and Saturn both turn retrograde too.
During the last week of April, power-player Pluto and cautious Saturn both turn retrograde in Capricorn, the sign of structures, time, and long-term goals. Get ready to take a super-thorough inventory of your plans! Pluto rules the unconscious and all things hidden in the shadows, while Saturn rules tangible results and responsibilities. Pluto will be retrograde from April 24 to October 3 and Saturn from April 29 to September 18.
These retrogrades could be a bit like excavating land in order to pour a foundation. Before you put in that backfill and concrete, you need to dig and make sure everything is being built according to code. And if it hasn't, Saturn will send you back to the drawing board (with some deeper psyche-scanning, courtesy of Pluto). Be open to examining motives, questioning your first assumptions and researching before you leap to conclusions.
With healing Chiron now in assertive and dynamic Aries, we should seek ways that we can make an impact through our own actions.
With shadowy Pluto and integrity-cop Saturn retrograde in Capricorn, which rules government, leadership, and big business, buried misdeeds may surface. Or, we'll move on and commit to being responsible for creating the world we want to live in rather than giving our power away to politicians. Saturn and Pluto retrograde remind us to "be the change" instead of projecting blame or pointing fingers.
That's not to say we shouldn't hold our leaders accountable—au contraire. But passively waiting for them to mandate something into law might not be the answer either. It's a worthy exploration over the spring and summer. With healing Chiron now in assertive and dynamic Aries, we should seek ways that we can make an impact through our own actions.
The full moon on April 19 will be in Libra and raise themes of harmony and fairness.
Prior to all of this, the skies will serve up their own brand of justice with a Libra full moon on April 19. Relationships, interpersonal harmony, and fairness are key themes. This is the second Libra full moon of 2019, a rare duo, so look back to the March 20 supermoon for clues of what might come to fruition now.
On April 20, Taurus season begins and helps us get anchored. But not TOO securely. This year (and until April 2026), disrupter Uranus is also in Taurus, shaking up our security and forcing us to NOT get complacent. On April 22, the annual Sun-Uranus meetup could deliver an energetic earthquake, jolting us into action where we've been resisting change and growth. Ultimately, any curveballs are designed to help us evolve, but we may need to do some uncomfortable adapting near this date.