Your Weekly Horoscope Is Here: What's In The Stars For You?
mbg Contributors
By The AstroTwins
mbg Contributors
Ophira and Tali Edut, known as the AstroTwins, are professional astrologers based out of New York and Seattle. Their work has been featured in The New York Times, Elle Magazine, Vogue and Good Morning America and they are the authors AstroStyle, Love Zodiac, Shoestrology, and Momstrology.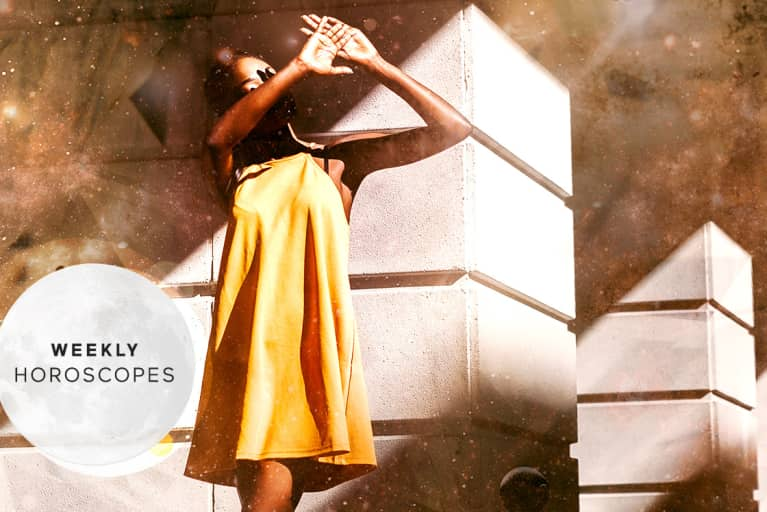 On Monday, Saturn and Mars meet in Capricorn, inviting us to slow down and assess our goals.
As the planets tangle in goal-obsessed Capricorn this Monday, April 2, good luck figuring out the right next step for your life. It's probably best to just pull over to the side of the road for a few days and check the GPS! If you hit a speed bump, don't curse it. This may be a blessing in disguise. Perhaps you've been racing ahead without a proper plan in place (a doubly unwise move with Mercury still retrograde until April 15). Cautious Saturn warns us that haste makes waste—is that a message you need to heed? Then again, if you've been stalled in neutral, Mars brings the jumper cables and gets you back on the freeway of life. Try to stay cool. By midweek, Mars will pull ahead of Saturn and clarity will return. In the meanwhile, see if you can stop fixating on the future and just "be here now."
On Saturday, Saturn links up with Venus and ushers in some loving energy.
On Saturday, Saturn connects to a second planet, this time making a pleasant formation to radiant, romantic Venus in Taurus. Both planets are parked in traditional earth signs, which might tamp down some of Cupid's more tempestuous flames. But it's all good since this transit can light a slow-burning fire in our hearts—the kind that can warm us through the years. Looking for love? The Venus-Saturn trine will make us attracted to more mature options. You may fall for someone a little older or who is comfortable in the role of the provider. If an existing relationship has been rocky, Saturn lends supportive scaffolding to Venus and helps us diplomatically discuss the problems at hand. What seemed scary to broach earlier in the week may be solved with shockingly simple logic this weekend. Focus on solutions, and try to remember that you're on the same team!
On Sunday, the quarter moon in Capricorn brings some much-needed clarity.
And in case you're STILL not clear about what and who is right for your future, Sunday's quarter moon in Capricorn brings one more round of wisdom. These balancing moonbeams call for moderation. Have you raised the bar so damn high that you give yourself a nosebleed every time you reach for it? Rome wasn't built in a day, and your personal Nirvana needn't be either. But if you're coasting, this lunar lift lays down the gauntlet. Push yourself toward your edge. The challenge will actually make life a whole lot more exciting. While you don't have to go to extremes (this is an equalizing quarter moon, after all), let go of the comfort of last week's full moon in Libra as you stretch toward NEXT week's new moon in empowered, self-authorized Aries. It's not about competing with others but more about achieving YOUR personal best.
Want more insights from the AstroTwins? Check out their comprehensive predictions for what's in store for your sign this year.