Applegate Farms Announces It's Joining The Regenerative Ag Movement
mbg Sustainability Editor
By Emma Loewe
mbg Sustainability Editor
Emma Loewe is the Sustainability Editor at mindbodygreen and the author of "The Spirit Almanac: A Modern Guide To Ancient Self Care."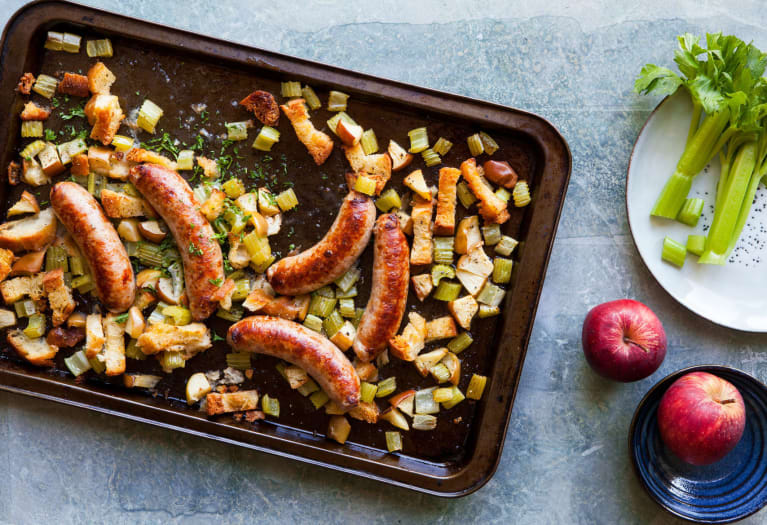 February 20, 2019 — 17:56 PM
mbg predicted that 2019 would be the year the regenerative agriculture movement goes mainstream, and food industry giant Applegate Farms is proving us right.
The company recently unveiled a line of pork sausages made using regenerative ranching practices designed to strengthen soil (and by extension, extract carbon out of the atmosphere).
"At Applegate, we want to change the meat we eat," John Ghingo, company president, said in a news release. "We're making a big bet on regenerative agriculture as one of the paths to show the world that raising animals and eating meat doesn't have to be a problem. Animals can and do play a vital role in a healthy food system."
The new options—a sweet Italian pork sausage, hot Italian pork sausage, ginger-scallion pork sausage, and breakfast sausage—will be sourced from small farms in Georgia, Kentucky, and Missouri. In addition to practicing regenerative practices, which are not yet managed by a labeling scheme, they each follow the American Grassfed Association regulations and give their animals freedom to forage and roam in wood and pasture environments.
This more ethically and sustainably raised sausage, which will debut at select Whole Foods Markets in the Chicago area, speaks to a shifting food industry.
More and more, shoppers, especially millennials and Gen-Z'ers, are buying with the environment in mind. Nielson named 2018 the "Year of the Sustainable Shopper," reporting that Americans spent $128.5 million on sustainable packaged goods—a 20 percent growth from the year before—and 48 percent of U.S. consumers now say they would be willing to change their consumption habits if it meant improving the environment. As a result, eco-minded companies are catching the attention of big business. (EPIC Provisions, a line of meat bars made using regenerative practices, was acquired by General Mills for a reported $100 million, for example.)
In the age of climate change, companies need to start doing more good as opposed to just less bad. Here's hoping this is just a drop in the bucket for a more sustainable food system in 2019.