Annya Santana On Natural Beauty's Role In Making Wellness Accessible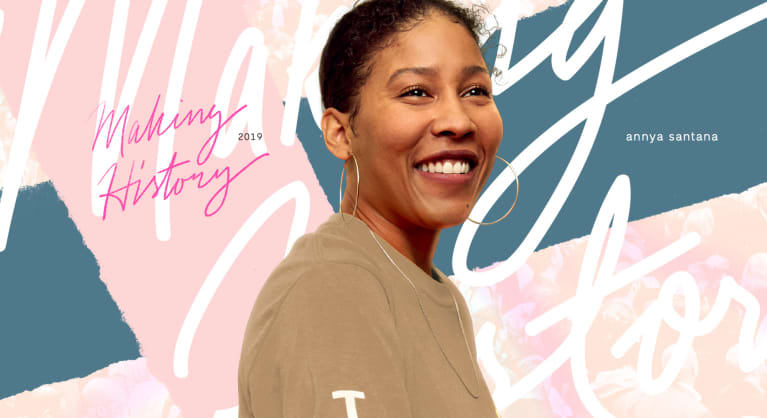 In our series,
Making History
, we're talking to people who are leading the charge to bring much-needed diversity to wellness. They're sharing with us the work that they do, highlighting the voices that need to be heard, and telling us what we as a wellness community aren't talking about—but should be. This week, we spoke with Bronx native, Annya Santana, who founded
Menos Mas
, a gender-fluid clean skin care line and lifestyle brand. She believes wellness is more than skin-deep and is creating spaces for her community to embrace what it means to be healthy from the inside out.
When I was in my early 20s, I was sick of having acne. I used topical acne creams, and then they stopped working. Then I went to another medicine, and that stopped working. I was like, I need something that is not going to just stop working after a few months, and actually fixes it. So, I started educating myself, reading labels.
I did a 10-day juice fast and went vegan because I saw Fat, Sick, and Nearly Dead on Netflix. I immediately felt the difference after 10 days. It was the best I'd ever felt. Then I started doing the skin. I went back to basics. I just used mild soap, olive oil, and vitamin E oil. I made this balm, which is part of our Menos Mas collection now. It cleared my hyperpigmentation. My dad builds houses; it worked on his calluses. It worked on—we call it bodega elbows—my dark spots on my elbows. It worked on my friend's eczema. It worked on my cousin's baby. I was like, "OK, I have something here." In 2014, I took a leap of faith, moved to Paris, and launched there with the products that I have now.
How did Menos Mas expand from a skin care line to a lifestyle brand?
In 2017, I found myself back in New York, kind of exploring the wellness landscape and feeling completely drained thinking, "What is the brand, for me?" We had purpose because we've always sold clean products, but I felt like I was trying so hard to fit into the formula of the existing world of wellness. I was so unhappy—I would be the only black girl in a boutique gym downtown, but then I have people in my community, in the Bronx, that are like, "Do I have to eat a salad to be healthy?" I was like, OK, wellness is not reaching the people that it needs to reach. There are wellness companies making CBD things, and then there are people who still are dying of diabetes because they don't even know how to eat yet. There's a gap here. The information out there (and there's an abundance of it) is not falling to the people who need it the most. The reason for that is because there's no representation.
I don't want to look—and my people don't want to look—to a white girl from downtown for how to be healthy. It's not who they see themselves in. So, I was like, "You know what? I'm kind of the middle person between culture and wellness. I have the information, and I want to make my people better." When this purpose connected for me, it went to the core of me, and it was so clear. I want people to enjoy and feel fulfilled in life. And I think real fulfillment and happiness in life starts with being well with you. The base of happiness is from within. My people are not allotted that opportunity because they're not represented in any area of the wellness space. So, I stopped the brand for six months, took a second, reworked it, and last summer, I put it out there. And I was very proud to talk about what Menos Mas is: Menos Mas means "less is more." Our message is, "Be beautiful and healthy from the inside out."
As a wellness leader who also serves communities in food deserts, how do you navigate this?
Yeah, [health food establishments] are few and far between where I'm from in the Bronx. This is where I tell people, we don't have control of that, but we have control over the choices that we make. So yes, there's a million KFCs, but there's also your mom-and-pop restaurant, where you can get a salad, and maybe you can get black beans and good avocado. It's about the choices you decide to make. You still have control. We still have control. There are more [health food establishments] now, in the Bronx, than when I started. Back then, it was way more difficult, and I managed to figure it out. Whether that meant I cooked for myself, whether that meant I made healthier choices at the restaurants I went to.
Menos Mas' visual identity is diverse and beautiful. How do you make your creative decisions?
I'm a brown woman; I'm Dominican. I've always seen black as beauty, so from inception I've always used people of color in my campaigns. Menos Mas is also gender-fluid. Dry skin has no gender, no sexual preference, no anything. Whether you're a gay man or a gay woman, if you're queer, straight, single, sensitive, whatever you are, dry skin and acne do not discriminate. So gender-specific marketing is something I took out of the equation altogether because I don't believe in it.
I'm also very purposeful about using a certain tone that's for us. The language, everything that you see in our Instagram and our marketing—I want to make sure that the culture knows that they have a place where they're welcome to explore wellness in our way, in our sphere of what we enjoy. I'm from the Bronx. The culture that we create is undeniable and entertaining, and I want to communicate [my brand] in that tone because I know my audience. Mainstream takes our stuff and whitewashes it all the time, so I'm just unapologetic. I speak in the way we know how to, and I'm unafraid to.
What's been the response or feedback that you've gotten from the Menos Mas community?
I feel like people have a safe space to let down their guard and ask questions that they've been wanting to ask: What's a good smoothie to have? What should I start eating? What do I eliminate from my diet? So, I feel really validated within my community. They encourage me to do more, create more content, give them more information.
It's been so powerful that, in 2017, I started a running challenge for Women's Month. For the first one, I had 24 women from 24 countries run a mile a day for 24 days, starting on International Women's Day. This is all just in the name of uplifting women, in the name of Women's Month. It was like, "Hey, come out and run. You've never run before? Do it; I'll help you." We got 60,000 people to run 3.5 million miles, collectively. We did it again this year, and by mid-March there were already 40,000 people running. I love it. I call it "the mob." They're mobbing out, and mobbing out, for them, is not going to the club; it's running with their friends for the first time ever. I could cry every day that I see that, because they have a space where they can talk in their talk, in their swag and their sauce, and it's something completely healthy. This is what happens when you embrace people for who they are and don't try to change them. I love the ecosystem that we're creating. It's a family. It's a real collective.
Who is mainstream wellness not listening to enough? What voices are missing from the narrative?
You know what I think about when people ask me that? People automatically think that I'm going to say, "People of color." We already know that. People of color, we're neglected. That's baseline. What we're also really neglecting in wellness is the state of the country. America is still in a crisis of health. It's not just about race. People living below the poverty line—how do they get wellness? [The mainstream wellness industry] is not really making wellness accessible to people outside of the border cities that we typically target to. We have to relate to the average American. That's who I think about. And they exist, whether they're white, whether they're black, whether they're Asian. We need to move together to say, "We need to better our country, our people, and change our mind frames." And we should start with whoever's the lowest.
Do you have any personal rituals that you do daily?
My nighttime skin care routine after a long, hot evening shower. With every layer of essence, moisturizer, LashFood, and whatever I'm adding on to my skin, I'm acknowledging, "How was my day? What am I grateful for? What can I be better at? What was really awesome about today?" Because I'm so in my head and thinking about where I am, checking in with myself, sometimes I'll cry, but I'm moisturizing at the same time! Right after that, I get in bed, and I feel like I don't have to go back on my phone. I don't want to because I've just had this peaceful thing that leads me right into bed.
What does wellness mean to you?
It's all connected. Yes, I have great, clean products. But none of the outer stuff matters if you are not well with who you are. It's about a lifestyle change. It's embracing the very best in you, owning your truth and then start planning for realistic changes that will make you even better. I am a product of Menos Mas, a culmination of a holistic lifestyle. First, I ate healthy. Then I added the layer of outer beauty, and then physical. And I'm not any less Dominican. We become richer in who we are as a culture when we're trying to be our best and not give in to this economic barrier that seems to surround health because of the way that government and everything works. So, don't give into that [idea] that health is an unattainable luxury. You don't need that much to be well.