This Whole-Body-Healing Rainbow Salad Will Bring Pride To Your Plate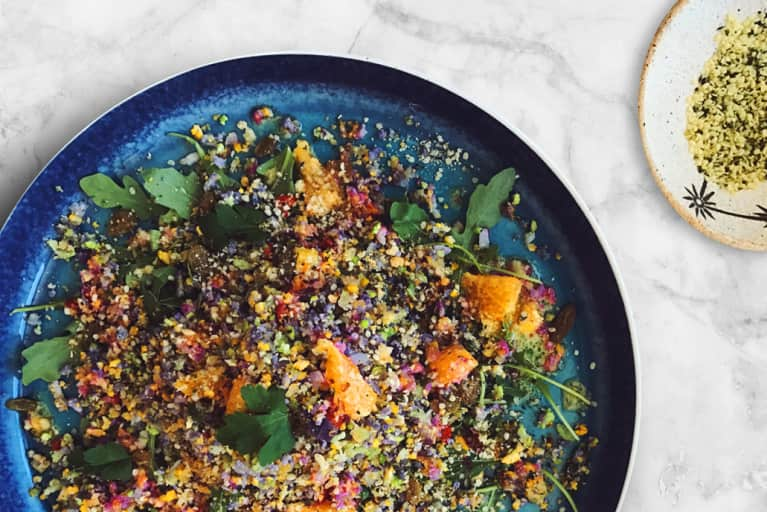 I was always mesmerized when I would see the colorful heads of cauliflower at the market. Around the same time, the unicorn trend was taking over NYC (and the world!). But while unicorn lattes are a ton of fun, I wanted something that was a bit less reliant on crazy potions, and something that could serve as more of a real meal. The base of this salad is three different types of colored cauliflower, which all offer all the anti-inflammatory benefits of cauliflower, with additional antioxidants (purple contains anthocyanins, orange contains carotenoids).
While you can definitely eat this rainbow unicorn salad all year long, it's especially fun today to bring a bit of pride into your plate (here in New York, we're seeing rainbows all over the city, which is so heartening). I'm so happy to see pride being so universally embraced, and I'm hoping that, in the next generation, it won't be something people even think about, because being "different" will be the norm.
Rainbow Unicorn Cauliflower Salad
3 heads cauliflower (I used purple, orange, and green), grated
1 small jalapeño, diced
1 small fresno pepper, diced
1/4 red onion, diced
2 tablespoons coconut oil
Sea salt to taste
1 teaspoon dijon mustard
2 tablespoons extra virgin olive oil
½ lemon, zest and juice
½ orange, zest and meat chopped
Salt and pepper to taste
¼ cup golden raisins
1 cup wild arugula
2 tablespoons hemp seeds
¼ cup panko breadcrumbs (can be bought gluten-free)
1 teaspoon coconut oil
1 teaspoon salt
1 teaspoon smoked paprika
Using the largest side of a grater, grate the outer part of the cauliflower heads (don't grate to the stem; the color lives on the outer part. Save the remaining cauliflower to steam, or chop up and freeze). This is often referred to as cauliflower "rice." Place all of the grated cauliflower into a bowl.
Heat the coconut oil in a large skillet over medium heat. Sauté red onion, jalapeño, and fresno pepper for 5-7 minutes, or until they begin to soften. Toss in the cauliflower with salt to taste, and mix well until all of your vegetables are lightly covered in oil. Make sure the contents are spread evenly in the pan, then cover for five minutes. Give it another good stir (we want it to soften and get a slight golden hue), spread evenly again, and cover for another three minutes. Remove from heat.
In a small frying pan, warm up the additional teaspoon of coconut oil over medium-high heat. Toast breadcrumbs with its spices for roughly three minutes, stirring often. Keep a watchful eye: These babies burn easily, and we don't want them brown—just golden.
Combine all dressing ingredients and whisk well.
Toss everything into a bowl and mix 'er up! Voila! A salad worthy of a unicorn.