An Unhealthy Gut Microbiome May Increase The Spread Of This Cancer
mbg Contributor
By Caroline Muggia
mbg Contributor
Caroline Muggia is a writer, environmental advocate, and registered yoga teacher (E-RYT) with a B.A. in Environmental Studies & Psychology from Middlebury College.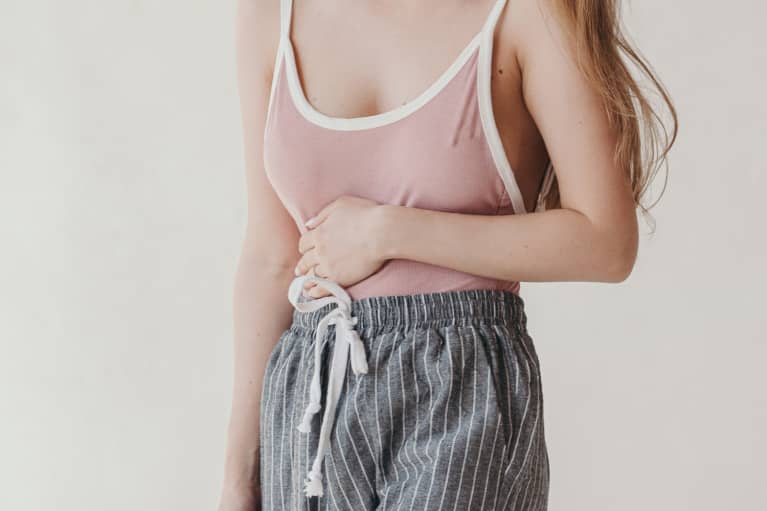 We can't say enough about the importance of a healthy gut, as poor gut health is associated with health problems like irritable bowel syndrome, autoimmune conditions, thyroid disorders, and anxiety (to name a few).
Besides contributing to various conditions, an unhealthy gut microbiome may increase the spread of breast cancer, according to a new study.
Researchers from the University of Virginia Cancer Center found that when they altered the balance of the gut microbiome by giving mice antibiotics, hormone receptor-positive breast cancer cells (about 70 percent of breast cancers are fueled by hormones) were prompted to spread to other parts of the body.
Taking a closer look, they saw that the antibiotic treatment triggered an inflammatory response that prompted the cells to spread to the blood and lungs. The spread of cancer to other parts of the body (known as metastasis) is a central focus of cancer treatment, making it essential to understand potential contributors to this process.
"These findings suggest that having an unhealthy microbiome, and the changes that occur within the tissue that are related to an unhealthy microbiome, may be early predictors of invasive or metastatic breast cancer," said Melanie Rutkowski, Ph.D., of UVA's Department of Microbiology, Immunology, and Cancer Biology in a statement.
The researchers point out that the intensive antibiotic treatment done on mice was used to mimic the effect of an unhealthy microbiome in humans over time but should not inform how humans use antibiotics. Instead, the study highlights the importance of supporting a healthy microbiome whether or not you're battling cancer.
There are many ways we can heal our gut, and one of the easiest ways to do so is by shifting our diet. Amy Shah, M.D., mbg Collective member, recommends including more fiber-rich vegetables in our diet like broccoli and artichokes, which can help populate the gut with good bacteria.
You'll also want to add in more healthy fats, fermented foods, greens, and spices to get your gut back on track. When working to boost good bacteria, stay away from sugar, which only feeds the harmful bacteria.
So, we've talked about dietary changes, but some other tweaks could make all the difference. Reducing stress may be helpful, as staying in the flight-or-fight response for too long means excess cortisol and less time for your body to properly digest and heal. Staying active is also known to contribute to better gut health by increasing good bacteria in the gut.
While this study suggests the benefits of better gut health for cancer outcomes, it's never a bad time to think about improving your gut health as it's associated with other positive health outcomes like a stronger immune system, more energy, and less brain fog. For us, this really is a no-brainer.