How mindbodygreen's nr+ Supplements Help An Ironman Champion With Recovery
mbg Beauty Director
By Alexandra Engler
mbg Beauty Director
Alexandra Engler is the Beauty Director. Previously she worked at Harper's Bazaar, Marie Claire, SELF, and Cosmopolitan; her byline has appeared in Esquire, Sports Illustrated, and Allure.com.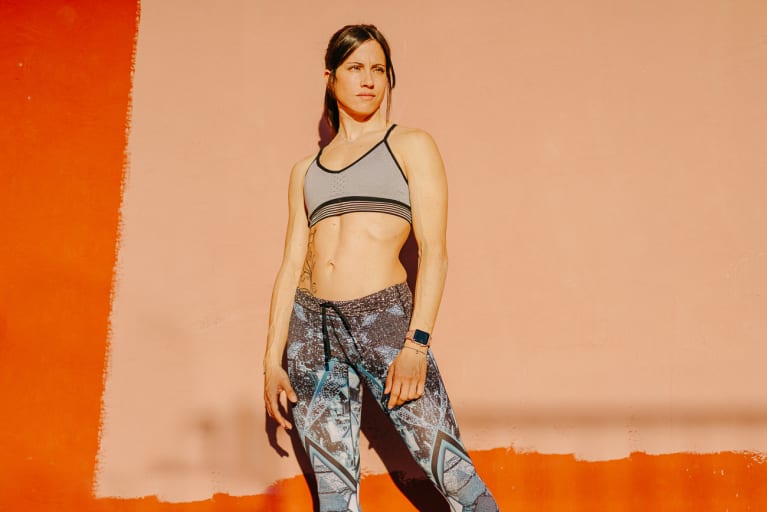 Recovery is vital for athletic performance, regardless of whether you're just getting started or you are a professional athlete. The thing is, though, that the latter group tends to know just how important recovery is—they've seen the impact of not allowing the body to rest, either firsthand or through their peers.
This is why most athletes take it seriously—and will do whatever they can to support this process. Like Hillary Biscay, Ultraman world champion and Ironman champion. Obviously, given her profession, she has to take special care of her body, as it's often put under quite a bit of pressure. One way she's mentioned that she enhances her fitness regimen is through supplementation, specifically mindbodygreen's nr+.
"Pretty soon after starting nr+, I noticed a huge difference not only in my energy levels but also my recovery during training. Fueling my day is so important⁠—especially as a mom of three," she tells us. "And as an Ironman champion and 66-time Ironman finisher, choosing quality ingredients in my supplements is nonnegotiable. mindbodygreen and Thorne are leading the pack with this formula.*"
How mindbodygreen's nr+ helps enhance recovery.
This supplement's namesake is nicotinamide riboside, a form of vitamin B3. When you take NR, your body converts it into nicotinamide adenine dinucleotide (NAD+), a coenzyme that exists in all cells and factors into energy metabolism and your ability to maintain proper cell functioning.* It does this by supporting your cell's mitochondria.*
Because of this, NAD+ also plays a vital role in your energy levels, overall fitness, and recovery ability.* Given mitochondria are the little things in cells that turn food and oxygen into energy, it checks out, theoretically. NAD+ also declines as you age, and those declining levels are thought to drive the aging process, as well as giving you less energy.
And a few animal studies have also shown much promise. One study showed that increasing levels of NAD+ also may help improve muscle function as you age. The study, published in the journal Cell Metabolism, found that mice that had depleted levels of NAD+ had a "dramatic" drop in their muscle strength and endurance on a treadmill, implying that NAD+ is a critical component of strength and endurance.*
In another, researchers used mice whose muscle tissue contained only 15% of the normal amount of NAD+. When they measured muscle strength and endurance, they were pretty low. But after giving the mice NR-enriched water for just a week, their exercise capacity was that of a normal, healthy mouse.* And in one additional mouse study, supplementation with NAD+ precursors led to better-supported DNA repair and health of muscle tissue within the first week—to the point where researchers couldn't tell the difference between the tissue of a mouse that was 2 years old versus a mouse that was 4 months old.*
While we're not totally lined up on the science of why, many researchers have a hunch that it has to do with how NR and NAD help a class of proteins called sirtuin. These help protect your cells from age-related decline. In fact, research has found that NAD+ increases the activity of one particular sirtuin, SIRT1, which may cause new mitochondria to form and extend the life span of your mitochondria. All of that can ultimately add up to you having more energy.
If you are finding your athletic goals—be it for a marathon or a casual online yoga class—are being inhibited by your body's ability to properly recover, consider adding in a body-supporting supplement.*