New Study Finds Americans Aren't Just Sleeping Less, They're Sleeping Worse
mbg Editorial Assistant
By Eliza Sullivan
mbg Editorial Assistant
Eliza Sullivan is an editorial assistant at mindbodygreen. She received a B.S. journalism and a B.A. in english literature from Boston University.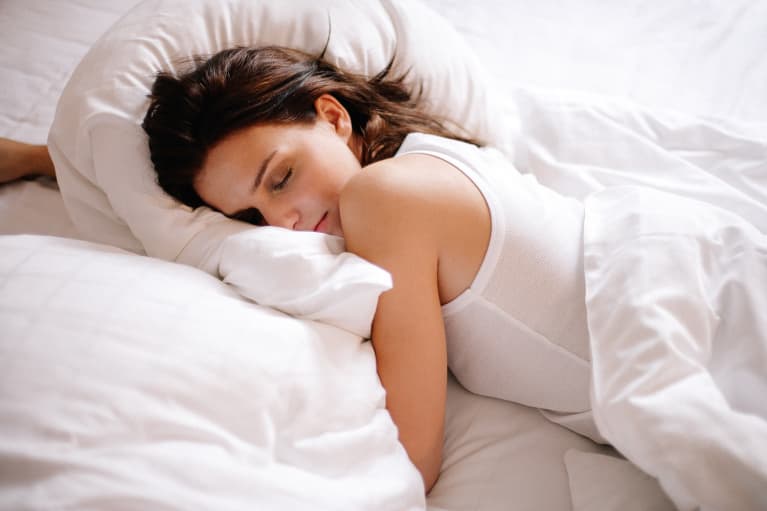 November 14, 2019 — 21:16 PM
If you're getting your recommended seven to eight hours of sleep each night but feel like you're still not waking up rejuvenated, you're not alone. A new study from Iowa State University has found that we're not just sleeping less, we're sleeping worse.
The study, published in Sleep Health, more specifically found that people are increasingly having trouble falling asleep and staying asleep throughout the night.
"We can't seem to think or even love properly without sufficient sleep," said Zlatan Krizan, PsyD, who worked on the project, "so it's really important that we understand what is happening with sleep in the United States."
Using data from the Centers for Disease Control National Health Interview Survey, the study reviewed how sleep has changed for Americans, seeking to look at a broader picture of sleep patterns and health by focusing on sleep quality.
Considering data from a five-year period from 2013 to 2017, the researchers found two notable shifts with implications for sleep quality: 1.43% more people reported having trouble falling asleep at least one night per week and 2.7% more people reported having trouble staying asleep at least one night per week.
Though small percentages, when applied to the overall population of the United States the numbers are more staggering, implying that over 5 million people are struggling with one of these sleep troubles.
The CDC survey has included questions about sleep quality since 2012, and the researchers were conscious of using data from a group that represented the larger population by taking into account age and other factors.
Why is this so important?
Decreased sleep duration has been tied to poor health, but this study's quantification of the way our quality of sleep is diminishing points to a new facet of our sleep epidemic. The study's conclusion is careful to note that the issues it highlights were particularly prevalent in people who are getting the recommended duration of sleep. The study also did conclude that, overall, people are sleeping less.
"How long we sleep is important, but how well we sleep and how we feel about our sleep is important in its own right," said Krizan. "Sleep health is a multidimensional phenomenon, so examining all the aspects of sleep is crucial for future research."
This study didn't discover anything specific about the exact cause of the increase in sleep trouble, but we now have proven evidence that it is systematically happening. This knowledge will allow more study of the nuances of how things like increased technology use and technology in the bedroom are affecting not just sleep duration but sleep quality too.
"We know from our previous research there is a correlation between smartphone use and insufficient sleep among teens," said Garrett Hisler, the lead author of the study and a former graduate student at Iowa State, who is now a postdoctoral researcher in Pittsburgh. "If we're on our phone before bed or we're receiving alerts in the middle of the night that can make it harder to fall asleep and stay asleep throughout the night."
There was a positive from the study: The data indicated an increase in the percentage of people who reported waking up feeling rested. However, according to Krizan, the brief improvement in this area was not sustained to be considered a trend.
Going forward, this research provides a grounding for explorations into why our sleep patterns are changing and how we can intervene to return to waking up feeling well rested. In the meantime, here are some holistic tips that may help you improve your sleep quality. Happy snoozing.