Amazon's New Office Building Is Filled With 40,000 Plants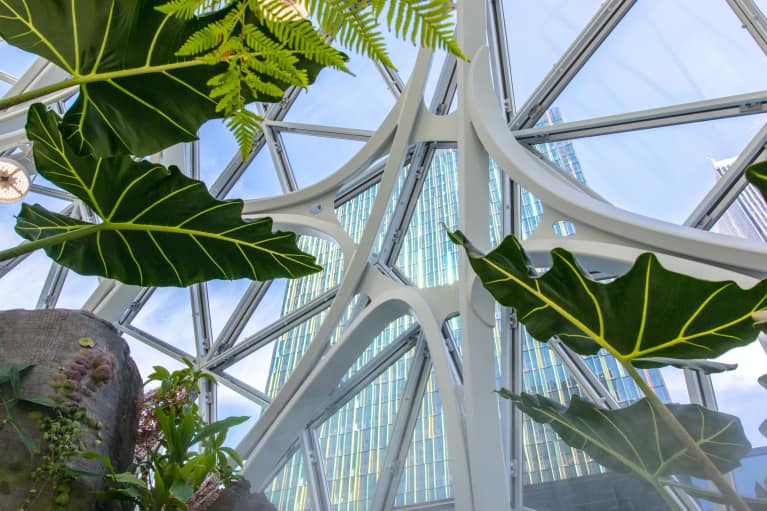 February 6, 2018 — 10:25 AM
The latest addition to Amazon's Seattle campus is pretty wild. A series of three dome-shaped structures known as the Spheres, the office is packed with 40,000 plants from around the world. A four-story living wall, 55-foot tree, and running water feature make up what the tech company deems "a tropical rain forest in the clouds."
"[The plants] all provide something that is missing from a typical office space—a direct link to nature," reads the news release for the space, which opened its doors to Amazon employees and visitors last week. "The sound of running water and the scent of flowering plants create an instant botanical immersion that takes visitors far away from the urban landscape."
The Spheres are an incredible example of biophilic design—an increasingly popular type of architecture that takes its cues from the rhythms and patterns of nature. For instance, from the outside, the Spheres may look like giant translucent soccer balls, but their shape is actually based on the Catalan, a naturally occurring pattern in nature. Spaces that mimic the outdoors are thought to boast some of the brain-boosting, stress-soothing principles of nature and stave off the modern phenomenon known as nature deficit disorder.
Inside, up to 800 Amazon employees can work in the office's open floor plan or rent out some of the sphere's "treehouse" meeting rooms nestled among the greenery. Down below, visitors can gather on the ground floor's Understory, which will be open for public tours and events.
The fact that this building comes from one of the world's leading tech companies speaks to the idea that nature-centric design will be a hallmark of the workplace of the future. This comes as no surprise, given the wave of research on how plants clear the air of toxins (bye-bye, sick building syndrome) and enhance productivity and creativity.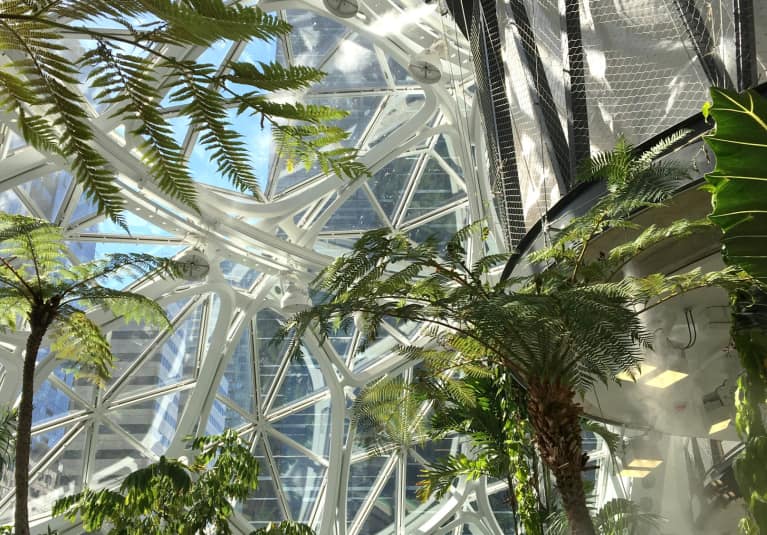 If you're looking to bring some of these tropical office vibes into your home office or cubicle, here are a few workplace-friendly plants that NYC shop The Sill recommends:
Assorted ferns (Boston, Staghorn, Crocodile)
English ivy
Spider plants
Chinese evergreen (Aglaonema)
Snake plant
Pothos/Philodendron
Dracaena
Rubber plant