Whole Foods Is About To Get WAY Cheaper. Here's What You Need To Know
Contributing Food Editor
By Liz Moody
Contributing Food Editor
Liz Moody is a food editor, recipe developer and green smoothie enthusiast. She received her creative writing and psychology degree from The University of California, Berkeley. Moody is the author of two cookbooks: Healthier Together and Glow Pops and the host of the Healthier Together podcast.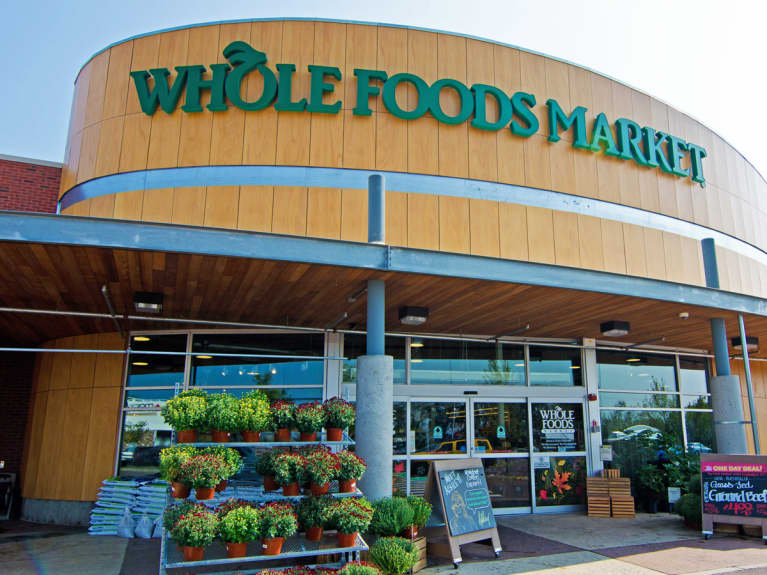 August 25, 2017 — 17:50 PM
When the news broke that Amazon was buying Whole Foods, healthy food lovers watched with bated breath, unsure what the partnership would mean for the chain, which has, thus far, been an industry-leader in supporting high-quality, farmer-friendly food. Earlier this week, Whole Foods shareholders voted to approve the partnership, and now, it seems Amazon's going to be making some changes to the retailer—starting much sooner than people expected.
Beginning Monday, the day the merger is expected to close, Amazon will begin cutting prices at Whole Foods across the country. "We're determined to make healthy and organic food affordable for everyone. Everybody should be able to eat Whole Foods Market quality – we will lower prices without compromising Whole Foods Market's long-held commitment to the highest standards," said Jeff Wilke, CEO of AmazonWorldwide Consumer.
The lower prices will begin with best-sellers like bananas, salmon, eggs, kale, almond butter, ground beef, and more. Whole Foods co-founder and CEO John Mackey assures customers that this price drop won't signify a quality drop. " "By working together with Amazon and integrating in several key areas, we can lower prices and double down on that mission and reach more people with Whole Foods Market's high-quality, natural and organic food. As part of our commitment to quality, we'll continue to expand our efforts to support and promote local products and suppliers."
Amazon Prime members, who pay $99 for expedited shipping and other perks, will soon receive more savings in Whole Foods stores, and Whole Foods private label products will be available for purchase on Amazon.com. It remains to be seen what results the partnership will reap next. "We can't wait to start showing customers what's possible when Whole Foods Market and Amazon innovate together," says Mackey.
Want more insights from Whole Foods founder John Mackey? Check out his in-depth interview with mbg founder Jason Wachob on our new podcast!