Amanda Chantal Bacon Opens Up About Her Spiritual Approach To Parenting
Contributing Wellness & Beauty Editor
By Lindsay Kellner
Contributing Wellness & Beauty Editor
Lindsay is a freelance writer and certified yoga instructor based in Brooklyn, NY. She holds a journalism and psychology degree from New York University. Kellner is the co-author of "The Spirit Almanac: A Modern Guide to Ancient Self Care," with mbg Sustainability Editor Emma Loewe.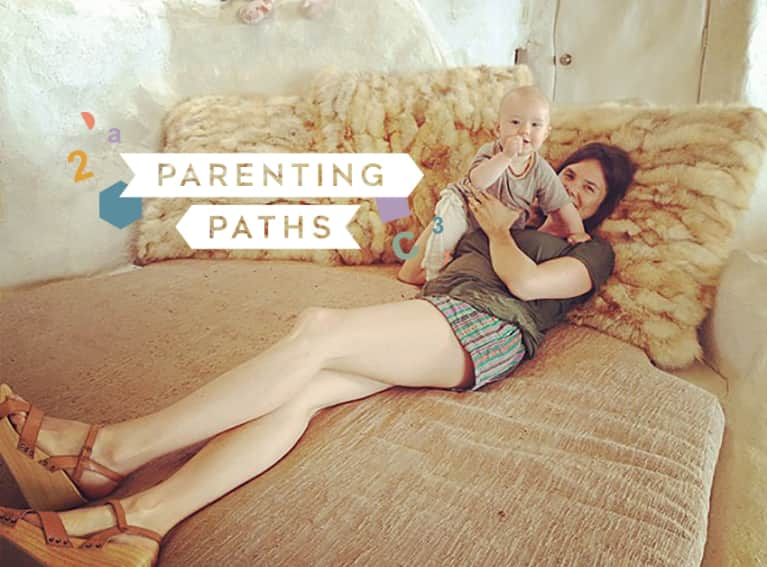 Our editors have independently chosen the products listed on this page. If you purchase something mentioned in this article, we may
earn a small commission
.
Here at mbg, we believe you're the expert on your own wellness journey, and becoming a parent is no different. Yet from the moment of conception, or often even before, mothers and fathers are told what to do. Our Parenting Paths week celebrates a handful of parents who've listened to their intuition and gone their own way. Yesterday's family broke away from the nine-to-five grind in order to take back their time and spend it watching their kids grow up.
Amanda Chantal Bacon is equal parts collected and whimsical despite the demands of being a single mother and business owner. Just when you estimate she's too put-together to have had a tough life, her willingness to share her almost unbelievable life journey, full of ups, downs, and plenty of uncertainty grounds her squarely into relatable territory.
The Moon Juice founder is known for her cookbook, West Coast boutiques, and a fan favorite, the adaptogenic Moon Dusts. After fashion magazine Elle published an article in 2015 sharing the details of what she eats in a day, Bacon got a real-life schooling in what it means to be resilient (read: you can't be everyone's cup of green juice). Disgruntled commenters called her vegan, herb- and adaptogen-heavy diet unattainable and unrealistic. And to many, it may be, but Bacon marches to the beat of her own drum. And it's a beat many want to follow.
She opened up to us about her journey through single motherhood—something she doesn't share about often—her relationship with her 6-year-old son Rohan, her dualistic parenting approach, mom-shaming, and the best words of wisdom that help her through tough days:
On life's "nonnegotiables" like broccoli:
"Of course going to bed on time, brushing teeth, there are things that are nonnegotiable. Sunscreen is nonnegotiable.
"You know I try to show up curious and open to see what he's seeing and what will unfold in the moment. I don't know if he came in this way or if having the freedom and choice just makes his voice stronger, but all of a sudden—I'm sure other parents can relate—you know, he's like a litigator and he's got a case for everything! And I mean, he just turned 6. So now I have to fall back on the phrase that some things are nonnegotiable. It's for your safety and I'm your mother and that's my responsibility."
On not reading any parenting books:
"I actually haven't read a parenting book. People have given them to me. I've even ordered them myself, late at night—some like very good-sounding heart-centered parenting book and they show up the next day on my doorstep. And then I don't read them! It's not because my son is not a priority. Or parenting is not a priority.
"It just for me in my heart, I feel the best thing I can do is to have that juxtaposition of being firm and grounded in boundaries and also feel very OK with him not always being happy about things. I don't feel like I'm on the hook to entertain him or make sure that he's always happy with everything.
"Now I feel very comfortable in that."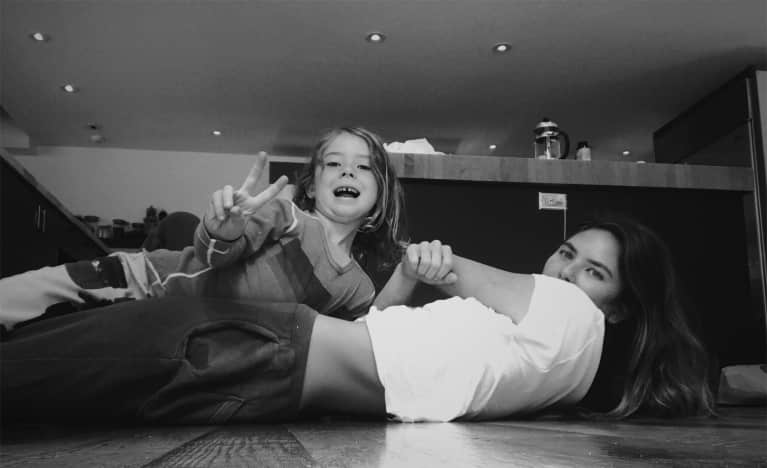 On raising a child with a spiritual practice:
"You know the flip side of nonnegotiables is his emotional life, meaning his spiritual development, and really recognizing his soul and all his faults and sometimes working out of what feels like a traditional parent-child relationship. Sometimes I feel like he is a lot wiser than I am and has a lot to explain and show me. And I'm just very open and maybe nontraditional and free-flowing in that way.
"For as long as he's been alive, he has had a relationship with my meditation. When he was a baby, he would curl up in my lap and just take a nap. Sometimes in the morning he'd fall asleep.
"Now he's having a phase where I meditate and he was in another room playing or doing is own thing. He will often say he wants nothing to do with it and wants to escape. I don't spy on him, but he always looks back in my room, and kisses me saying it's to remind me he's here. To him, what meditation can mean is that I'm on another planet and I have to explain, no, I'm here, just present with my eyes closed.
"But in his mind it's like I've lost my body and I'm on another planet."
On transitioning from single-motherhood to co-parenting:
"I am so happy to say that in the last year I've found an incredible partner who has moved in. He grew up with a single mom and a stepdad, and growing up, that relationship was very important in his life and one that is still going.
"So I think there was an understanding and appreciation he had for that role that he's now stepping into with Rohan. But I don't know. He knew it. It's a beautiful thing that has happened in the last year—having a man show up in life and come in when he stepped into that role.
"For the first time, I am thinking about the experience of having a child and being able to experience the father and partnership and parenting. I'm so ready for that. But I am so grateful that I have been really whipped into shape by Rohan and what he taught me.
"Sometimes when a new partner comes in there's a lot of tension. We've been so lucky. Rohan and Gregory have known each other almost his entire life. They love each other so much, and there's something about their love and acceptance. So I feel so grateful for that."
"Rohan and I were starting to talk about growing and aging and having babies while I was making breakfast for him the other day.
"He talked about having a brother. I said I hate to break the news but it is probably going to be a girl. It's different for this child because the baby gets to live with his mom and dad and Rohan has to travel to do that. And, you know, the diplomat in me was ready to give him some really gentle conversation around it. But then he said, 'I realize I'm lucky because I'm going to have a mom and two dads and a brother or sister.' And I thought that was incredible for someone who just turned 6 to be able to see what's happening, anticipate something that is a year or two out—I'm not pregnant now."
"We're always late for school because I get ready for work in the morning and scramble to get out the door. And it's like a fucking miracle every day that happens.
"He has this long hair. When we're at home I tell him to brush it but he won't do it. So when we get to school, his hair is not brushed, and then it becomes a parking-lot battle. So I have to brush his hair, and he's screaming/crying in the parking lot. And there are parents just staring at me like I'm such a freak, like 'What the hell is going on?' Why is she brushing his hair?
"You know being a working single parent, I am no stranger to mom-shaming and even when people don't intentionally mean to shame you. There's a lot going to a school where there are a lot of mothers who don't have to work or have chosen not to work and make raising their child their living, so they have all the time in the world to go to all the parent activities and to make sure that their kids are always like up on time for school. That's just not me."
"You know, my attitude toward parenting is very similar to my attitude toward my physical body. Everyone has some wisdom to share. Doctors, other parents, friends, neighbors, teachers—everybody has something to share and they're something valuable.
"Rohan's teacher said to me once—she's such a patient, kind, compassionate Waldorf kindergarten teacher—and she said to me one day when I just felt super overwhelmed and this woman who is a supersmart Waldorf's scholar said, you know what isn't fair? You can say life isn't fair, and that gave me permission to think 'oh, OK.' These are words I just like fall back on. I don't think those words have ever come out my mouth, but I can say them in my head, and they really help.
"She gave me permission to have that boundary and hold that line as a mother. And so it becomes easier to say other things, back to the philosophy of: I'm not here to entertain you. Yes.
"I don't actually agree with that philosophy, Life isn't fair. But there's something in the sentiment that has given me the beauty that I need sometimes."
If you liked this piece, check out the rest in our this week's series, Parenting Paths.