Alison Brie On How She Recovers From One Hollywood's Most Physically Demanding Jobs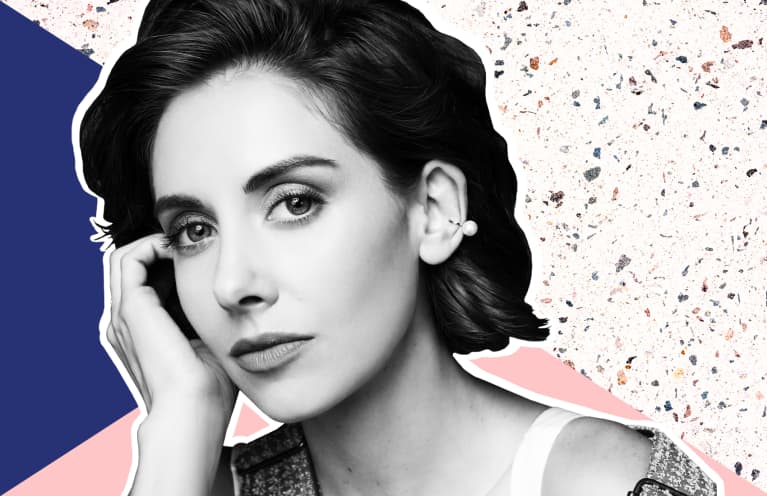 With credits including Mad Men, Community, and BoJack Horseman, Alison Brie is no stranger to challenging roles. But her latest gig as Ruth "Zoya the Destroya" Wilder in GLOW—a Netflix series that chronicles the lives of female wrestlers in Las Vegas—has been her most physically demanding to date.
"Since starting work on GLOW, I've taken to thinking of myself more as an athlete than an actor," Brie says on a call to mbg. "We train a lot for the show, and some of the wrestling moves we do are really hard on our bodies."
After three seasons of filming, she's seen firsthand how staying healthy and strong, in her words, "starts from the inside out."
How Brie keeps up with a demanding strength training routine.
Before GLOW was in the picture, Brie had been working with celeb trainer Jason Walsh at Rise Movement in LA for years. "It was more for maintenance, and we weren't going especially hard. But I had watched other actors come in and train for roles, like Emily Blunt and Matt Damon, and that was always exciting for me. So when I booked GLOW, I was like 'It's time! Let's get after it!'"
These days her gym routine has expanded to include plenty of strength training moves like deadlifts, hip thrusts, and pull-ups. "But," she says, "there's nothing to prepare you for the full-body impact on the mat. When we first started doing it, it was kind of a shock." According to Brie, the support of other members of her female-heavy cast ultimately got her over the initial fear that comes with wrestling for the first time.
"We had each other to follow and lead. Nobody hesitated or refused to do a move. It became a great group effort. All of us were inspiring and supporting one another, which made it easy to try things that were really scary."
As her ring routine expanded beyond introductory exercises like somersaults to include splashier moves like arm bumps and body slams, Brie became proud and eager to keep up with a more rigorous training schedule.
"Once that kind of strength is in your grasp, you never want to let it get that far away. Although there are days I think," she laughs, "Will I ever not be sore again?"
On recovering from long days on set and in the gym.
To combat some of that deep muscle fatigue, Brie leans on a few tried-and-true holistic recovery techniques. "I mostly do a lot of Epsom salt baths, which are great," she says. "And we started to get CBD cream from one of our set medics, which was how it came into my consciousness."
These days, she uses CBD regularly and has noticed a decrease in muscle soreness and recovery time—as well as more balanced stress levels after long days. Recently, Brie made her love of the product public by teaming up with hemp brand Manitoba Harvest to release their new line of Broad Spectrum Hemp Extract CBD Oil Drops, which launches this month in tincture, spray, and soft-gel form.
"I like to put a few drops in my morning tea and let it infuse into my system that way," she says of her no-fail CBD ritual. She'll pair the drink with an apple or light breakfast before hitting the gym for another tough but rewarding workout.