Why The Conversation On Motherhood & Mental Health Needs To Change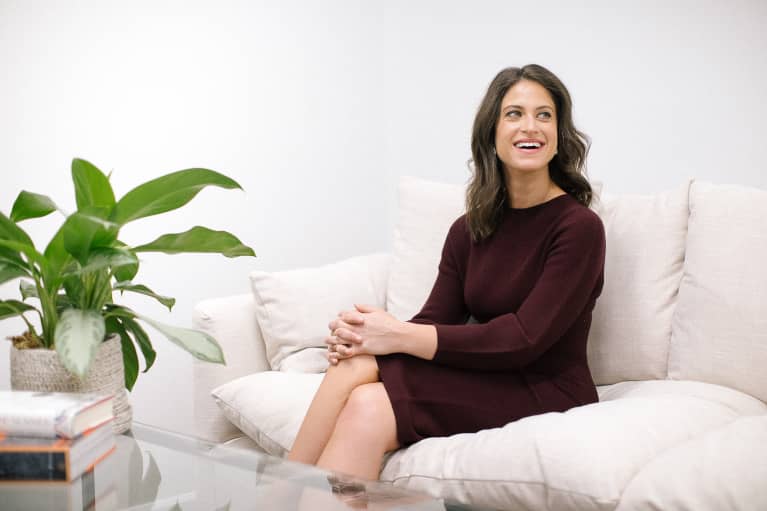 Our editors have independently chosen the products listed on this page. If you purchase something mentioned in this article, we may
earn a small commission
.
As a reproductive psychiatrist, Alexandra Sacks, M.D., helps people navigate the emotional toll of pregnancy and parenthood.
A lot of her work is normalizing the ups and downs of motherhood. In the age of highly curated Instagram posts, Sacks breaks down the myth that being a parent is all joy all the time. She helps patients differentiate between the emotions that are to be expected with new momhood—ambivalence, isolation, and frustration—and more serious conditions like postpartum depression. She likes to use the phrase "matrescence" to describe this complicated time, which can mirror the awkwardness and discomfort of adolescence.
Sacks lectures at major corporations on attitudes around maternity and paternity leave, and her work has appeared in the New York Times, Time, and on NPR. She also hosts a weekly Motherhood Sessions podcast, where she has honest conversations with new moms to learn about their experience, and her new book What No One Tells You has been dubbed "the new essential book for soon-to-be-parents" by Vogue.
This podcast episode explores the intersection of feminism and medicine. In it, Sacks walks us through how to prioritize mental health before, during, and after birth; how to maintain quality bonding and attachment with your kids as a working parent; and so much more. If you're not expecting any time soon, Sacks also has sage advice on simple ways to support the new parents in your life. Here are a few of her very top tips:
1. Let them know they're not alone.
"It's very easy to get isolated as a new mom," says Sacks. "We spend a lot of time alone—emotionally and physically—in our culture, and I think anything that can break through that is helpful." It can be as quick as texting a friend to let them know you're thinking of them, dropping off food at their house, or asking if they want a visitor—even if it's just for a few minutes.
2. Continue to offer support.
Building off that, if someone doesn't respond to your messages, don't take it personally. Continue to make the offering. "Staying connected to each other is really important. It is, I would say, at the top of the list of what we can do," says Sacks.
3. When you do meet up with a new mom, be attentive and honest.
When you're together, be intentional with how you show up. Make it clear from the get-go that you are there to hold space for them and want to hear about how they're really doing. If you were once a new mom too, offering up your own experience can be helpful. "If they ask you, take a risk and maybe tell them, because this is how people feel less alone," says Sacks.
Afterward, keep the lines of communication open. "If it's a text about what you talked about last week and you remember and you follow up, that's real empathy, and that's powerful. That transforms mental health."
Enjoy this episode! Don't forget to subscribe to our podcast on iTunes, Google Play, or Stitcher, and sign up for our podcast newsletter!