Air Pollution May Cause Alzheimer's-Like Symptoms In Women, New Study Finds
mbg Editorial Assistant
By Christina Coughlin
mbg Editorial Assistant
Christina Coughlin is an editorial assistant at mindbodygreen. She graduated from Georgetown University in 2019 with a degree in psychology and music.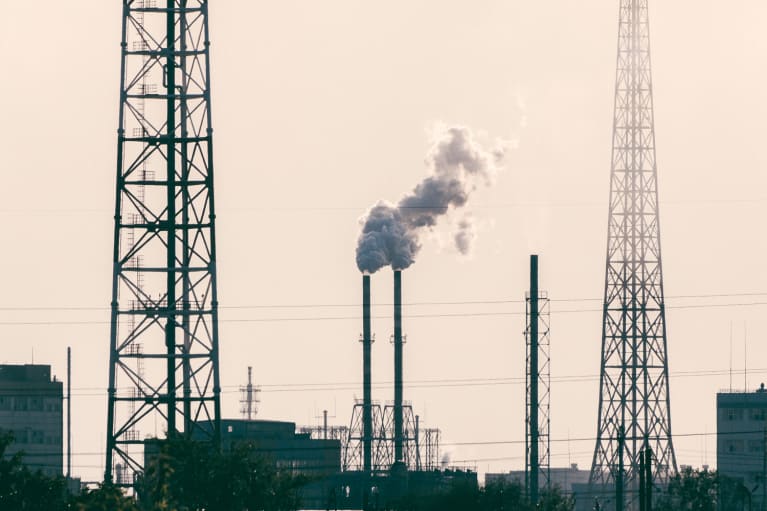 November 21, 2019 — 22:16 PM
What did the researchers find?
Researchers at the University of Southern California used data from almost 1,000 women in their 70s and 80s, examining brain scans from the past five years. These images were evaluated on their similarity to brain scans of people with Alzheimer's, measuring brain atrophy and memory decline.
In addition, the researchers looked at where each participant lived and gathered environmental data from those areas to find pollution levels. They looked at the number of PM2.5 particles, also known as fine particles. These fine particles are measured in micrograms per cubic meter and come from traffic exhaust, smoke, and dust. Their tiny size allows them to remain airborne for long periods and find their way into our bodies and our brains. Currently, ambient fine particle matter ranks as the sixth leading risk factor for premature death globally.
The results showed an association between higher pollution levels and increased memory decline, even when adjusting the results to take into account differences in levels of income, education, and race.
"This is the first study to really show, in a statistical model, that air pollution was associated with changes in people's brains and that those changes were then connected with declines in memory performance," said lead researcher Andrew Petkus.
Although these results are disheartening, there's still a silver lining on this cloud. Studies like these provide future insight into how the brain functions and how memory can be boosted, which has the potential to benefit people with Alzheimer's. The more we know, the better.
According to Petkus, "This study provides another piece of the Alzheimer's disease puzzle by identifying some of the brain changes linking air pollution and memory decline. Each research study gets us one step closer to solving the Alzheimer's disease epidemic."
This study serves as a reminder that we should always try our best to decrease the toxins we are putting out into the world every day by practicing sustainability in any way we can. The way we eat, shop, and generally live our lives all affect the environment, and each person has the ability to make a difference.