After 54 Days, The CDC Says It's Finally Safe To Eat Romaine Again
mbg Editorial Assistant
By Christina Coughlin
mbg Editorial Assistant
Christina Coughlin is an editorial assistant at mindbodygreen. She graduated from Georgetown University in 2019 with a degree in psychology and music.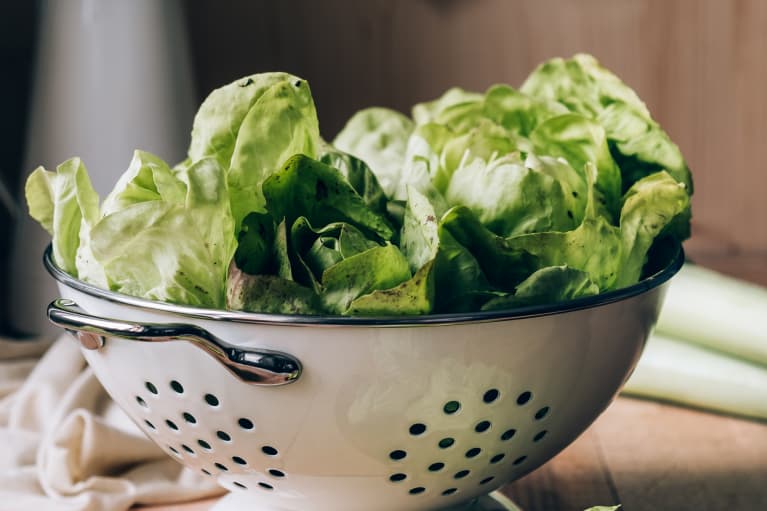 January 16, 2020 — 18:42 PM
It's time to get chopping, ladies and gents—romaine is back! After almost two months, the CDC has announced an end to the most recent E. coli outbreak associated with romaine lettuce.
The recall was announced November 22, 2019, and was specific to romaine that had been harvested from the Salinas Valley region in California, but officials say that people no longer need to avoid lettuce from that area.
According to reports, a total of 167 people were affected by this strain of E.coli, with 85 hospitalizations. Luckily, no deaths were reported, although 15 patients developed a specific type of kidney failure associated with the infection, called hemolytic uremic syndrome.
Genetic analyses of this E. coli by the CDC showed that this particular strain is not new and is actually the same type of strain that affected consumers in the fall of both 2017 and 2018.
So, how can we avoid outbreaks like this?
The CDC offers a few pieces of advice for retailers and consumers alike to make sure your food is safe to eat:
Wash your hands before and after prepping foods
Wash all fruits and veggies before cutting, cooking, or eating
Use a specific cutting board for fruits and veggies, and a different one for raw meats, poultry, seafood, or eggs
Use separate plates and utensils for cooked and raw foods
Store fruits and veggies in an area separate from all raw foods
Typically, sickness will arise about two to eight days after consuming the infected food. The CDC lists the most common symptoms as:
Severe stomach cramps
Diarrhea
Vomiting
Mild fever
If you feel that you may have been infected by E. coli, it's important to talk to your health care provider when symptoms are persisting for longer than three days.
Now that the lettuce is safe again, it's time to celebrate by incorporating romaine back into your fave recipes. Try it through a grilled salad, a raw vegan salad, or even use it in a juice!