The Golden Rules Of Travel, From Someone Who Visited Every Country In The World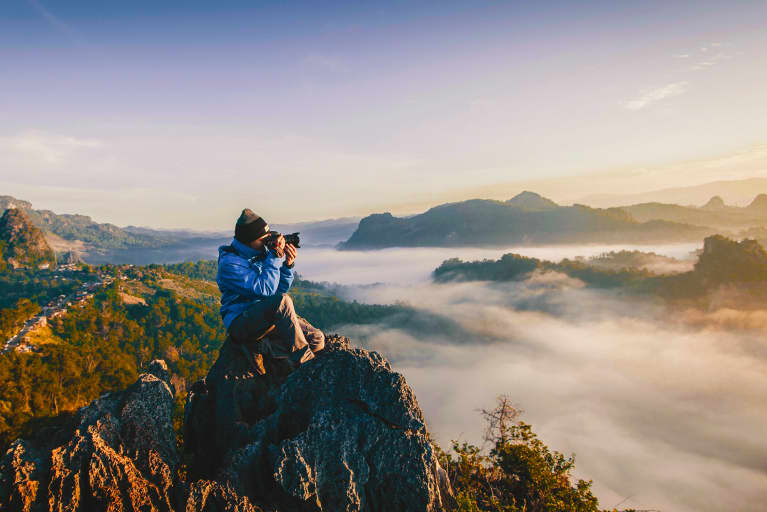 Our editors have independently chosen the products listed on this page. If you purchase something mentioned in this article, we may
earn a small commission
.
At 24 years (and 192 days) old, James Asquith became the youngest person to set foot in all 195 countries.
Though Asquith grew up with a fervent love for travel—thanks largely to his father, a pilot—he had only been on a handful of trips as a child living in London. When he turned 18, a gap year to Southeast Asia with friends ultimately helped this love become an obsession.
"I didn't think I would pick up the travel bug so massively, but as soon as I returned home from that trip, I booked my first solo adventure," he explains. Over the five years that followed that first trip, he visited every other sovereign country in the world, spending months in some and mere hours in others (on a few occasions, he managed to check off five countries in a single day). "I never started traveling with the goal of breaking a travel record, and even when I had visited 100 countries, this still wasn't the goal. I just loved the journey."
Since he collected his Guinness World Record in 2013, Asquith has transformed into a travel authority of sorts and penned a book all about finding fulfillment on the road. Here are some of his top tips for making 2018 a year of epic adventure.
How to travel on a budget.
Though his father's job allowed him to fly to many destinations for free, when he did have to pay for airfare, Asquith compulsively searched online for flight deals. When looking for flights, he says it's important to be flexible. Consider traveling during off-peak times, and whenever you can, try not to travel on a Friday or Sunday, as these days tend to be busier.
Once you arrive at your destination, Asquith suggests living like a local as much as possible. That means taking long-distance buses to get from place to place, looking for homestay opportunities, and eating street food or making your own meals. "When you're actually there on the ground, you can really travel on a shoestring," he says.
Volunteering is another way he managed to travel for less money and soak in more culture. "There are obviously some great touristy activities that I did, but I also tried to integrate with the locals more," he says. "I spent three months in Vietnam volunteering building houses in the Mekong Delta, and that was a great, local experience."
Having a positive attitude meant that everything could become a learning experience.
How to travel safely, no matter where you are.
Traversing the entire world of course means going into some less-than-safe countries, and Asquith recalls Afghanistan and Yemen as two particularly harrowing places to be a traveler. However, he never let fear stop him, within reason.
"It was certainly scary at times, and maybe I was a little naive as well, but I had so much energy to explore and discover the world. There are some countries that have been in a state of civil war for decades, so if I had said, 'I'll wait to see how the situation develops' I may still be waiting.'"
When visiting a new country, he found that common sense and a bit of planning took him far. "Of course there were culture shocks, but after my first couple of trips, I had a very open mind and I always expected the unexpected. The two things that were important to me when I traveled were having patience and a sense of humor to get through those tough times when things may not be easy. Having a positive attitude meant that everything could become a learning experience."
How to get the most out of every trip.
"I love the anticipation of traveling to a new destination and meeting people along the way," says Asquith. "Although I had some great adventures traveling solo, it was my experiences that I was able to share with others that I value the most." To him, travel isn't about finding yourself. Instead, it's about forging connections with others. "Smile and say yes as much as possible. You never know where each risk can take you."
Though Asquith has since settled into a more stationary life, he's still hitting the road when he can. And he's hoping to encourage the next generation of travelers with his new app, Holiday Swap. Part social media app, part booking site, it allows users to "like" certain destinations, communicate with the people living there, and, if they so choose, swap homes with the ones they forge connections with. "It takes away the largest cost of travel, and the social media side also means that you'll have a virtual tour guide before your trip," Asquith explains of the community he hopes to inspire with the app. "You can basically build up connections around the world for when you want to travel. I'm lucky enough that trough my travels I can hop on a plane and know people in my destination. I want everyone to have more of that."
Who's ready for an adventure in 2018? Who knows, you may just run into Asquith on your travels. He says, "I feel like I'm only just getting started! There is so much of the world to keep discovering."
Next up? Check out how this couple is traveling the world on just $8 a day.