Adidas Just Took A Stand Against Plastic — Have We Entered A New Era Of Activewear?
mbg Sustainability Editor
By Emma Loewe
mbg Sustainability Editor
Emma is the Sustainability Editor at mindbodygreen and the author of "The Spirit Almanac: A Modern Guide To Ancient Self Care."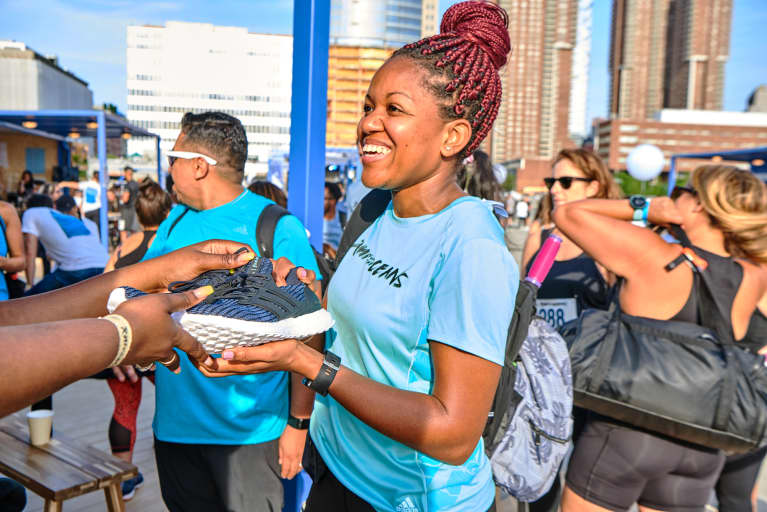 During a recent interview with the Financial Times, Eric Liedtke, head of Adidas' global brands, made a big announcement: His team wants to exclusively use recycled plastics in all Adidas products by 2024.
He explained that as it stands now, the sportswear brand relies on polyester—a fabric derived from petroleum—for about half of its products. Polyester is a synthetic fabric that takes hundreds of years to decompose, and it ranks pretty low on the list of eco-friendly materials. Moving forward, Adidas wants to switch over to using rPET instead, which is made from recycled plastics and other polyester garments that have been trashed.
The change won't happen overnight, he warns, since recycled polyester is typically 10 to 20 percent more expensive than the virgin material, but the brand has already started working with secondhand plastic in other ways. Namely, through a collaboration with Parley, an ocean advocacy group.
The brand partners with Parley to collect plastic waste along the coasts of small island nations like the Maldives and Palau, break it down, and use it as a raw material in shoes and activewear. This recent video from Parley demonstrates just how dire the trash problem is in our oceans, and the World Economic Forum warns that there might be more plastic in the ocean than fish as soon as 2050.
"You need big players like Adidas to take a strong stance and make a new standard," Cyrill Gutsch, Parley's founder, told mbg earlier this summer. In 2017, together Adidas and Parley sold 1 million pairs of shoes made with ocean trash (each pair has about 11 bottles' worth of plastic waste), and they expect to sell 5 million more before the year's end.
This is a big week for corporate sustainability efforts, considering Starbucks and McDonald's just pledged to cut down on the amount of plastic they send to landfill.
In a world polluted with excess, we really don't need to be making new raw materials, so we're applauding this effort to use up what's already out there.
Want to help put an end to plastic pollution? Here are a few ways to tweak your everyday routine.