Helping Care For Grandchildren Linked To Less Loneliness, Study Finds
mbg Editorial Assistant
By Eliza Sullivan
mbg Editorial Assistant
Eliza Sullivan is an editorial assistant at mindbodygreen. She received a B.S. journalism and a B.A. in english literature from Boston University.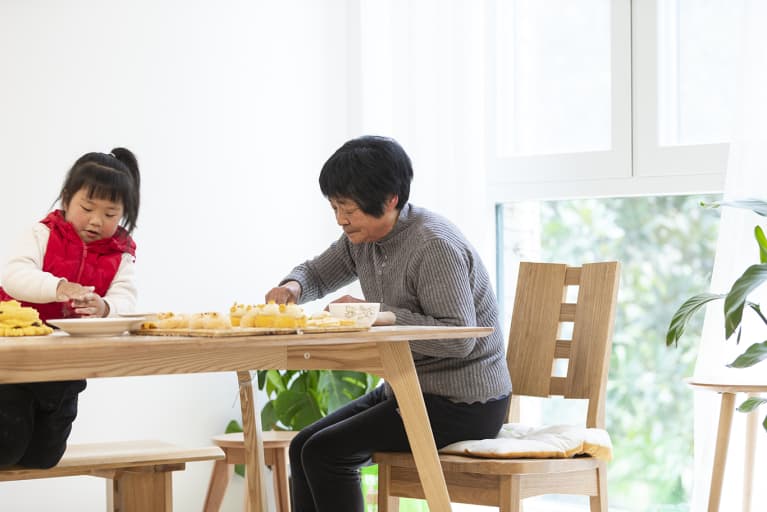 December 17, 2019 — 23:30 PM
As child care becomes more collaborative, retired grandparents are helping to take care while parents work. A new study suggests this trend is tied to helping decrease loneliness for older generations.
What did the researchers find?
The study, published today on BMJ Open, found that helping care for grandchildren is related to lower risk of social isolation and loneliness.
The study was conducted using data from the German Aging Study (DEAS), a project organized by the German Center of Gerontology. The data was specifically from 2014, which was the first year that participants were asked about factors of well-being like loneliness and isolation.
Over 3,800 grandparents were identified in the data, and of that 1,125 reported being an active part of caring for their grandchildren. Of that, 80% were married and living with their spouse.
Those who were regularly involved in caring for grandchildren reported slightly larger social networks, reporting being in regular contact with six people (on average). They also rated their feelings of loneliness lower than those who were not involved in child care, who reported social networks of four to five people on average.
This study was based on previously collected data, and therefore the researchers were not able to concretely say that this relationship was casual. They did attempt to eliminate other factors, taking into account things like marital status, domestic arrangements, household income, self-rated health, physical activity levels, and depressive symptoms.
They were not able to know things like how far the grandparents lived from their family or exactly how often they provided the reported care, which may have influenced reported data for DEAS without being accounted for.
As people live longer, finding out more about improving later years in all senses becomes more and more important. Research has shown that our "loneliness epidemic" is related to a growing proportion of our population being over the age of 75, which is often attributed to declining health and loss of loved ones.
Providing connection to younger generations may provide new social outlets for grandparents, but it may contribute to things like keeping them active, physically and cognitively, as they age.
"Caring for grandchildren may also expand the social circle of grandparents," says the study, "and allow for further opportunities to establish relationships with other parents or grandparents."
The study points to some specific ways that active grandparenthood can improve overall well-being. They write that "providing supplementary grandchild care may boost grandparents' self-esteem, and may also facilitate ongoing positive relationships with their children and grandchildren."
These improved family relationships are concrete connections that can help decrease feelings of loneliness on their own, in addition to the other potential benefits of these arrangements. But the researchers do point out that in some cases the burden of assisting with care may interrupt other social engagements, and that those cases could increase feelings of isolation over time.
What's next for research?
While this study helped to establish a relationship between helping with care and less loneliness, it wasn't able to establish the "direction" of this relationship: Are more grandparents with more social connections more likely to help with care, or does helping with care improve their social life?
Longitudinal studies that look for the direction of the correlation are needed to find out, but the indication of a positive relationship still seems like a good reason to get the family together when you can.