Avoiding Plastic Doesn't Have To Be So Annoying. Here's How I Do It In The Trash Storm That Is NYC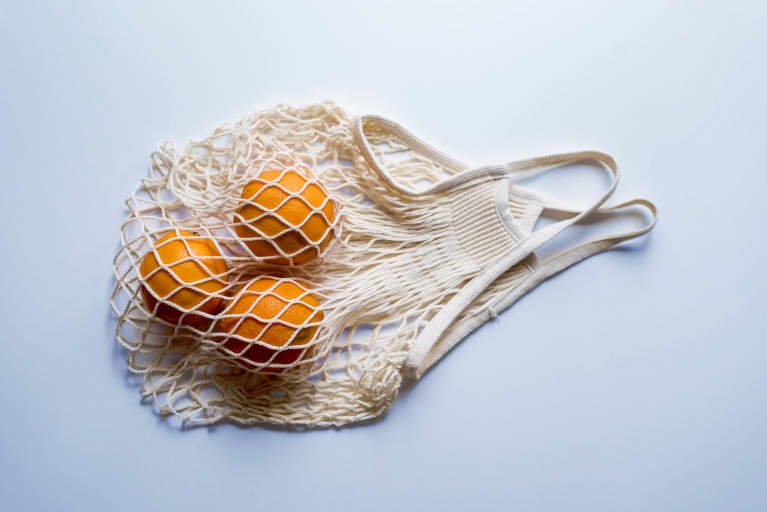 The U.N. warned us: We have 12 years before the damage we've done to the Earth becomes irreversible. Instead of letting reports like this paralyze us, let's use them to empower us. The experts are saying it's going to take a mix of large-scale change AND individual action to save our planet—and we want to help you do what you can. Consider our new series your no-excuses guide to cleaning up your act, one step at a time. Today, we're sharing a tip that'll help you navigate the wild world of single-use plastics.
It was eight years ago that I first learned about the problem with plastic in our oceans, and I remember being so incensed that I immediately vowed to never use another plastic bag ever again. Over the following five years, I started shopping at the farmers market, boycotted fast fashion made from polyester, and switched from tampons to a menstrual cup. But then I moved to New York and realized that no matter how diligent I was, there was one thing that never failed to throw a wrench in my plastic-free routine: eating out.
Up until my move, I cooked most of my meals at home, but in New York my "meals" became more of a quick bite on the go—each leaving me with a small mountain of plastic refuse. There was the rigid plastic clamshell my salad came in, the flimsy plastic fork I ate it with, and of course, the single-use straw I used to sip my iced coffee as I ran for the train.
Soon enough I made the connection between these single-use plastics and that first plastic bag I refused so many years earlier. I realized that if every time I ate out resulted in a pile of plastic, that the collective pile of every New Yorker and city-dweller around the world must be huge. Feeling like a hypocrite, I decided to recommit myself to the cause last year by taking on a 30-day challenge to live without plastic. Participating in Plastic Free July didn't eradicate single-use plastic from my life, but it did help me change my habits, and it can help improve yours, too.
The problem: There's a whole lot of plastic in our oceans.
If you're wondering why plastic is so damaging to the health of the oceans (and ultimately, the health of humans too), here's a quick primer: For the most part, plastic is made of petroleum, a nonrenewable, nonbiodegradable resource that emits carbon dioxide when processed. Around 32 percent of discarded plastics manage to find their way into the ocean, where they pollute beaches and get carried by the tides to certain remote areas like the Great Pacific Garbage Patch. Instead of biodegrading, plastics break down into smaller and smaller pieces that are easily mistaken for food by marine life. Tiny plastic particles are ingested all up and down the food chain and have been found lurking inside the same fish that end up on our plates.
The World Economic Forum predicts that there will be more plastic in our oceans than fish by the year 2050. The effect of all that plastic on the environment is still unknown, but when mbg spoke to naturopathic doctor Jolene Brighten, she pointed out that plastics do pose a health risk to humans. When you drink out of a plastic water bottle or through a plastic straw you are ingesting tiny particles of plastic that can interfere with your hormones. All the more reason, then, to kick the habit.
The solution: Resist everyday plastics by keeping a zero-waste kit on hand.
Single-use straws, bags, and bottles are all among the top 10 items polluting the world's waterways. Opting out of these everyday items is a great way to help the planet out, and there are a ton of stylish reusable alternatives. Plastic straws can be replaced with paper, glass, metal, or even plant-based materials. And there are more than a few cute options for reusable bottles, too. Coffee addicts will want to consider pairing their reusable straw with a reusable mug.
I've found four items to be the most essential, and the easiest to carry around on a daily basis:
1. A reusable bag that folds up into a tiny ball
2. A stainless-steel water bottle
3. A reusable straw
4. A set of bamboo utensils
Making sure that these four reusable items are in my bag at all times means that I'm never caught off guard. Schlepping my groceries, staying hydrated, and eating on the go are now easily waste-free activities. It can be just as easy for you to prevent a pile of plastic waste, too! Start by investing in a few reusable essentials, and the planet will thank you for your efforts.