The 3 Biggest Sources Of Waste At Weddings — And How To Avoid It
mbg Contributor
By Leigh Weingus
mbg Contributor
Leigh Weingus is a New York City based freelance journalist writing about health, wellness, feminism, entertainment, personal finance, and more. She received her bachelor's in English and Communication from the University of California, Davis.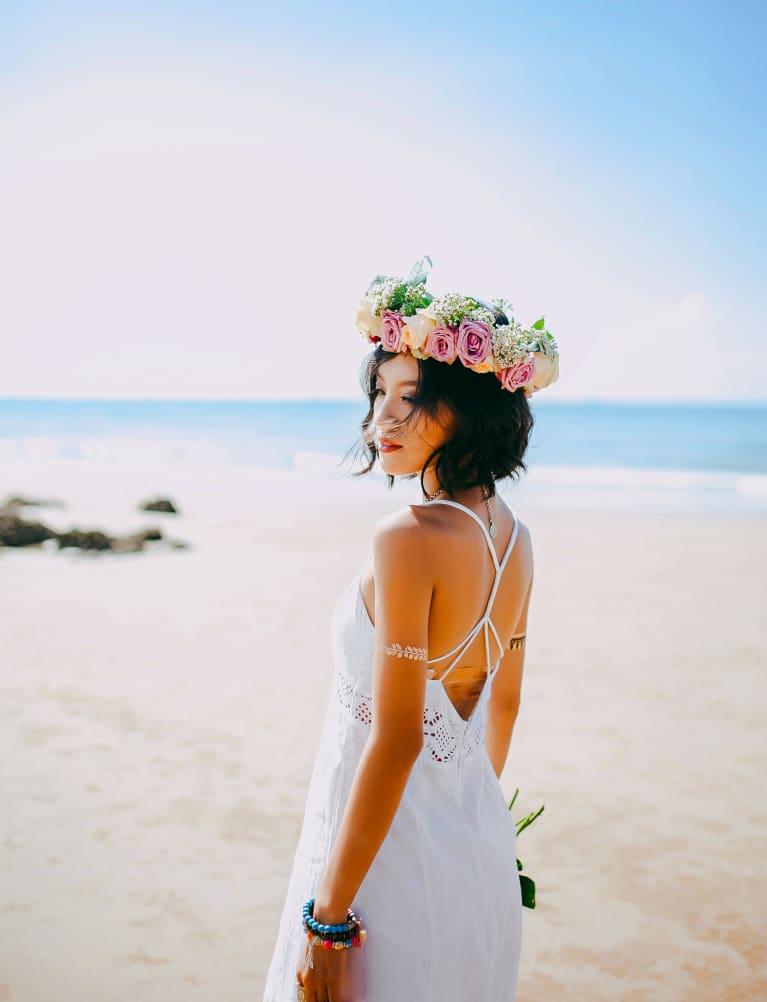 As celebratory as weddings are, they typically don't do the environment many favors. Between the fragrant flowers spread throughout the venue to excess food and paper programs, most weddings yield pounds of waste after the fact. Who wants that?
Ashley Chamblin, a wedding planner based in Brooklyn, New York, has seen her fair share of wasteful weddings. "There are three major areas where we see waste in the event industry: flowers, food, and paper," she explains. "And there's actually a lot you can do about each." Whether you're planning a wedding or a different type of event, here's what you need to know about reducing waste.
Opt for chalkboards instead of paper.
While paper probably isn't the first thing that comes to mind when it comes to wedding waste, think about it: Between programs, menus, table seating cards, and signs that point to where to leave gifts, that's a lot of paper. "Paper is a waste item that people often don't think about," says Chamblin. "When you can, use things like chalkboards or mirrors to help let guests know the menu or the program of the day. Use cool things like lightboxes for signage for things like your hashtag or guestbook so after the wedding you can have them for your home to display your daily affirmations. If you want to get really creative, print your menu on edible paper! Table numbers can sometimes be rented from your rental company or florist and become one less thing to worry about."
Ask if composting is an option.
Food waste is a nationwide problem, and weddings are no exception. "Always ask your venue or your caterer if composting is an option," suggests Chamblin. "For unserved food you can donate it to a homeless shelter, but again this needs to be coordinated in advance. Some shelters are very picky about accepting unpackaged food, so you may need to reach out to a few different locations before you find one that works for you. Don't get discouraged!"
Last but not least: flowers.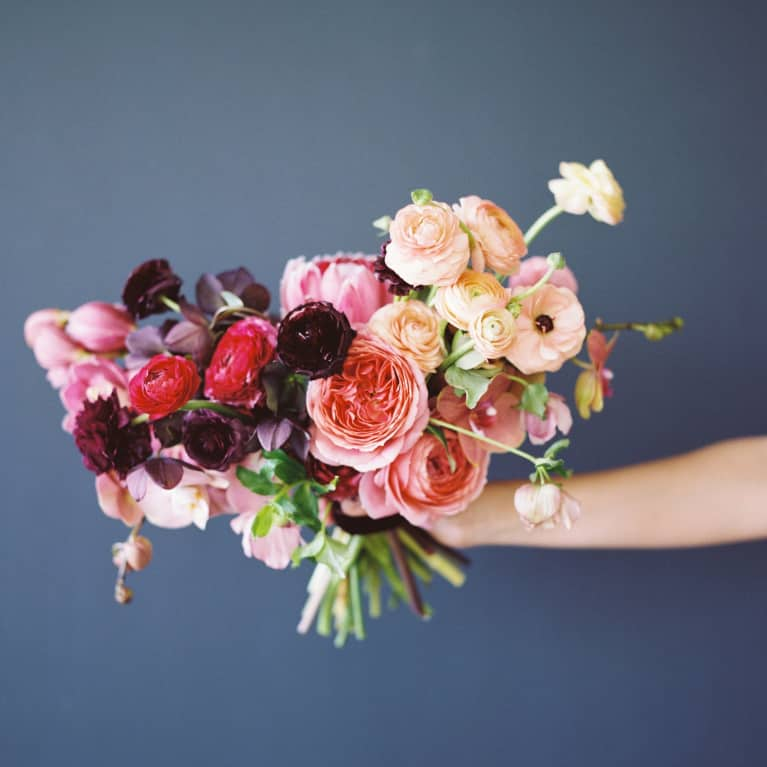 While flowers are arguably the most beautiful part of a wedding, they're also the most wasteful. "Live flowers are beautiful, and they can make the design of a wedding," says Chamblin. "As a planner and designer, they are my favorite part of the wedding. For more eco-friendly alternatives, we are seeing a lot of people switching out floral centerpieces for plants such as succulents or ferns that become a great takeaway item for guests or a great way to decorate your home at the end of the event. There are a few other creative ways to change out the traditional floral centerpiece such as candlescapes, paper, or crafted centerpieces."
If none of those appeal to you, consider this: There are companies that recycle flowers, such as Bloomerent, a flower-sharing marketplace that was started by a pair of best friends in 2013. "The reality is that with every other aspect of your event, with the exception of the food, everything is a reusable source," Bloomerent co-founder Julia Capalino tells mbg. "Flowers are often flown over from a foreign country, and it takes a lot of fuel to fly them over. There are also pesticides and water needed to grow them and energy needed to keep them in refrigerators. By reusing wedding flowers, we're cutting down on 50 percent of the overall impact."
Capalino and her business partner Danit Zamir use all of their flowers for at least two events, which cuts down on cost as well. And if you're worried about droopy, sad-looking second-day flowers, Capalino assures us that they know exactly which flowers last and how to care for them. "Hydrangeas are a very thirsty flower, so after three days that flower will start to look a little dull," she says. "A rose can last two weeks easily and look just as good. The florist will typically take back those flowers the second time around. Our goal is to reuse flowers as much as we can while paying close attention to quality control."
Want more ideas for how to reduce waste in other areas of your life? Here are 16 trash facts you need to know.