This Unexpected $5 Tool Is The Secret To A Cleaner Kitchen
mbg Sustainability Editor
By Emma Loewe
mbg Sustainability Editor
Emma Loewe is the Sustainability Editor at mindbodygreen and the author of "The Spirit Almanac: A Modern Guide To Ancient Self Care."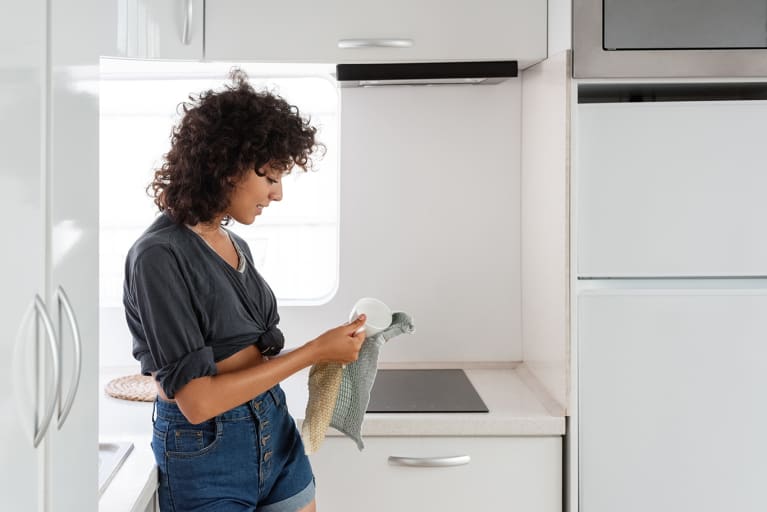 Our editors have independently chosen the products listed on this page. If you purchase something mentioned in this article, we may
earn a small commission
.
If you, too, have amassed a giant pile of toothbrushes over the years of dentist visits, I'm here with a friendly PSA: Do NOT throw them away! Instead, move them from your bathroom cabinet to your kitchen sink and watch them become the new heroes of cleanup time.
According to green cleaning expert Becky Rapinchuk, their little bristles are well-sized for getting into nooks and crannies and gentle enough to scrub more delicate surfaces. Here are her three favorite techniques for putting them to use in the unexpected cavities of the kitchen:
Use one to clean out your dishwasher's filter.
Anytime your dishwasher starts to not work as well or begins to smell, it's time to tend to the filter, which does the important job of catching any large food pieces that are left over after cleaning. The small, circular filter is probably located in the bottom right corner of your dishwasher, and you can easily unscrew it. Carry it to your sink and rinse with hot water. Then, squirt with dish soap and use your designated cleaning toothbrush to scrub away any lingering residue. "[The filters] are typically a really fine mesh, so you're not going to want to use a scrub brush on it. You want something really gentle," Rapinchuk says of the thought behind this one.
Use it on your coffee machine.
Whether you use a Keurig or drip machine, the first step of washing it out is removing all its constituent parts and accessories: the water reservoir, K-cup holder, funnel where the beans go, etc. You'll want to wash those in warm soapy water, and the toothbrush can come in handy for scrubbing down their harder-to-reach crannies. Rapinchuk also recommends dipping your toothbrush in white vinegar (a great nontoxic cleaner thanks to its high acidity) and lightly scrubbing the machine's spigot or groove where the coffee comes out. This will clear any mineral residue that's accumulated over countless brews and could help your machine run more smoothly.
Use it on the water dispenser of your fridge.
Rapinchuk says that most people with outside water and ice dispensers on their refrigerators don't realize they can clean them. But it's super easy to do with—you guessed it—a toothbrush and vinegar. Scrub down the spigots that dispense your water and then pour the first few glasses of water out to get rid of that vinegar taste.
These are just thought starters: Pretty much anything in your kitchen that's oddly shaped or delicate could benefit from a good brushing. My mind immediately goes to the accessories on blenders, toaster ovens, and air fryers, as well as whisks, kitchen faucets, and stovetop grooves. You don't need to have a toothbrush designated for each surface, either, since you can just throw your brush on the top rack of your dishwasher or give it a good scrub-down by hand.
Who else is suddenly in the mood for a dentist visit?